The Air Force's 12 Outstanding Airmen of the Year for 2023 will be formally recognized at AFA's Air, Space & Cyber Conference from Sept. 11-13 in National Harbor, Md. Air & Space Forces Magazine is highlighting one each weekday from now until the conference begins. Today, we honor Senior Master Sgt. Sedrick Evans, the Pacific Air Forces (PACAF) Enlisted International Affairs Manager at Headquarters PACAF, A5/8 Directorate of Strategy, Plans, Programs, and Requirements.
Evans leads the Pacific Air Forces' enlisted Air and Space Security Cooperation strategy—he finds funding and manpower to execute professional military education (PME), specialized training courses, and integrated exercises designed to improve allied enlisted forces for 36 nations around the world.
Before Evans undertook this duty with PACAF, there was no official agreement between the senior enlisted leaders of Indo-Pacific nations that indicated a commitment to PME. To solidify PACAF's commitment to a collaborative coalition and increase the opportunities for cross-nation PME, Evans wrote an enlisted charter at the Pacific Air Chiefs Symposium 2021. The charter was agreed upon by the senior enlisted leaders of 13 different nations.
Following its passage, Evans secured $20,000 in funding to send two language-enabled Airmen to attend Taiwan's Senior NCO Academy for the first time in U.S.-Taiwan history. The initiative was a two-year effort that Evans realized in 2022 by coordinating with the Tawain Air Force's senior enlisted leadership, sourcing the funding, and identifying the Airmen for the job.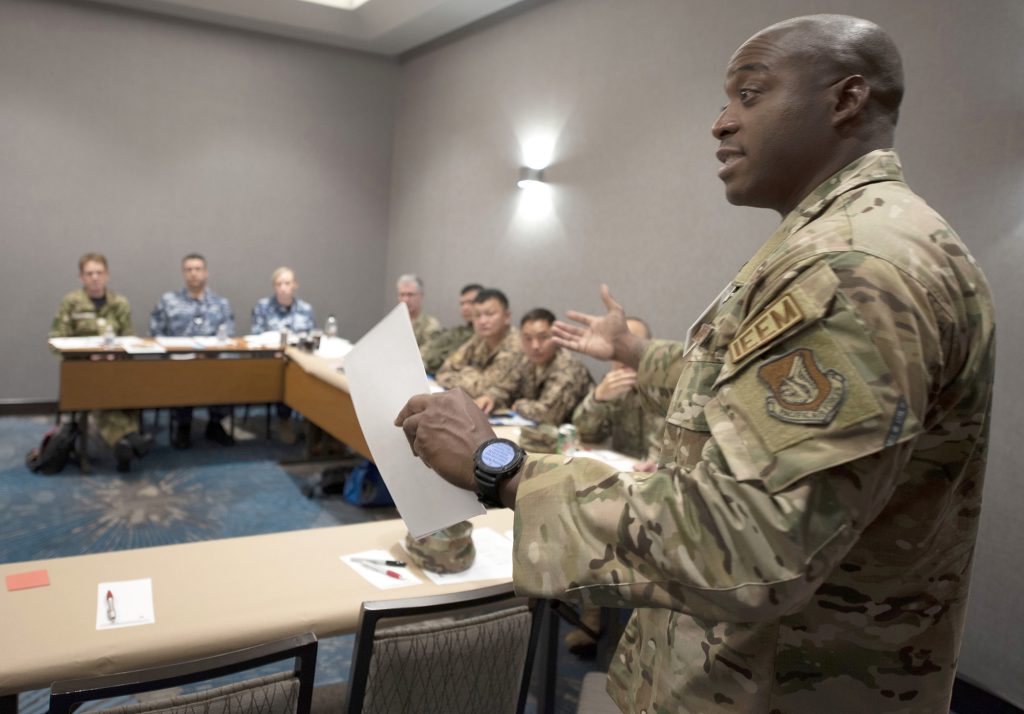 "They were [able] to share common practices, best practices, and cultural differences and commonalities between the two air forces to help educate [and] inform them on how we develop PME," Evans said. "We were able to give them some feedback on ways ahead, and things that we would be interested in maybe leveraging [for] future professional military education initiatives."
Evans was also selected by the Institute of Security Governance (ISG), a subsidiary of the Defense Security Cooperation University, to attend Sri Lanka's National Defense Conference. The ISG had found that Sri Lankan Airmen lacked motivation to attend NCO Management School, so Evans sat on a panel called "The Impact of the NCO" alongside eight other DOD representatives. Evans was able to share his unique perspective as an enlisted Airman to 147 enlisted service members at the conference.
"It was an open forum for them to ask as many questions as they could think of, to look at motivation, retainment, and their ability to excel," Evans said. "They had questions on service commitment: 'What motivates you?' 'What incentivizes you to continue to excel?' 'Why do you continue to serve?' And, 'What type of education opportunities [do] you have to grow within your Air Force?'"
Evans designed yet another international PME event in 2022, the first-ever professional military education exchange in Philippines Air Force history. He established a two-week leadership development course for 40 sergeant majors taught by two Senior NCO Academy instructors.
"What they liked about it was their ability to get up. A lot of the modules and lessons require them to actually act, be vulnerable, lead, and give their leadership manifesto. Things that are uncommon to them, versus death by PowerPoint or just a lecture," Evans said. "In this forum, they were able to actually get up and showcase their capability and their capacity to be leaders at their levels."
Evans said he enjoys leading PME initiatives for enlisted service members, but it's a job that comes with great responsibility, especially when working with international partners with different cultural norms. He said the key to teaching true leadership is leading by example.
"Whatever culture you want to create, you have to be an example of that culture," Evans said. "We really go in there and understand their culture, their common practices, and then try to adjust to their culture—a lot of them do not have a lot of power like our enlisted do, so we focus a lot on NCO empowerment, so they can lead at their levels."
When he considered the leaders in his own life who have served as examples to him, Evans nameed Chief Master Sgt. Dave Wolfe, the PACAF Command Chief, who has been a mentor for nearly a decade.
"The most powerful feedback he gave me [was] when I asked him, 'What is one thing I can do to be better?' back when I was a tech sergeant in 2016. He said, 'Read more.' That's it … And so that's been something that I kind of took to heart, to really start reading more," Evans said.
Evans added that his success—and now his recognition as an Outstanding Airman of the Year for 2023—is a culmination of all the positive people he has surrounded himself with throughout his career.
"I can attribute my success to my three groups of people who have always supported me," Evans said. "My mentors, such as Chief Wolfe; my teammates, such as Senior Master Sgt. Sarah Buckley, who drives this portfolio with me; and last and especially not least, my family: my wife and three kids, who have always supported me and made it possible for me to actually go out into the field in the AOR and do the things that we were able to accomplish last year."
Meet the other Outstanding Airmen of the Year for 2023 below: