The Air Force's 12 Outstanding Airmen of the Year for 2023 will be formally recognized at AFA's Air, Space & Cyber Conference from Sept. 11-13 in National Harbor, Md. Air & Space Forces Magazine is highlighting one each weekday from now until the conference begins. Today, we honor Master Sgt. Michael Galindo, Chief of Weapons and Tactics with the 502nd Security Forces Group at Joint Base San Antonio-Randolph, Texas.
Previously the operations superintendent for the 324th Training Squadron at Lackland Air Force Base, Galindo led the successful graduation of 328 Air Force and Guardian flights. He had the opportunity to serve as the squadron's senior enlisted leader to coach, mentor, and train NCOs and senior NCOs as Military Training Instructors (MTI).
"[We] developed their fundamental skills: leadership, time management, instructor proficiency, academics, all within a challenging, high-paced environment," Galindo said.
In another interim SEL role in 2022, Galindo oversaw the safety and security of 660,000 visitors during five base events at Randolph, Lackland, and Fort Sam Houston, including one which was the largest air show in Texas history. He coordinated the events' safety and security forces with Defenders at all three installations.
Galindo also oversaw two flights of DAF civilians, Airmen, and Soldiers through 338 criminal responses at Fort Sam Houston, Brooke Army Medical Center, and Camp Bullis. The effort was the largest law enforcement mission in the Air Force.
"We also provide bailiff duties for some of the cases that are involved and that are going on there," Galindo said. "[And] we did a new integration with the local school on base for active shooters. So, we built a pretty good partnership with them and started kicking off some training for not only our Defenders, but also the staff that works there as well."
When he thinks about his time filling in as a senior enlisted leader, Galindo said the strong faith in his peers is what made the responsibility an easy one.
"We all worked well together. It wasn't too complex," he said. "I probably got lucky with some great teams and some good personalities within the teams, and some great attitudes who were willing to continue to get the mission [done]. We all take care of one another."
Galindo recently established the first law enforcement-focused Weapons and Tactics Section for the 502nd Security Forces Group. The section conducts criminal intelligence analysis, integrates external stakeholders with the squadron, and creates development opportunities for around 900 Defenders—and with more than a decade of experience in security forces, an MTI certification, and his wealth of experience as a leader, Galindo embodies the perfect Airmen for the job as section chief.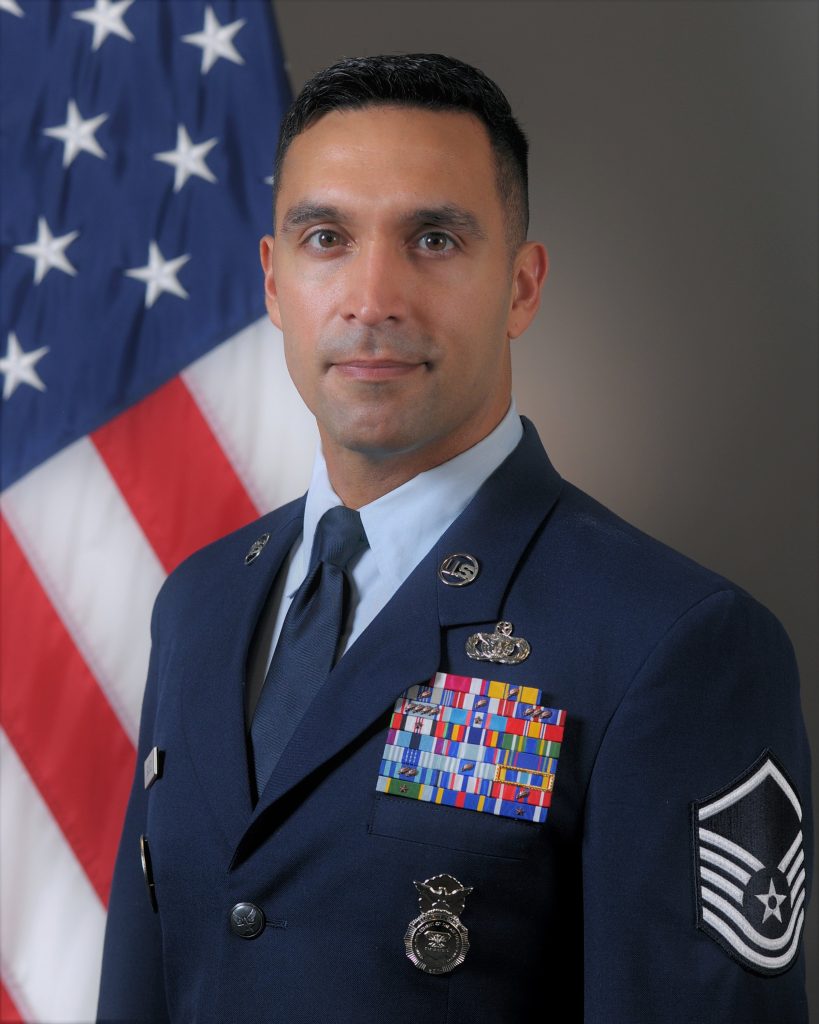 "Things are constantly evolving, and we have to continue to adapt," Galindo said. "So one of the things that my commander has charged the Weapon and Tactics Section, my section, with is still trying to still finding those innovative solutions … to solve these complex problems—[technology] helps improve the efficiency of the organization for us to focus on our duties elsewhere."
The Outstanding Airman of the Year award recognizes Galindo as a model for Air Force leadership, a trait Galindo credits to the chiefs who have guided him through his career. He named Chief Master Sgt. Nicole Hicks as an especially inspirational leader who helped him grow from an NCO tactician into an NCO manager.
"They say you can see farther by standing on the shoulders of giants," Galindo said. "[I've had] a lot of great people in my corners and just been given a lot of opportunities to work with great teams and great energies and just great leadership … a lot of my success is because of the relationships I've had with senior leaders, my peers, my Airmen, and NCOs."
Meet the other Outstanding Airmen of the Year for 2023 below: