The Air Force's 12 Outstanding Airmen of the Year for 2023 will be formally recognized at AFA's Air, Space & Cyber Conference from Sept. 11-13 in National Harbor, Md. Air & Space Forces Magazine is highlighting one each weekday from now until the conference begins. Today, we honor Senior Airman Ryan Hospelhorn, a flight security controller for the 841st Missile Security Forces Squadron at Malmstrom Air Force Base, Mont. 
Hospelhorn transferred to Malmstrom in February after spending two years at Spangdahlem Air Base in Germany. Unhappy with his day-to-day job as a security forces member "just working traffic in and out" there, he started a master's program in advanced systems. His initiative led to a more exciting opportunity filling an NCO position to launch Spangdahlem's small unmanned aircraft system (sUAS) program with the 52nd Security Forces Squadron.
"With the situation in Russia and Ukraine, and seeing the amount of damage that small drones are able to do, both in recon in the battlefield as well as dropping ordnance, [it] became [a] pretty high priority for my commander to initiate a more robust counter UAS and blue UAS program out at Spangdahlem," Hospelhorn said. "That included increasing our capabilities for detection and defeats of the small UAS as well as finding ways to integrate our own drones and training drone pilots to be able to use them for various things like security responses or surveys." 
Over the course of seven months, Hospelhorn led a six-person team to test a hunter-seeker drone in conjunction with U.S. Air Forces in Europe (USAFE) and the Air Force Research Laboratory (AFRL). As the sUAS program's manager, Hospelhorn authored three instructions and served as the liaison between the wing and Germany as the host nation to bring the program to life.
"We're guests in Germany, and we're subject to a lot of their rules and laws. They have quite a few rules and regulations regarding UAS, especially in proximity to airfields," he said. "There's a lot of paperwork for that, mainly just because of the tools that the drone was using to capture. It is using radar and required a whole bunch of spectrum approvals, frequency approvals."
Because it's an F-16 base, Spangdahlem sees a lot of manned aircraft traffic—a difficult environment for testing drones. Hospelhorn devised a system to ensure there was fair, uninterrupted, and shared airspace between the F-16s and the drones. His initiative and innovation enabled some 12,000 sUAS sorties.
"It's a small base, so you're never too far from the runway [and F-16s are flying] all day, every day," he said. "If we had to wait for periods where they weren't flying, we would never be flying. So we found a way to map out certain areas of the base where we activate in order to be flying our drones there and not having interference with the normal F-16 traffic."
In terms of a MAJCOM-wide certification process to train sUAS pilots, USAFE lacked some of the standard instructions that stateside major commands have. To provide a first-time capability to the wing, Hospelhorn cobbled together a robust two-month certification process and taught the course to integrate 10 sUAS pilots into the wing's operations.
"There wasn't really anything to go off of [at Spangdahlem], and no real POCs at a higher level to reach out to for guidance," he said. "I was able to develop training materials based off of some open-source stuff from the drones we were using, as well as from other bases stateside that I reached out to, to get an idea of how they're running their program and develop our own, which eventually I got approved through AFSOC [Air Force Special Operations Command]."
"We actually had a couple of SERE [Survival, Evasion, Resistance, Escape] members from Fairchild come out TDY to attend the course because they weren't able to find that training anywhere stateside for a reasonable cost," he added.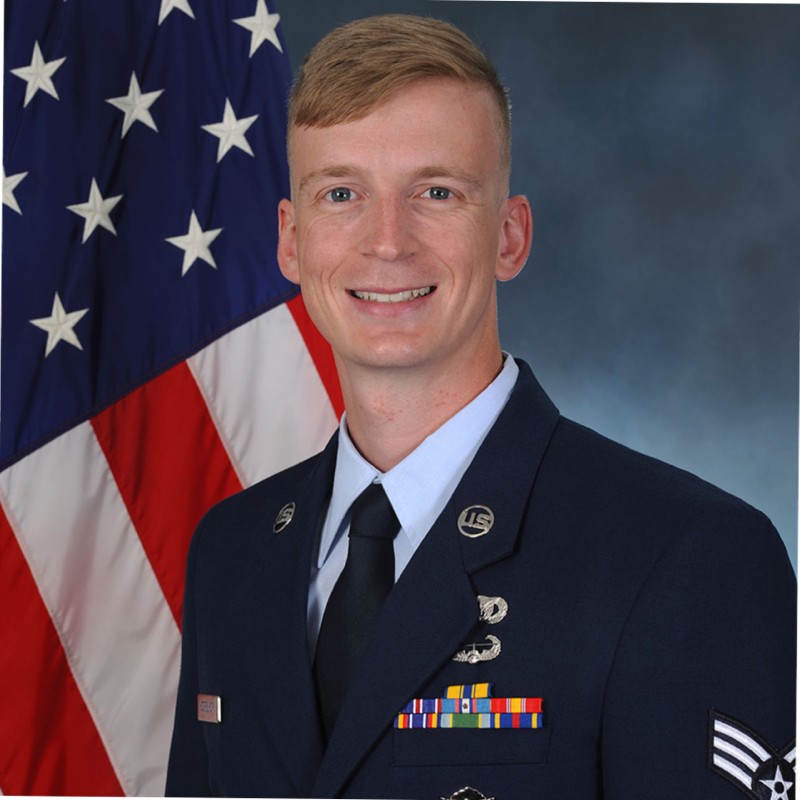 While heading the UAS initiative at Spangdahlem, Hospelhorn was simultaneously responsible for the innovation technology sector of security forces. He managed a $350,000 acquisition and upgrade of the Android Tactical Assault Kit (ATAK), which enabled real-time command and control of 47 patrols and non-kinetic emergency response capability for a 40km area of responsibility.
"[ATAK] is basically handheld devices that allow the base defense operations center or the flight chief to see where all patrols are at any time," Hospelhorn said. "So, we were able to establish cordons and direct patrols to where they needed to be by just putting a point on a map, as opposed to trying to tell them the intersection of this street and that street over the radio. It was all fast and seamless."
Hospelhorn also was selected for a prime fellowship with AFWERX, where he spent five months developing the groundwork for the Air Force's efforts in detecting and defeating drone swarms. The details of his research are classified, but the opportunity is a testament to his merit as an Outstanding Airman of the Year. He credits the teams he's been on and the leadership who took a chance on him while he was still an A1C, particularly his Section Chief and Superintendent. 
"Just taking that first step, starting continuing education, and getting connected with the right people was a huge, huge important factor [in my achievements]," he said. "A large portion [of] success is just showing up with the right attitude. Getting there on time, with the right uniform and the right attitude, that'll take you pretty far."