The Air Force's 12 Outstanding Airmen of the Year for 2023 will be formally recognized at AFA's Air, Space & Cyber Conference from Sept. 11-13 in National Harbor, Md. Air & Space Forces Magazine is highlighting one each weekday from now until the conference begins. Today, we honor Staff Sgt. Dhruva Poluru, Mission Planner and Strategist for the Air National Guard's 222nd Command and Control Squadron in Rome, N.Y. 
Poluru's background is in mechanical and aerospace engineering. Interested in space since he was a kid, Poluru thought it was too niche of a career field to dive into right out of the gate.
"When I found out that the Guard made space super accessible to stay in school and do space operations, I took the chance," he said.
Little did he know that by joining the Air National Guard in the spring in 2019, his future would become heavily space-focused when the U.S. Space Force stood up later that year. In fact, he was working on a space-domain awareness project when he was selected as the first Air National Guard member to become certified to serve as a Joint Task Force, Space Defense Commercial Operations Mission Director.
As the director for the pilot program, Poluru collaborated with up to 85 companies around the world to crowd-source satellite telemetry tracking data and provide indications and warning tippers to domestic and allied mission partners in real-time.
He was also a crucial piece of the U.S. Space Command's Global Sentinel exercise, which develops international partnerships with countries to help them develop their own space programs. Poluru facilitated the mentorship of U.S. allies through the New York State Partnership Program with space operations through hands-on satellite cataloging and tracking instruction.
"We're trying to expand our reach around the world when it comes to space because it's a relatively newer domain for a lot of countries," Poluru said. "With my technical background [and] tool sets, and then also being a mission director for the Joint Task Force space defense mission that is shareable with our partners, I was able to form relationships with these international partners, and then also train them into this mission set as well, while giving them tips on how to set up their space units, and how to use certain tools, and what to look for."
Poluru also tested and checked out a $55 million suite of electronic warfare equipment—from antennas in the field to small server racks at the units—to help them cater to different squadrons around the world, while producing the operational verification of a counter communication system upgrade. The upgrade made an impact on five Air National Guard Squadrons, as well as several deployed Space Force units in U.S. European Command and U.S. Africa Command. 
"A lot of products already exist, a lot of mission systems already exist, whether it's within the military or outside, whatever the case may be," Poluru said. "We wanted to take what was there and modernize it. So, we [aligned] with where the Joint Chiefs of Staff were going. We need to have things more mobile, we need to have people more diverse in their mission sets, and focus on different [mission strategies] rather than the one mission set."
Although Poluru said he couldn't have foreseen being an Airman who primarily supports space operations, he wouldn't have it any other way.
"I'm super happy to be in this role," he said. "You throw the words 'new project' at me and I'll almost instantly geek out. So yeah, the fact that I get to work on development, get to work with training, and work with people… yeah, did not know it would turn out this way, but I'm super glad it did."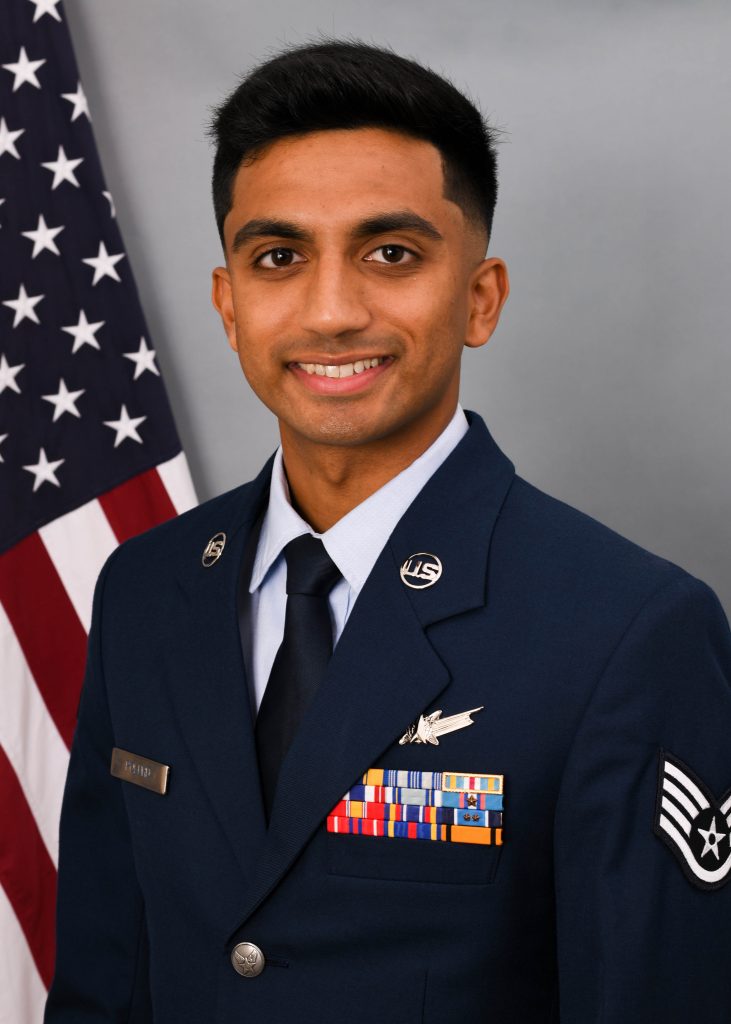 His penchant for learning new programs, tackling unfamiliar projects, and excelling in unforeseen roles is something he's been doing his whole life.
"The person with the most impact [on me] would have to be my dad," Poluru said. "He's been doing this forever, where he facilitated any sort of opportunity or challenge that I wanted. Ever since I was kid he was like, 'Oh, you know how to swing a baseball bat? Cool, you're playing Little League.'"
Now that he's being nationally recognized as one of the 12 Outstanding Airmen of the Year, Poluru said he's grateful to everyone who has invested time and taken a chance on him—he said the way his family supported him in his career decisions is what allowed him to make such an impressive impact on the Air and Space Forces in the first place.
"'Outstanding' to me just kind of means more than just the job itself," he said. "The job is [the main thing] for sure—you know, doing good at your job, excelling at whatever tasks you're given—but more than that, it also means how you're developing as a person too, or what impact you make [on] other people."
Meet the other Outstanding Airmen of the Year for 2023 below: