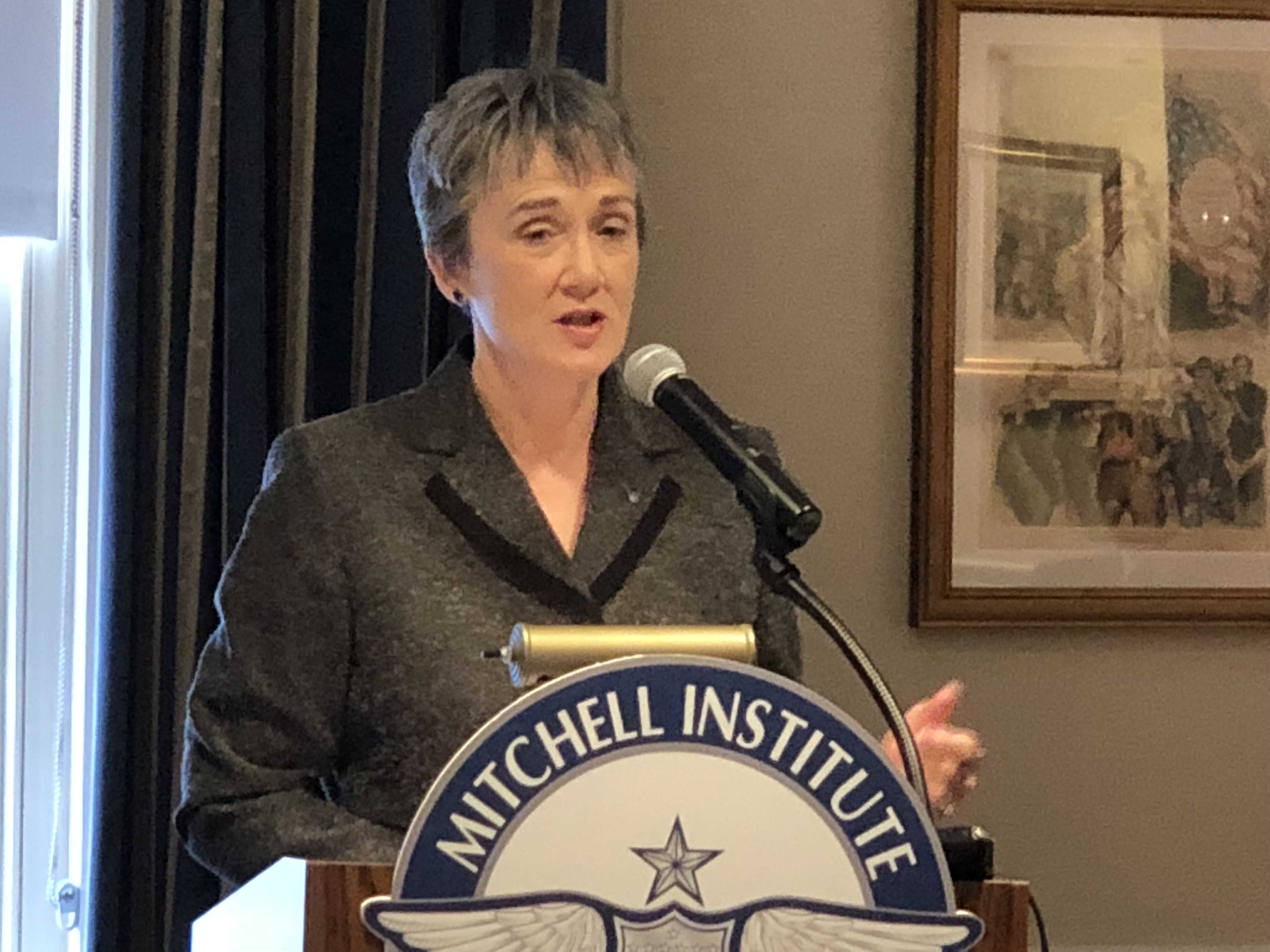 Air Force Secretary Heather Wilson speaks Friday about USAF's space priorities at an AFA Mitchell Institute for Aerospace Studies breakfast. Staff photo by Amy McCullough.?
Air Force Secretary Heather Wilson Friday defended the Air Force's decision to name a three-star vice commander of the Air Force Space Command, based in the Washington, D.C., area.
Wilson last month told congressional committees the Air Force planned to name the Space Command vice commander. The Air Force had earlier created a deputy chief of staff position devoted to integrating space operation into the overall US military, and Maj. Gen. David Thompson was confirmed for the spot last year, but the 2018 National Defense Authorization Act killed the position.
Speaking Friday at an AFA Mitchell Institute event, Wilson said that while Congress eliminated the deputy chief of staff spot, it "didn't tell us anything particular to put in place of it." Noting the Air force must handle such functions as planning, programming, budgeting, strategy, and procurement at the headquarters level, she said she and Air Force Chief of Staff Gen. David Goldfein "thought that was the right way to go as we are making some significant changes on space."
Air Force Space Command boss Gen. Jay Raymond, who also attended the breakfast, but is based in Colorado Springs, Colo., "has a lot of frequent-flier miles," she said, so "having him have a vice who is located in the National Capital Region will really help as we are making a lot of change."
In her speech, she also pointed to what she said is Trump administration acknowledgement of Chinese and Russian progress against US space operations. The National Defense Strategy, she said, "includes the explicit recognition that China and Russia have developed the ability to destroy or disable American satellites." Referring to testimony earlier in the week by Director of National Intelligence Dan Coats, she said Russia and China are "experimenting with ways to disable our critical satellites."
"They know that we are dominant in space, that every mission the military does depends on space, and in a crisis or war they are demonstrating capabilities and developing capabilities to seek to deny us our space assets," she said.
Asked about the eight percent increase in the proposed Fiscal 2019 Air Force space budget, she said much of it is classified, but that "a lot of it is going into the development and testing of new capabilities to be able to have defendable assets on orbit."
She said the Trump administration is not proposing a "huge increase" in the number of space personnel, although she expects that to change over time. The Air Force, she said, now has five space squadrons, which will probably increase in the future, but space is not "as much of a people-intensive area."