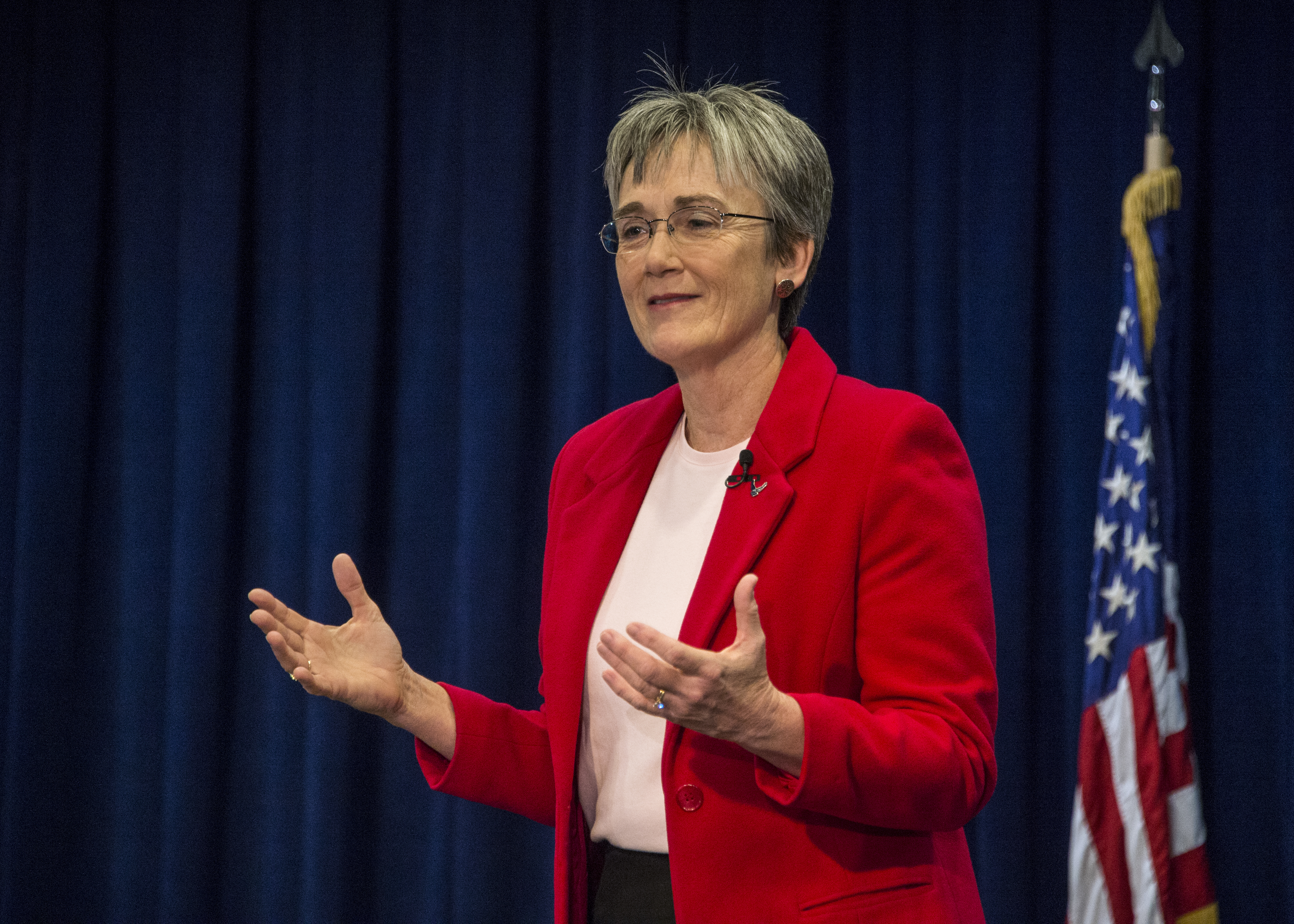 Air Force Secretary Heather Wilson said Jan. 18, 2018, USAF wanted to create a three-star vice commander of space position in an effort to meet requirements outlined in the defense authorization bill. USAF photo by Van Ha. ?
President Trump has nominated Lt. Gen. Timothy Ray for a fourth star and to serve as commander of Air Force Global Strike Command, and Maj. Gen. David Thompson for a third star to serve as the vice commander of Air Force Space Command, a newly created position that if approved will be based at the Pentagon, the Defense Department announced Thursday.
Ray is a former B-52 instructor pilot and commander of several bomber units from the squadron to wing level. He currently serves as the deputy commander of US European Command in Stuttgart-Vaihingen, Germany. If confirmed he would replace Gen. Robin Rand, who took over AFGSC in 2015 as the first four-star leader of the command. Rand is slated to retire after nearly four decades in uniform.
Thompson is now the special assistant to the commander AFSPC at Peterson Air Force Base in Colorado. He was confirmed for a similar position last year, called the deputy chief of staff for space, but the 2018 National Defense Authorization Act eliminated that position. Reps. Mike Rogers (R-Ala.) and Jim Cooper (D-Tenn.), at the time, called the position "a hastily developed half-measure, … which at best only added a box on the organization chart."
Air Force Secretary Heather Wilson told congressional committees earlier this year the service planned to establish the vice commander spot in the Washington, D.C., area. When asked at a recent AFA Mitchell Institute event what the difference was between the two positions, Wilson said the vice commander billet is attached to Space Command, but located in the Washington, D.C., area. She said Congress eliminated the former deputy commander for space billet but didn't give the Air Force any guidance on how to fill the position, which she argued is necessary as the service looks to bolster its space capabilities.