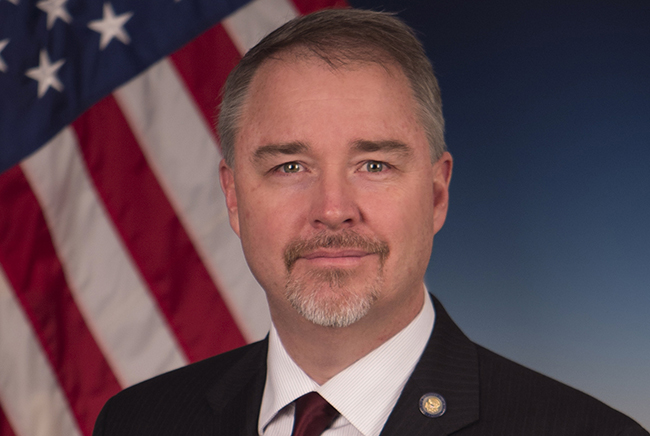 Fred Kennedy, the inaugural director of the Space Development Agency who resigned from the post last week, is shown in an official Defense Department portrait. DOD photo.
Fred Kennedy left his post as inaugural director of the Space Development Agency as signs pointed to his impending removal from the fledgling agency amid high-level disagreements over the role of commercial industry in launching a large new array of national security payloads, Air Force Magazine has learned.
Sources familiar with the situation described Kennedy's departure as spurred by differences in opinion that prompted him to resign from the dream job he held for about three months. He is the second top official to leave or be forced out of the Defense Department's year-old research and engineering branch this month, raising concerns about an intolerant environment for fast, cutting-edge research at a time when leaders warn US technology is in danger of falling behind.
"We're starting to see kind of a pattern here that R&E is having a hard time getting its footing and establishing itself as an organization and how it's going to operate with the rest of the Pentagon," said Todd Harrison, a defense budget analyst and space policy expert at the Center for Strategic and International Studies. "That could thwart this administration's efforts to steer overall modernization activities and technology development."
DOD spokeswoman Heather Babb declined to comment for this story.
SDA formed in March at the direction of then-Acting Defense Secretary Patrick Shanahan as one of the Pentagon's vanguard efforts to prepare for conflict in space. The idea was to stand up an agency that, free of the red tape and traditional processes that drag out military systems procurement, could quickly test out new satellites, sensors, and networks in space for missions ranging from communications to command and control to missile defense.
Kennedy, who at the time ran the Defense Advanced Research Projects Agency's Tactical Technology Office and offered an extensive space background, was Pentagon research and engineering chief Mike Griffin's pick to be SDA's director and head cheerleader. A key point in his favor was his embrace of commercial products that could be repurposed for military use much faster than traditional contractors could offer.
"To expand our space warfighting capability and foster growth in the US space industrial base, the SDA will incorporate enhanced government-commercial relationships and international collaboration with key allies and partners, leveraging commercial and allied space technology where practical," SDA's chartering memo echoed.
But Research and Engineering leadership and Kennedy don't see eye-to-eye on the issue of relying on commercial entities to host national security payloads, according to two sources. DOD is still figuring out which missions could fly on a balance of government-owned and -leased assets, instead of focusing on one or the other.
A former Pentagon official told Air Force Magazine that Griffin may be more cautious about committing to putting missile-tracking and certain other military sensors on commercially owned satellite constellations than Kennedy is. In the past, the source said, Griffin backed the commercial industry's entry into space systems but maintained the government needs to be able to provide its own assets.
Kennedy's remarks? during a June 14 AFA Mitchell Institute breakfast that he "would be very happy to simply lease commercial services from these mega-providers" rather than buy assets, while acknowledging the government may need to co-own certain pieces of a data transport layer, may have gone too far, the former Pentagon official said.
Harrison argues a heavy focus on commercial partnerships is what makes SDA stand apart from other development groups like the Air Force Space and Missile Systems Center and the Missile Defense Agency. That pursuit doesn't gel with the culture of those groups in a way it could within SDA, he said.
"If [SDA] had focused on how can we leverage commercial space better, that would have given them a more clear lane to operate in," Harrison said. "Some of the things you could leverage commercial for are going to overlap with the missions being pursued by these other acquisition organizations."
As for alleged arguments within R&E about SDA's development timeline—Kennedy wanted to launch the first operational capabilities in 2022, with new installments every two years thereafter—the former Pentagon official is skeptical that goal is feasible in most cases. He believes the government could own some of these systems instead of leasing them without badly slowing the process.
While the former official is concerned about DOD's ability to move forward with innovative space development and SDA's ability to attract the right staff, he noted the agency's work wasn't majorly underway. That may be because, as the current Pentagon source said, R&E leadership tied Kennedy's hands by blocking some of SDA's new hires and preventing it from issuing solicitations to industry. Kennedy had hoped to craft a vision for a new space architecture by the end of the summer.
When Kennedy tried to discuss these frustrations with his bosses, the DOD source said, the director discovered they were vetting several potential replacements for his seat. Kennedy handed in a resignation letter on June 19 and did not return; his job was terminated by the end of the week. Babb declined to confirm that timeline or provide the letter. Derek Tournear, the Pentagon's assistant director for space within the research and engineering branch, became dual-hatted as acting SDA director on June 24.
DARPA spokesman Jared Adams said June 24 that Kennedy will serve as a special assistant for space initiatives, reporting to the agency's director, until he leaves government at the end of September.
One source said Kennedy's decision to leave was also shaped by recent turmoil surrounding the fate of the Strategic Capabilities Office, another R&E organization whose director was recently forced out amid clashes over whether the secretive SCO should be moved to DARPA or remain separate.
Turnover could help spell trouble for the SDA's longevity. Doug Loverro, a former deputy assistant secretary of defense for space policy, told Air Force Magazine he expects SDA could somehow be combined with SMC, the Space Rapid Capabilities Office, and parts of the Air Force Research Laboratory and the Navy's Space and Naval Warfare Systems Command under a new Space Force within the next few years.
Harrison highly doubts SDA will last longer than a year, particularly given the concerns raised in recent congressional legislation.
"There were already a lot of legitimate questions about what are the rules and responsibilities for this organization going to be, relative to all the other space acquisition organizations we already have?" Harrison said. "Given those lingering questions and Congress starting to step in and say, 'Hey, no, some of the space sensor layer stuff needs to stay under MDA,' that already put the future of the organization in some doubt. Now, with the initial director resigning so quickly, I think [it] casts a lot of doubt on whether this organization is going to continue at all."
Based on four recent high-profile resignations of people driving changes in the space domain—Kennedy, acting Defense Secretary Patrick Shanahan, Air Force Secretary Heather Wilson, and her space adviser John Stopher—sources said Congress is likely questioning whether the military space community has its act together.
A House Appropriations Committee spokesman said lawmakers aren't considering any changes to their spending bill until it goes to conference with the Senate, which hasn't yet released defense funding legislation. Senate Armed Services Committee spokeswoman Marta Hernandez said the committee does not comment on internal personnel issues at DOD and that its current legislation reflects its position on the SDA.
"We are certainly tracking what is going on and have obvious concerns, but not to the point that anyone has made … inquiries or is contemplating adding anything to the NDAA at this point," House Armed Services Committee spokeswoman Monica Matoush said June 25.