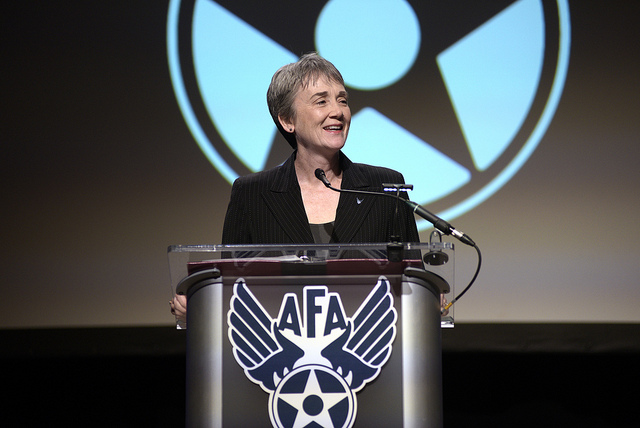 Air Force Secretary Heather Wilson provides a keynote address at AFA's Air Warfare Symposium on Feb. 28, 2019 in Orlando, Fla. Staff photo by Mike Tsukamoto.
Air Force Secretary Heather Wilson will resign effective May 31 to become president of the University of Texas at El Paso, the service confirmed Friday.
"It has been a privilege to serve alongside our airmen over the past two years and I am proud of the progress that we have made restoring our nation's defense," Wilson said in a statement Friday. "We have improved the readiness of the force; we have cut years out of acquisition schedules and gotten better prices through competition; we have repealed hundreds of superfluous regulations; and we have strengthened our ability to deter and dominate in space."
Pushing Wilson's departure to the end of May will "allow sufficient time for a smooth transition," service spokeswoman Ann Stefanek said. Under Secretary Matt Donovan would fill the top job until President Trump nominates a new Air Force Secretary.
In a Friday press release, the University of Texas System's Board of Regents announced Wilson is its top choice to lead the El Paso branch—a research university of more than 25,000 students.
"Regents voted unanimously Friday to select Wilson, whose accomplished career in public service and higher education has spanned more than 35 years and includes top leadership roles in higher education, the military, government, and private industry," the board said in a press release. "The Regents' decision followed an executive session last week where they interviewed candidates and considered recommendations from a presidential search advisory committee that reviewed applications and met with candidates for the position."
A school system spokeswoman told Air Force Magazine that under state law, the regents need to wait three weeks before voting to confirm Wilson as UTEP president.
In her March 8 resignation letter to Trump, Wilson said she expects to start her new job Sept. 1.
"This should allow sufficient time for a smooth transition and ensure effective advocacy during upcoming congressional hearings," she wrote.
UTEP "changes lives with a deep commitment to both access and excellence," Wilson added, noting the school strives to create social mobility for students.
"American higher education needs strong leaders to meet the challenges of the 21st century," she wrote. "Our family home is in New Mexico, a few hundred miles north of El Paso on the Rio Grande. If approved by the Regents, I look forward to returning to the West to help lead this fine institution."
President Donald Trump took to Twitter to congratulate Wilson on the impending move.
A strong proponent of broadening the military's outreach to research universities, Wilson would return to a familiar career in academia. She left the South Dakota School of Mines and Technology after four years as its president to become Air Force Secretary and has since pushed to modernize the service's acquisition and science and technology enterprises.
Wilson, a former member of Congress who is widely respected on Capitol Hill, will leave the military after nearly two years as head of the Air Force. Her name has also been floated as a possibility to become the next Defense Secretary and the first woman who would fill that seat.
"The importance of her incredible work in the Air Force cannot be overstated," Rep. Mike Turner (R-Ohio), the ranking member on the House Armed Services strategic forces subcommittee, said. "It is not surprising to me that Heather would be sought out by other organizations looking for her strong leadership. … Hopefully, someday we can see Heather Wilson as the first female Secretary of Defense."
Leaders of the Senate and House armed services committees did not immediately respond to requests for comment.
The announcement comes as the Defense Department lacks its own Senate-confirmed Secretary following former Defense Secretary Jim Mattis' departure last year, and shortly before the Trump administration releases its fiscal 2020 budget. That funding request is expected to kick off the creation of a Space Force that would fall under the Air Force, further a slew of multibillion-dollar acquisition programs from the F-35 to nuclear modernization, and provide new details on initiatives like the light-attack experiment.
"Secretary Wilson has been an outstanding leader for our Air Force, cutting regulations and leading the charge in defining 'The Air Force We Need,'" said former Air Force Secretary Whit Peters, Chairman of AFA's Board of Directors. "Her looming departure is a loss, but her vision and the work she began must continue. The Air Force is too small and the missions and risks too great to continue as we are. We must rebuild our Air Force for the future."