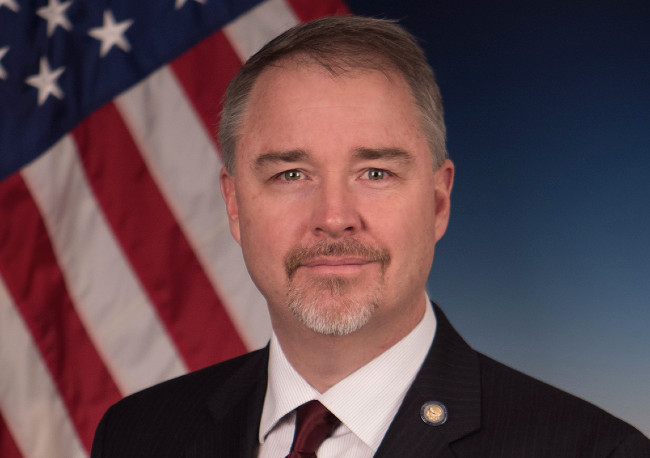 Fred Kennedy, director of the new Space Development Agency, spoke at an AFA Mitchell Institute breakfast in Washington, D.C., on June 14, 2019. DOD photo.
Four months into the job, Space Development Agency Director Fred Kennedy made the case for why the Pentagon needed another space acquisition group, even as lawmakers raised questions in a draft version of the 2020 defense policy bill.
Kennedy said the SDA, which sits within the Pentagon research and engineering chief's office and would move to a Space Force or Corps if one is created, isn't interested in chasing the long-term problems that existing development organizations tackle through a deliberative, slow process.
The Senate Armed Services Committee noted in legislation released June 12 that elements of two SDA studies on space-based interceptors and discrimination seem to duplicate work underway at the Missile Defense Agency. Lawmakers therefore propose shrinking 2020 funding for defense-wide space technology development and prototyping from $85 million to $55 million.
MDA's Hypersonic and Ballistic Tracking Space Sensor prototyping effort is "one of several proposed missions within the DOD's proliferated low Earth orbit space architecture led by SDA," MDA Director Lt. Gen. Samuel Greaves said in April.
Kennedy sees the work as complementary: SDA could launch early versions of new missile-defense sensors in 2022 and 2024 before MDA puts its own sensors on orbit in 2025, he said at a June 14 AFA Mitchell Institute breakfast. Therein lies the value of SDA, a group that can deliver less-capable—but still useful—products sooner to refine other programs and reach a better system in the end, its proponents say.
The National Reconnaissance Office, and possibly the National Oceanic and Atmospheric Administration, can collaborate on projects with SDA. Kennedy noted that he was approached about tackling weather systems, but isn't sure what cooperation with NOAA could look like.
SDA's relationship with the Air Force Space and Missile Systems Center, which manages the service's celestial procurement, is still in its infancy. But Kennedy says he's looking forward to working with SMC Commander Lt. Gen. John Thompson and believes his organization won't detract from SMC's longer-term plans.
Not everyone agrees. House appropriators want to cut nearly $18 million from the SDA's $44.8 million operations budget request in 2020, and fence off 50 percent or more of Next-Generation Overhead Persistent Infrared program funds until the Pentagon submits a more detailed roadmap for SDA. In contrast, House and Senate authorizers fully funded SDA operations.
"While the committee is generally supportive of the concept of the [SDA], the committee is concerned that this effort may create a parallel space program that will overlap and duplicate existing programs and missions in the Air Force," the House Appropriations Committee said in its 2020 defense spending bill. "Therefore, the committee recommendation includes a legislative provision requiring the [SDA] and the Air Force to work together to define a unified and integrated space architecture and to clarify roles and responsibilities."
A March memo establishing the SDA also asked for $85 million for research and development in 2020, with the funding request ramping up to $140 million in 2024. The Defense Department requested about $150 million for the fledgling agency in its 2020 budget request.
SDA is now working with about two dozen people, including the first government hire other than Kennedy, and a slew of federally funded research and development center employees.
At a June 11 MITRE Corp. conference in Massachusetts, the director acknowledged congressional skepticism but believes lawmakers are starting to offer support and direction in their bills.
"They've assigned tasks. That's a good sign," he said, according to Space News. "That means they recognize the need for something like an SDA and they're trying to figure out what to make it go do."
SDA's progress has the potential to shape other teams' budgets and needs, such as the Defense Advanced Research Projects Agency or programs within each military service. It will assess which legacy radios and other systems its new projects should be able to communicate with, and which should be upgraded. The armed forces have to look to the future instead of expecting that the proliferated LEO layer will be backward-compatible with antiquated equipment, Kennedy said.
If all goes well, SDA aims to deploy its first tranche of space and associated ground assets by the end of 2022, Kennedy told reporters in April. A request for information from industry is due out in the coming months, followed by a formal solicitation by the end of September and on-orbit demonstrations in 2020.
Eight research priorities span topics like communications, missile defense, autonomous battle management, the Internet of military things, rapid launch services, and alternative navigation that doesn't rely on GPS.
"I'm willing to come back to buy you a steak dinner by 2028 if we don't have an amazing alternative navigation capability," Kennedy said.