US Ready to Meet North Korean Threat, Says PACAF Commander
While the danger that Pyongyang poses to the Pacific region and to the rest of the globe is real, the US and its allies are ready to respond appropriately, Pacific Air Forces commander Gen. Terrence O'Shaughnessy said Monday in Seoul, South Korea. "The North Korean nuclear weapons and missile development program is truly a threat to us all," O'Shaughnessy said while speaking at the Seoul International Aerospace and Defense Exhibition, according to a press release. "While the United States will always seek peace over war, we remain poised to defend our ideals, our allies, and those who help preserve these international rules and norms." The PACAF commander praised the long history of collaboration between the US and South Korea, but he also highlighted ongoing changes. "We are in the process of rapidly advancing our integration with the next [generation] of fighter aircraft, the F-35," he said. On Aug. 30, four US Marine Corps F-35Bs participated in a show of force mission over Japan for the first time. PACAF expects South Korean pilots and maintainers to begin training to operate the F-35 early next year.
_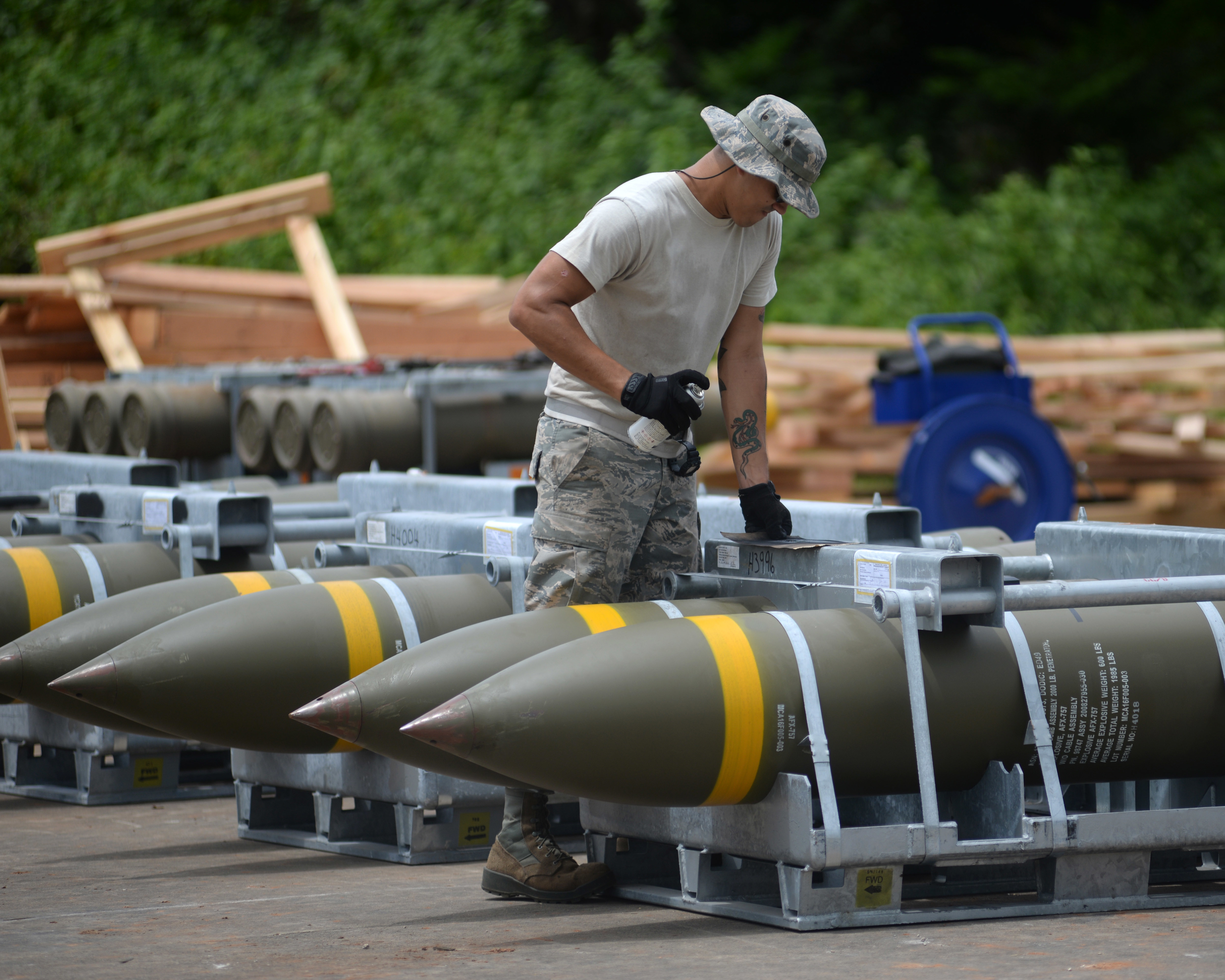 SrA. Jordan Kliewer, 36th Munitions Squadron inspector, marks weapons for stocking Sept. 7, 2017, at Andersen AFB, Guam. Andersen recently received 1.5 million pounds of munitions that will increase the overall availability of day-to-day training assets and could be used to support warfighting capabilities. USAF photo by A1C Gerald R. Willis.
Andersen Increases its Weapons Stock
Andersen AFB, Guam, recently received 1.5 million pounds of new bombs, a 10 percent increase in the amount of weapons available at the base. Weapons loaders at the base from Aug. 21 to Sept. 30 took in 816,393 munitions, at a value of more than $95 million, according to an Andersen release. In addition to increasing the overall amount of weapons at Andersen, the new shipment will also let the base replace expired bombs. More than 90 airmen used 34 trucks and trailers to move the bombs from Naval Base Guam port to the base. The Air Force routinely rotates its bombers through Andersen as part of its continuous bomber presence, with B-1Bs from Ellsworth AFB, S.D., currently flying the deterrence and training missions from the base. —Brian Everstine
Maj. Gen. David Thompson Nominated for Deputy Chief of Staff for Space
The Department of Defense announced Tuesday that President Donald Trump has nominated Maj. Gen. David Thompson to be the first Air Force deputy chief of staff for space. Thompson is currently the deputy commander of Air Force Space Command at Peterson AFB, Colo., a position he has held since 2015. AFSPC boss Gen. Jay Raymond announced the new A11 position in April, saying it would give the service someone in the Pentagon who would "come to work every day focused on" space power. In August, Chief of Staff Gen. David Goldfein said the new A11 "will be key to ensuring we link combatant commander and service space requirements with our capabilities." The Senate Armed Services Committee received Thompson's nomination on Monday. If confirmed, Thompson would also be promoted to the rank of lieutenant general. —Wilson Brissett

DOD Has 19 Percent Excess Capacity, Mattis Asks Congress for BRAC
A new Department of Defense report finds the US military is carrying 19 percent excess capacity (28 percent for the Air Force) across all its properties and recommends a new round of base realignment and closure (BRAC) to address the problem. "The time to authorize another BRAC round is now," the report concludes. Defense Secretary Jim Mattis wrote a letter to Congress emphasizing the report's findings and asking lawmakers to authorize a new round despite the House's failure to affirm BRAC and the Senate's move to ban a new round. Read the full story by Wilson Brissett.
McConnell Unveils New Hangars for KC-46s
With the recent opening of a new three-bay hangar, McConnell AFB, Kan., announced it is now ready for the first KC-46A Pegasus to arrive. The base has undergone about $267 million of military construction to prepare for the aircraft, with 14 of 16 total projects completed. On Oct. 16, the base cut the ribbon on the planes. "It is only appropriate that the home of air refueling take the lead with this new airframe, and that started with these 16 construction projects," Col. Josh Olson, commander of the 22nd Air Refueling Wing, said in a McConnell release. The first aircraft are slated to arrive in the spring. McConnell will be the first Active Duty-led main operating base for the KC-46. The base already has inactivated a KC-135 squadron in preparation for the new refueler. The aircraft has faced several delays, and is now at a "significant risk" after deficiencies were discovered, KC-46 Program Manager Col. John Newberry has said. These included the refueling boom scraping the skin of receiver aircraft, potentially compromising their low-observable features. The Air Force is conducting test flights to collect data on this issue, with a possible correction following, USAF's Program Executive Officer for tankers, Brig. Gen. Donna Shipton, said last month. Six of the 24 aircraft on contract are flying, she said. —Brian Everstine
VIDEO: AFRL Scientists Find Brand New Way to Print Wearable Tech
In September, researchers from Air Force Research Laboratory and Harvard University announced a new way to print electronics onto flexible materials, combining two different 3D printing approaches into one process for the first time ever. The new approach could change the way the Air Force approaches its electronics manufacture not only for human devices, but also for sensors and antennas, on which the team will focus next. This is the academic and military partnership's first article, and the collaboration is similar to the kind the service hopes to espouse in its year-long review of its science and technology best practices. Read the full story from Gideon Grudo.
Air Force Academy Investigating Cheating, Misconduct
The US Air Force Academy confirmed Wednesday it is conducting separate investigations into alleged misconduct by several members of the Academy's lacrosse team and alleged cheating on knowledge tests by 13 first-year cadets. The Academy could not disclose further information on the misconduct charges "because that investigation is ongoing," spokesperson Lt. Col. Allen Herritage wrote in an email. The other investigation, which is currently being handled by the cadet-run honor system, focuses on allegations of cheating on "freshman knowledge tests," Herritage said, which "consist of questions related to military history, rank structure, and other general knowledge." While he could not say when the investigations will be completed, Herritage said the Academy takes "any allegation of wrongdoing seriously." —Wilson Brissett
RADAR SWEEP
—The President has nominated Maj. Gen. Anthony Cotton, who currently serves as commander of 20th Air Force, for a third star and assignment as commander and president of Air University at Maxwell AFB, Ala. He also nominated Maj. Gen. Dorothy Hogg for appointment to the rank of lieutenant general and assignment as surgeon general of the Air Force. Hogg currently is the deputy surgeon general and chief of the Air Force Nurse Corps: DOD release.
—Rep. Rob Wittman in an op-ed published in Air Force Times outlines three efforts that should be taken to cost-effectively upgrade the aging Air Force One. First, he argued, the Air Force should approve all changes to requirements and notifying Congress of those changes. Second, "fixed-price contracts should be used to the maximum extent possible." And, third, the Secretary of the Air Force must brief congress quarterly on cost-saving efforts.