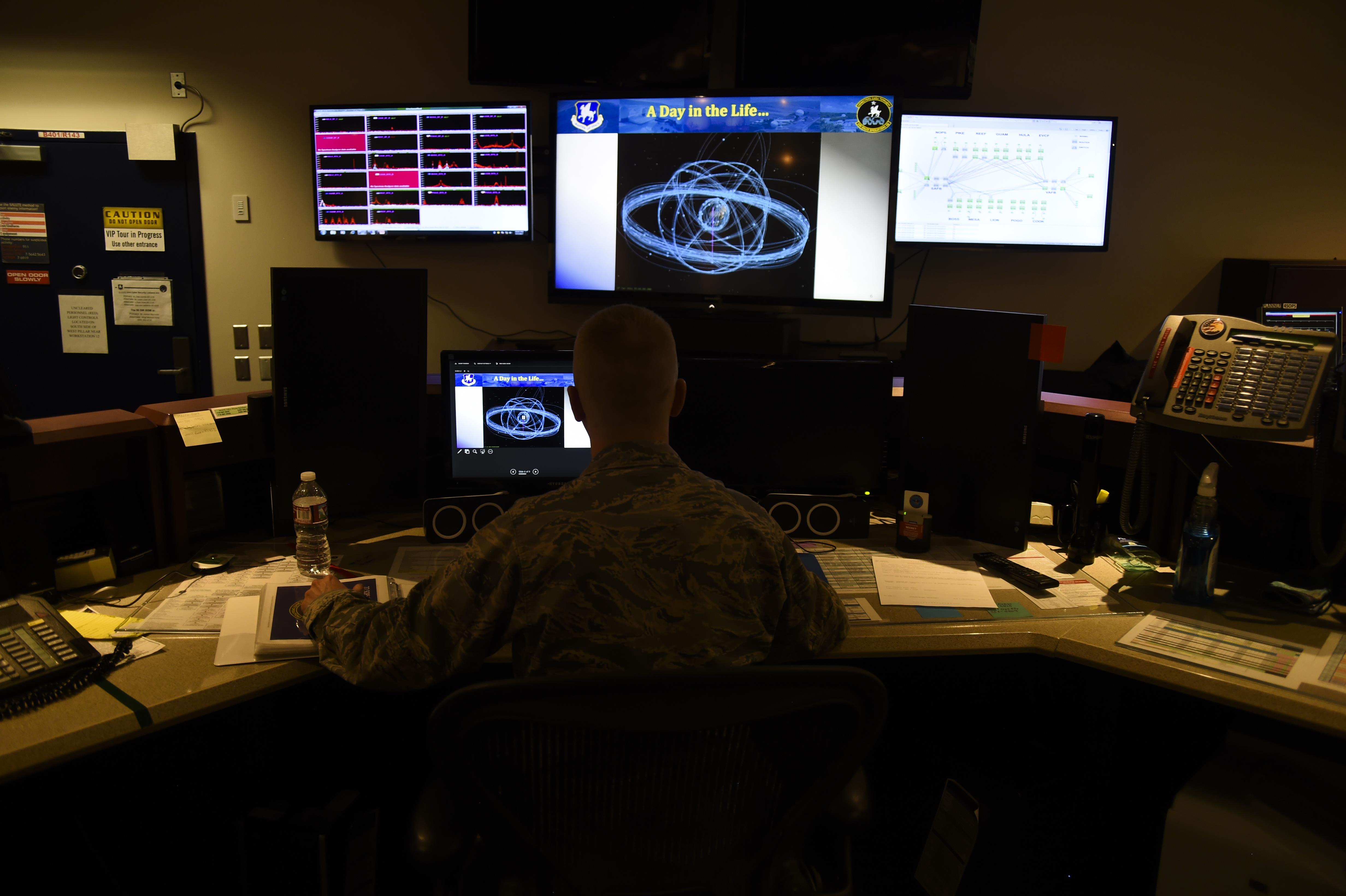 Maj. Gregory Stewart, 22nd Space Operations Squadron mission commander, oversees the Air Force Satellite Control Network antennas from all over the world to ensure they are operating efficiently and providing support to the users at Schriever AFB, Colo., April 5, 2017. On average, the AFSCN enables more than 450 satellite contacts per day. The Air Force is developing a new concept of operations for space as a combat domain. Air Force photo by TSgt. Julius Delos Reyes.
The Air Force named two senior staff members for its new space operations directorate Thursday. Shawn Barnes will serve as the senior civilian for the directorate, and Maj. Gen. Pamela Lincoln will be the mobilization assistant to the deputy chief of staff for space operations, who has not yet been named.
Air Force Space Command boss Gen. Jay Raymond announced the creation of the new deputy chief position and accompanying space operations directorate in April, saying it would help the service make the transition to a new concept of operations for space as a combat domain.
Barnes served in the Air Force for 28 years, including as commander of a space wing and a space group, and retired at the rank of colonel in 2013. Most recently, he was legislative liaison for the Secretary of the Air Force. Lincoln has 28 years of service in the Air Force and was most recently mobilization assistant to the commander of the 14th Air Force, Air Force Space Command, who also leads US Strategic Command's Joint Functional Component Command for Space at Vandenberg AFB, Calif.
"Mr. Barnes and Maj. Gen. Lincoln are experienced leaders who will provide the vision and direction for our new space operations directorate," said Secretary of the Air Force Heather Wilson, in a press release. "This is one more element of the plan to ensure our space forces are organized, trained, and equipped to prevail in any conflict."
The service also announced that 43 military members, civilians, and contractors have been assigned to work in the directorate, which is slated to reach initial operational capability on Aug. 21.
"The [deputy chief] will be key to ensuring we link combatant commander and service space requirements with our capabilities," said Chief of Staff Gen. David Goldfein in the release. "We must ensure our space forces have the tools necessary to operate in any environment, defend our systems, and provide our joint force with vital space capabilities to remain the most responsive, agile, and lethal on the planet."