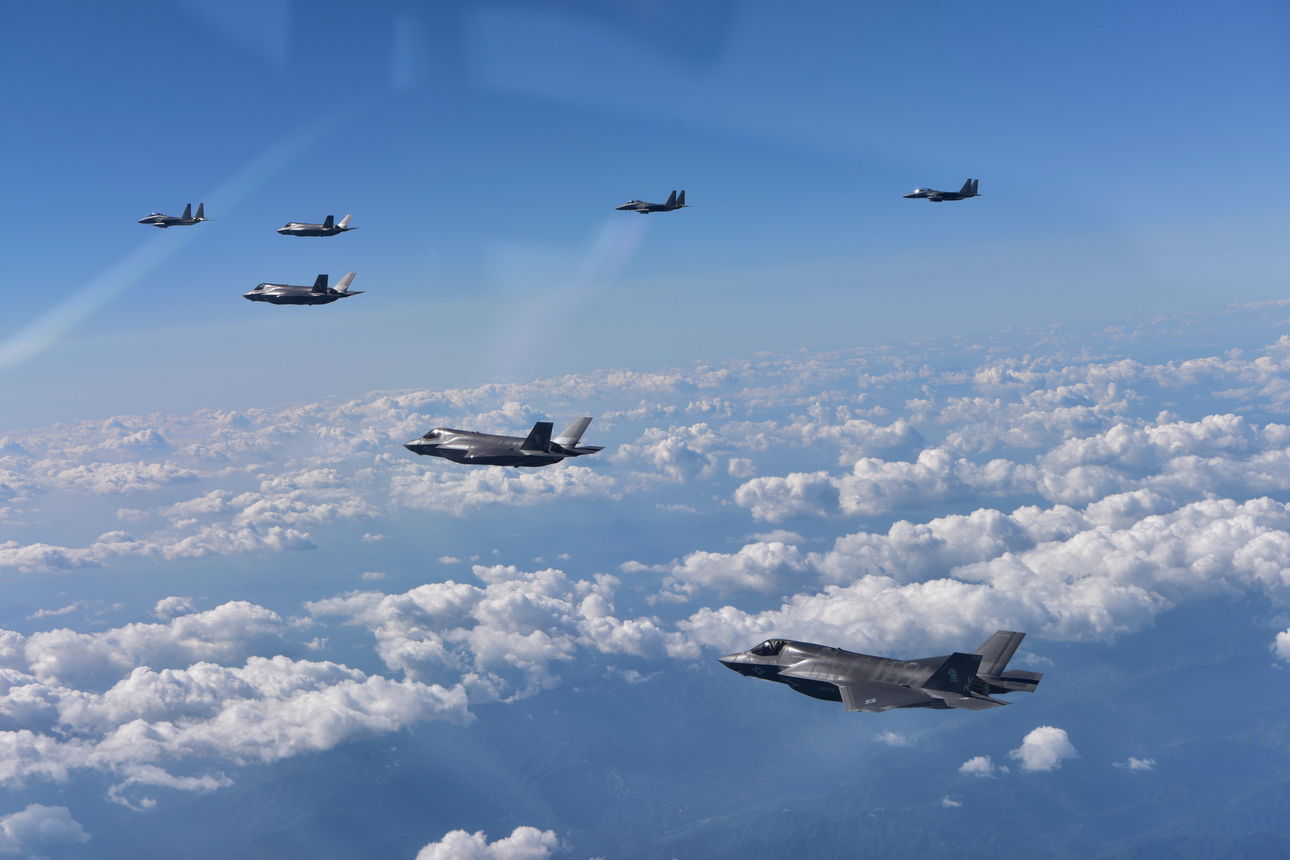 US Marine Corps' F-35B Lightning II strike fighters assigned to the MCAS Iwakuni, Japan, are joined by Republic of Korea Air Force F-15K fighters during a 10-hour mission from Andersen AFB, Guam, into Japanese airspace and over the Korean Peninsula, Aug. 30. The mission was conducted in direct response to North Korea's intermediate-range ballistic missile launch, which flew directly over northern Japan on Aug. 28, 2017. USAF photo.
Four US Marine Corps F-35Bs from MCAS Iwakuni, Japan, joined two B-1B bombers deployed to Andersen AFB, Guam, Wednesday in a show of force mission conducted "in direct response" to North Korea's Aug. 28 launch of an intermediate-range ballistic missile over Japanese territory, according to a US Pacific Air Forces press release.
The "sequenced bilateral mission" also involved two Japanese F-15J fighters and four Republic of Korea F-15Ks. During the 10-hour exercise, the aircraft flew over Kyushu, Japan, and across the Korean peninsula before dropping live weapons at the ROK Pilsung Range training area.
"North Korea's actions are a threat to our allies, partners, and homeland, and their destabilizing actions will be met accordingly," said Gen. Terrence O'Shaughnessy, PACAF commander. He called the exercise a "complex mission" and said it "clearly demonstrates our solidarity with our allies" against what he called the "common regional threat" presented by Pyongyang.
"Our forward-deployed force will be the first to the fight," O'Shaughnessy said, "ready to deliver a lethal response at a moment's notice if our nation calls."
O'Shaughnessy had just returned from an unscheduled trip to the Japanese ministry of defense in Tokyo. During his visit, he met with Gen. Yoshiyuki Sugiyama, chief of staff of the Japanese Air Self-Defense Force, as well as other US and Japanese air force leaders. The PACAF boss received an intelligence briefing and discussed information sharing practices to better integrate operations between the forces.
"Now more than ever, we stand shoulder to shoulder with our Japanese allies," O'Shaughnessy said, according to a press release. "The threats we face from North Korea are significant but so is our capability and resolve to tackle them together."