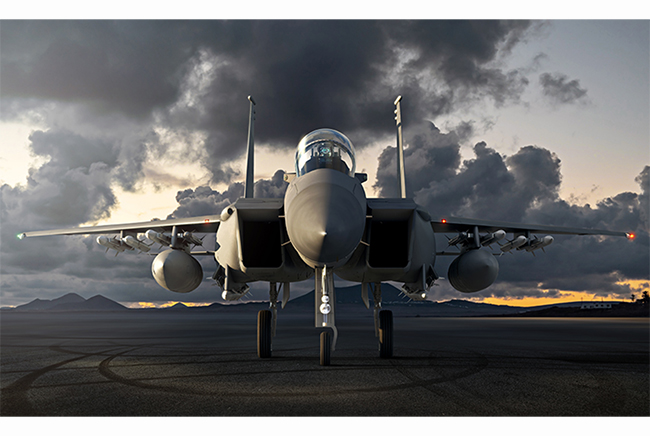 Boeing's F-15EX is depicted in an artist's rendering. Boeing illustration.
House defense authorizers this week endorsed the Air Force's decision to buy Boeing's F-15EX—but with a catch. A House Armed Services subcommittee suggests buying just two of eight airplanes in the Air Force request until the service details its development, acquisition, and fielding plans.
HASC staff told reporters on June 3 they won't approve further purchases until the Air Force submits the acquisition strategy and support information that typically accompanies major procurement programs.
"This section would require the Secretary of Defense to designate the F-15EX program as a major subprogram and subject it to relevant reporting requirements and criteria pertinent to a major subprogram," HASC's tactical air and land forces subcommittee said in its mark, released June 3.
The legislation, heading to markup June 4, funds two of the fourth-generation jets for prototype development but bars further purchases until at least 30 days after the Air Force Secretary submits its development, acquisition, and fielding plans to Congress. More information will be provided when the committee publishes its funding tables.
The Air Force asked for $1.1 billion for eight F-15EX aircraft and initial startup costs in its fiscal 2020 budget request. But details about exactly what version of the plane the Air Force would buy remain murky, pending negotiations with Boeing. House authorizers want a clearer picture before they commit to spending the full amount.
But members of the House Appropriations Committee came through with almost the full request, approving nearly $986 million for eight F-15EXs in the House Appropriations Committee's defense spending bill. The Senate Armed Services Committee also funded all eight aircraft, but provided $948 million for the purchase—$162 million below the administration's request, "reflecting excess nonrecurring costs."