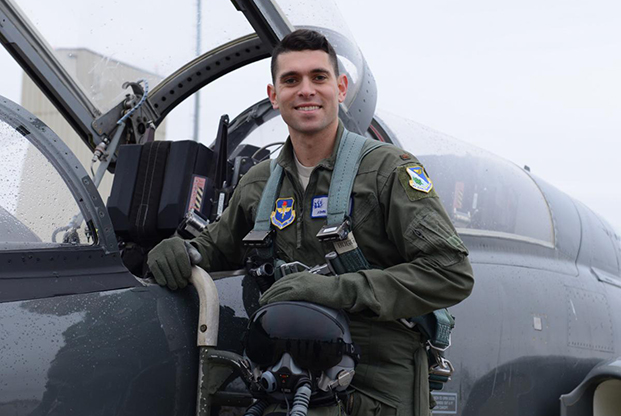 USAF Capt. John Graziano was killed in a Nov. 13 T-38C Talon crash at Laughlin AFB, Texas. USAF photo.
The pilot killed in a Tuesday-night T-38C Talon crash at Laughlin AFB, Texas, has been identified as 28-year-old Capt. John Graziano, of Elkridge, Md.
Graziano was an instructor pilot assigned to the 87th Flying Training Squadron at Laughlin, according to a Wednesday evening release from the 47th Flying Training Wing. Graziano is survived by his parents, sisters, and brother.
The second airman involved in the crash was identified as Capt. Mark Palyok, a fellow 87th FTS instructor pilot. Palyok was "treated for his injuries" at Val Verde Regional Medical Center in Del Rio, Texas, and released.
The Talon crashed on base around 7:40 p.m. local time Tuesday, according to a media release posted to the base's Facebook page on Tuesday night. The crash is under investigation.
This is the fifth reported Talon crash in less than a year.
In September 2018 a T-38 crashed on the runway at Sheppard AFB, Texas. The USAF and German Air Force pilots involved both ejected safely, and flying operations were temporarily suspended.
In August 2018 a Talon crashed near Vance AFB, Okla. The instructor pilot, who was flying solo, was able to safely eject, but the Talon was a total loss.
Both pilots safely ejected in May 2018 after a T-38 crashed near Columbus AFB, Miss.
In November 2017 one pilot was killed and another was injured when their Talon crashed near Laughlin. Flying operations were once again temporarily suspended at the base.
The most recent mishap comes less than two weeks after a leadership shake-up at Laughlin, in which three commanders from the 47th Flying Training Wing were relieved of their posts by AETC Commander Lt. Gen. Steven Kwast following "investigations into chronic leadership failures," Air Force Magazine reported Nov. 1.