More than two dozen Airmen at Travis Air Force Base, Calif., were officially awarded the Distinguished Flying Cross on Dec. 9 for their heroism in the noncombatant evacuation out of Kabul, Afghanistan. Among them were the first ever Critical Care Air Transport Team to receive the prestigious decoration.
Maj. Gen. Corey Martin, commander of the 18th Air Force, presented the medals to 24 Airmen for actions on two separate missions. Three of the decorated Airmen were unable to attend.
The crew of REACH 651, a C-17 flight that evacuated Afghan citizens from Kabul on Aug. 22, 2021, just a few days after the Taliban seized control of the capital city, was the first to be recognized. Amid concerns about suicide bombs and hijacking, the crew searched every passenger before boarding, then had to deal with two crises after takeoff—a suddenly ill passenger and a "potentially dangerous situation," according to an Air Force release.
The Airmen resolved both issues and ensured the plane landed safely in Qatar, bringing more than 450 people to safety.
"I am extremely proud of my crew for their tireless efforts throughout the mission to ensure the flight deck was secure," Maj. Drew Dela Cruz, C-17 pilot and REACH 651 aircraft commander, said in a statement. "The extremely good judgement they used and their calculated actions during chaos was crucial."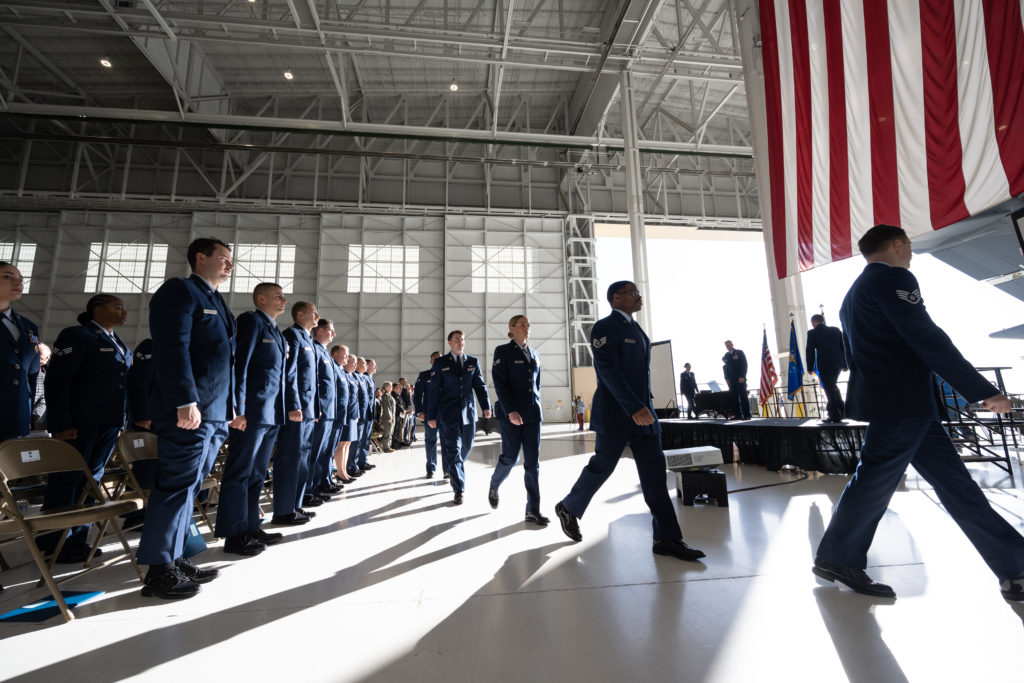 The second mission honored was MOOSE 98, another C-17 flight. That mission brought in a critical care air transport team on Aug. 26, the day a suicide bombing killed 13 U.S. service members and injured more than a dozen others.
MOOSE 98 was the first flight on the ground after the bombing, and the CCATT helped evacuate the "most severely wounded personnel to receive immediate care," including U.S. service members, Afghan civilians, and children.
The team had to respond rapidly after loading severely wounded patients, as more wounded individuals kept coming without warning. By the time the mission was done, MOOSE 98 had executed the largest aeromedical evacuation airlift from Kabul Coalition Hospital. Every patient on the flight arrived safely at Landstuhl Regional Medical Center, Germany.
"Although I was told what to expect, it was very shocking to see very young Marines, Sailors, and Soldiers walk on the plane with traumatic injuries," said Maj. Katelyn Dunahoe, flight nurse with MOOSE 98, in a statement. "But my crew responded fast and effectively. The bravery and selflessness they all displayed is indescribable."
The Distinguished Flying Cross is the nation's fourth-highest award for heroism—Air Mobility Command previously announced it was recognizing 96 Airmen with the medal for their actions during the Afghanistan evacuation. Last month, more than 50 Airmen were recognized in a ceremony at Joint Base Charleston, S.C., and 10 received their medals at Joint Base McGuire–Dix-Lakehurst, N.J. in early November. 
The Travis Airmen who received the DFC on Dec. 9 are:
MOOSE 98 crew
Lt. Col. Raul R. Montiague
Lt. Col. William A. Street
Maj. Katelyn E. Dunahoe
Maj. Katie B. Lunning
Maj. Pete N. Traylor
Maj. Dominick A. Vitale
Capt. Cody M. Apfel
Capt. Jedd E. Dillman
Capt. David L. Stuppy
Capt. Spencer D. Yacos
Master Sgt. Matthew A. Newman
Tech. Sgt. Matthew D. Keefer
Tech Sgt. Michael A. Raucci
Staff Sgt. Idaliz Alicea
Staff Sgt. Katherine Rosa Orellana
Staff Sgt. Courtney Smith
Senior Airman Mario Hernandez
Senior Airman Deniece A. Lobban
Senior Airman Alexis C. Sanchez
REACH 651 crew
Maj. Alexander A. Arcidiacono
Maj. Drew P. Dela Cruz
1st Lt. Ryan S. Corvin
Staff Sgt. Brandon S. Jensen
Staff Sgt. E-Quantay L. Mason
Senior Airman Kimberly S. Heiser
Senior Airman Matthew S. Williams
Airman 1st Class Jeremy Eda