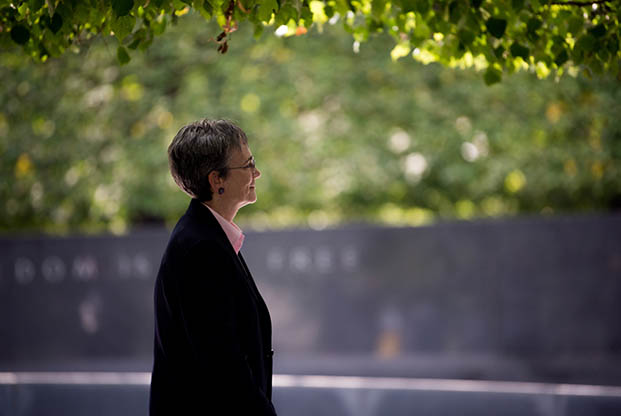 The White House denied a rumour that Air Force Secretary Heather Wilson—shown here in Washington on Sept. 20— might lose her job over a September proposal about the Space Force. DOD photo by Army Sgt. Amber Smith.
The Trump administration Friday categorically denied a report that President Trump is considering firing Air Force Secretary Heather Wilson over her handling of the administration's Space Force proposal.
ForeignPolicy.com reported Thursday that Trump is considering firing Wilson after next month's mid-term elections and replacing her with Rep. Mike Rogers (R-Ala.), a proponent of a separate space force.
"There is no discussion by the President to oust Air Force Secretary Heather Wilson—all reporting to the contrary is simply false," said White House deputy press secretary Lindsay Walters in a statement emailed to Air Force Magazine Friday. Added chief Pentagon spokesperson Dana White in a statement: "This is nonsense. The Department of Defense leadership team is focused on defending our great nation and working together to be worthy of the blood, treasure, and faith entrusted to us by the American people."
Wilson last month sent a proposal to the Defense Department for creating the responsibilities and structure of a future space force, with its own secretary and chief, which Wilson estimated would cost some $13 billion over five years. But the plan was widely criticized by Rogers, who chairs the House Armed Services Strategic Forces Subcommittee, as well as by the Center for Strategic and International Studies' budget director Todd Harrison, who called Wilson's pricetag "the highest estimate I think you could possibly come up with."
Inside the Air Force, however, Wilson is seen as an advocate for the split, but only as long as the new service gets all the resources it truly needs to be an equal and independent military branch.