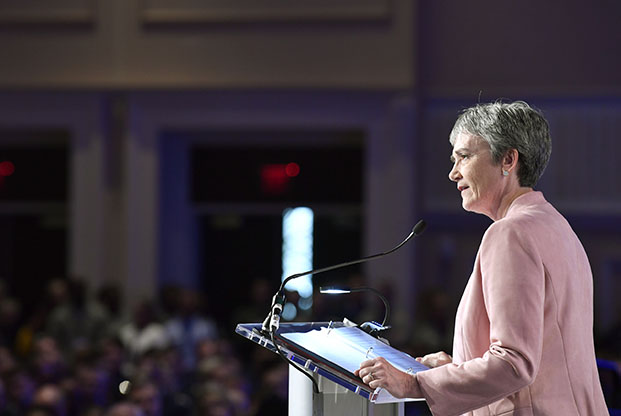 Air ?Force Secretary Heather Wilson delivers a keynote at AFA's 2018 Air, Space & Cyber Conference in National Harbor, Md., on Sept. 17. ?Air Force photo by Wayne Clark.
The Air Force last week sent a proposal to the Defense Department describing what it thinks should be the "responsibilities and structure" of a new Space Force, Air Force Secretary Heather Wilson said on Monday.
The Sept. 14 memo, a copy of which was obtained by Air Force Magazine, urges DOD to assign the newly proposed Space Development Agency to the existing Air Force Space Rapid Capabilities Office, allowing the Air Force to maintain at least a portion of the overall space portfolio.
In the memo's cover letter, Wilson said the USAF Space Rapid Capabilities Office "was already given special authorities and exemptions by Congress to rapidly develop space capabilities," which is to be the mission of the joint Space Development Agency. She added, "This office exists now and has the personnel and expertise to develop and field the warfighting capabilities needed by US Space Command." Establishment of a unified US Space Command also was called for in the Pentagon report.
The Air Force memo estimates the Space Force will cost $3.3 billion in its first year, and will include some 13,000 employees, close to 8,000 of whom would be in the Space Force element. Wilson suggested that Congress be asked for authority and resources to establish the headquarters for the new Space Force in Fiscal 2020, allowing the transfer of programs and personnel in Fiscal 2021, after congressional approval.
The new Department of the Space Force would be headed by a service Secretary, but the Air Force proposal says it "avoids detours that do not support the President's policy position to establish a new military department."
"Specifically, there is no need to establish an Assistant Secretary of Defense for Space, nor is there any benefit to either establishing an additive agency or moving programs to a temporary holding organization," the memo said.
In her speech, Wilson emphasized the need for the new Space Force to "maintain the close connection between acquisition and the warfighter, and it must deepen the already close connection between military space and the space elements of the intelligence community."
The memo calls USAF's approach the "most cost effective approach to fix critical issues immediately and achieve the expeditious and comprehensive implementation of a separate and equal Department of the Space Force."
"As airmen," Wilson said on Monday, "We have a responsibility to develop a proposal for the President that is bold and that carries out his vision."