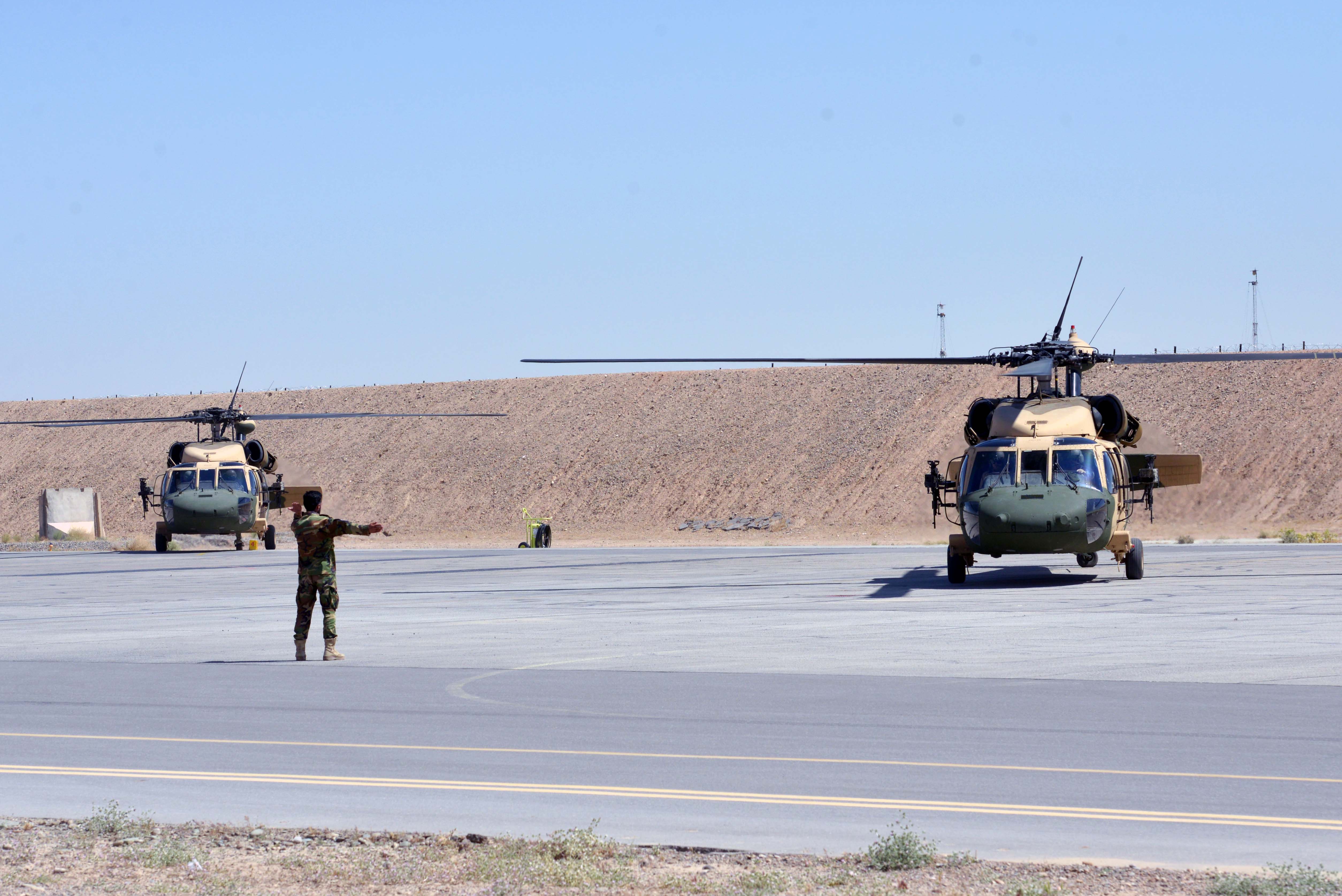 An Afghan Air Force member directs two UH-60 Blackhawks as they prepare to take off for the first Afghan-led operational mission on this aircraft May 8, 2018, at Kandahar Air Field, Afghanistan. Air Force photo by 1st Lt. Erin Recanzone.
The Afghan Air Force does not have enough UH-60 Black Hawk pilots or any maintenance for the helicopters, which will cause a delay in the implementation of the new airframe and increase costs, a Pentagon watchdog said in a report released this week.
The Special Inspector General for Afghan Reconstruction said in its congressionally mandated quarterly report that the current UH-60 delivery schedule, which calls for 159 aircraft by 2023, is in excess of the capability to train aircrews, so "it is unlikely that enough pilots will be trained before all of the UH-60s are received."
The US is procuring the Black Hawks to replace Russian-made Mi-17 helicopters that are the backbone of the country's rotary wing fleet. The AAF does not have a maintenance-training course on the aircraft, so US contractors are forced to provide all maintenance on the fleet. This brings a $2.8 billion price tag, and that "is likely to grow the longer it takes to develop the AAF and the Special Mission Wing's maintenance capabilities," according to SIGAR.
Additionally, this lack of maintenance means Black Hawk operations will be limited because US policy blocks contractors from working on the aircraft when there is no US or coalition control because of ongoing security concerns.
Resolute Support has developed a proposed training plan and an additional pilot training location outside of Afghanistan to ease this pressure, but there's no hard timeline for this process.
The SIGAR report paints a bleak picture on the state of the country, finding that as of October 2018, about 63.5 percent of the country's population lived in areas under Afghan control or influence, a drop of 1.7 percent from the previous quarter. Insurgents increased their control over areas where 10.8 percent of the Afghan population lives, and about a quarter of the country lives in contested areas.
The total strength of the Afghan National Defense Security Forces has dropped to its lowest level in almost four years, with 308,693 total personnel in October 2018. According to a figure provided by the Afghan government, about 849 Afghan security personnel have been killed per month since September 2014, the report states. While the Taliban's strength has increased, the report notes that attacks claimed by ISIS-Khorasan have dropped.
The report comes as US negotiators say they have developed the framework of a deal toward peace with the Taliban, a move US officials say is "encouraging."