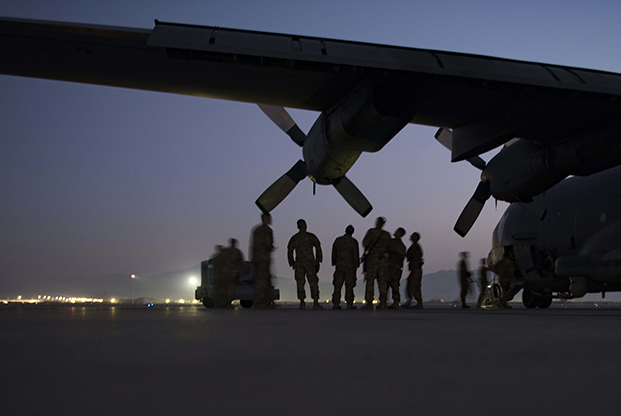 Airmen assigned to the 455th Air Expeditionary Wing had the opportunity to learn about the AC-130U Gunship mission at Bagram Airfield, Afghanistan, Dec. 30, 2018. Air Force photo by Senior Airman Kaylee Dubois.
Reports the US and Taliban have agreed to a framework for peace in Afghanistan are "encouraging," but there are no plans yet for a full withdrawal from the country, Acting Defense Secretary Patrick Shanahan said Monday.
The comments come after the top US negotiator with the Taliban told the New York Times there is a "draft of the framework that has to be fleshed out" before the two sides can agree. "The Taliban have committed, to our satisfaction, to do what is necessary that would prevent Afghanistan from ever becoming a platform for international terrorist groups or individuals," Zalmay Khalilzad, the US envoy, told the Times.
NATO Secretary General Jens Stoltenberg, appearing Monday at the Pentagon alongside Shanahan, said the organization welcomes the talks with the Taliban.
"The reason why NATO is in Afghanistan is to create a condition for … [a] peaceful solution to make sure that Afghanistan never again becomes a safe haven for international terrorists and to send a message to [the] Taliban that they will not win on the battlefield, so they have to sit down at the negotiating table, and therefore we are encouraged by what we see now," he said.
NATO will not "stay longer than necessary" in the country and will stay until it is no longer possible for Afghanistan to be a "safe haven for international terrorists once again," Stoltenberg added.
Also Monday, Afghan President Ashraf Ghani called on the Taliban to have "serious talks" with his government in addition to talking to the US. The Taliban has avoided the Afghan government, saying they are "puppets" and it is the US that has the power in the country.
"I call on the Taliban to … show their Afghan will, and accept Afghans' demand for peace, and enter into serious talks with the Afghan government," Ghani said during a televised address in Kabul, according to Agence France-Presse.