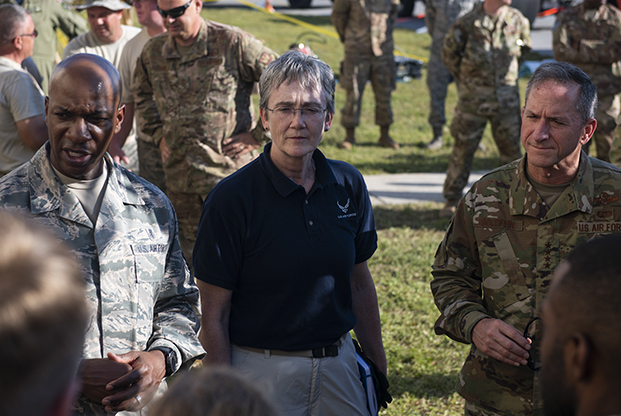 CMSAF Kaleth Wright, SECAF Heather Wilson and CSAF Gen. David Goldfein speak with USAF airmen during an Oct. 14 visit to Tyndall AFB, Fla. Air Force photo by SrA. Joseph Pick.
Damage to the F-22 Raptors left behind at Tyndall AFB, Fla., last week as Hurricane Michael slammed into the base is possibly not as bad as feared, top Air Force officials said Sunday. However, a service spokeswoman said the service likely won't release any new information this week on the status of the fifth-generation fighters, citing a lack of solid information at this time and operational security concerns.
The teams charged with evaluating damage to Tyndall and its aircraft "are still trying to get into some hangars to make an assessment," according to a base spokeswoman. The rest of the Tyndall-based F-22s, which evacuated to Wright-Patterson AFB, Ohio, as the storm approached, have been flown to JB Langley-Eustis, Va., Chief of Staff Gen. David Goldfein reported in a brief press conference at the storm-stricken base. The fighters will operate at Langley for the time being, he said.
Air Force Secretary Heather Wilson, Goldfein, and CMSAF Kaleth Wright toured the base Sunday, and released a joint statement saying, "It was clear that the hurricane's toll was severe in places, especially around the Tyndall flightline.
"We also looked into each of the hangars that housed aircraft which weathered the storm for maintenance or safety reasons. Visually, they were all intact and looked much better than expected considering the surrounding damage to some structures. Our maintenance professionals will do a detailed assessment of the F-22 Raptors and other aircraft before we can say with certainty that damaged aircraft can be repaired and sent back into the skies. However, damage was less than we feared and preliminary indications are promising."
They also pointed out that "not one airman or family member was injured during Hurricane Michael," calling that "a testament to the base's leadership and sound judgement in the face of rapidly changing storm predictions."
Goldfein, in the press conference, said the base had "exercised" storm preparation and recovery, and "knew what to do" when the orders were given to prepare for Hurricane Michael.
Wilson said 93 airmen "rode out the storm," and that they have been relieved by CV-22 aircraft bringing supplies and motorcycles from nearby Hurlburt Field. The motorcycles are to improve mobility because of debris blocking roadways. Wilson said the Tyndall airfield has been cleared, and "morale is very high" among the airmen now on the base. However, families wanting to visit the base to assess their homes and recover belongings will have to wait "until it is safe to do so," which could still be a couple more weeks, she said.
For now, said USAF spokeswoman Ann Stefanek, the statement and the top leadership remarks at the press conference are all the service will say about Tyndall's F-22s. In terms of numbers, she declined to say how many of the aircraft had been left behind when the base was evacuated. She also said it would "not be accurate" to deduce the left-behind number by simply subtracting the number of Raptors that flew to Wright-Patterson AFB, Ohio, to wait out the storm from Tyndall's normal complement of aircraft. To reveal more at this time is considered "damaging to opsec," or operational security, she said.
Goldfein waved off a reporter's suggestion that Tyndall is a "total loss," saying that USAF bases have survived ravaging storms in the past—he mentioned Hurricane Hugo in 1986 and Hurricane Andrew in 1992—and said the service will focus on "bringing the base back to life." Civil engineers are already at work, and security personnel have come in from Moody AFB, Ga., to secure the site, he said. "We're focused on recovery," he asserted.
The stealthy, high-altitude F-22 is the Air Force's most capable fighter, and the one in shortest supply. The number of F-22s left behind has ranged from 12 to 19, according to reports from Tyndall maintainers who last saw them before the storm and other service sources.
Goldfein said it will be tough to assess the extent of F-22 damage until maintainers can "get power on" in each aircraft, to find out what's really broken, he said. "These are very sophisticated aircraft … with a lot of interfaces," he noted, and although "we get a sense of how they look, physically," it won't be until those powered operations begin that a full picture will emerge.
USAF officials said the aircraft remained behind because they were, for various reasons, unflyable. Some were grounded for lack of parts, others were in the midst of partial teardown inspections, and some were "cann birds," meaning they were being cannibalized for parts to allow others to fly.
Over the weekend, the internet buzzed with astonishment that the Air Force did not find alternative means to remove the F-22s—the most expensive and least-numerous fighters in the fleet—from the path of danger. Why, many asked on social media, weren't they loaded onto giant C-5 Galaxy transports and taken elsewhere, or trucked on flatbeds to a safe location
One Air Force official, speaking on background, said the short warning time—the storm erupted from a tropical depression to a Category 4 hurricane in less than two days—precluded dismantling the F-22s and loading them on transports.
"That's a major operation, requiring a lot of people and equipment, and it takes more than two days," he said. "Plus, you'd need a C-5 for each one."
He also said loading the jets on flatbed trucks was impractical because "a wide load moving up a highway in an evacuation zone would have been a hazard to safety." Also, "the storm would have caught them anyway … out on the highway." In such circumstances, they would likely have been damaged worse out in the open than riding out the storm in a hangar offering at least some protection.
Officials declined to discuss whether any hangars at Tyndall were designed to survive a Category 5.
Goldfein and Wilson said the recovery crews are doing "tremendous work."
"It will take time to recover but we've been through this before and our airmen are up to the challenge," they said. "Tyndall leadership will continue working hard to get information to airmen and families and all those displaced. We will be working detailed plans in the days ahead to tackle and overcome the challenges. We will get through this together."
The potential F-22 losses come at particularly challenging time for the Air Force, which has been directed by Defense Secretary James Mattis to get F-22 mission capable rates up from the current 50 percent or so to 80 percent. The F-22 is one of the most challenging fleets the Air Force operates. The small inventory—roughly 180 aircraft—affects readiness because roughly a third of the inventory must be used for training. Maintenance also is a challenge because of the aircraft's specialized stealth components and surfaces and the availability of parts. However, Deputy Defense Secretary Patrick Shanahan suggested last week that fleet readiness levels might be increased by diminishing the number of aircraft in service, thus reducing the number that need parts, maintenance, and flying hours.
Last year, the Air Force engaged Lockheed Martin to restore an F-22 "hangar queen" at Edwards AFB, Calif., to flying status. The jet, No. 4006, an early engineering and manufacturing development airplane, had not flown for years, had been cannibalized for all usable parts, and was serving as a maintenance trainer. The jet was brought up to Block 20 status at a cost of at least $25 million and it now serves with the F-22 test force at Edwards.
A Lockheed Martin spokesman said that while the company is sure it will be asked to assist in the assessment and/or restoration of Tyndall's damaged aircraft, it has not yet been officially asked to do so by the Air Force.