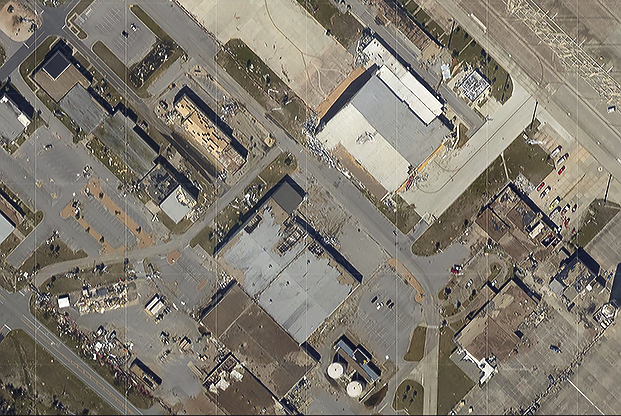 An image taken by a National Oceanic and Atmospheric Administration satellite image shows hurricane damage at Tyndall AFB, Fla. NOAA photo.
More than a dozen F-22s were left behind as Hurricane Michael bore down on the base Oct. 10. Now, in Michael's wake, many of those are damaged, and some beyond repair, at a cost of more than $1 billion, Air Force officials said.
Chief of Staff Gen. David Goldfein canceled Friday afternoon meetings and was preparing to fly to Tyndall to personally assess damage to the base and the aircraft. Air Combat Command chief Gen. James "Mike" Holmes was also preparing to visit Tyndall.
The F-22s left behind could not fly for either mechanical or safety reasons, said a spokeswoman, who also said all the hangars on base were damaged. Aerial video showed roofs and siding torn apart by savage winds and some hangars suffered severe structural damage.
"We anticipate the aircraft parked inside may be damaged as well, but we won't know the extent until our crews can safely enter those hangars and make an assessment," the spokeswoman said.
The loss is significant but not devastating. "The Air Force remains capable of executing its combat mission across the world with aircraft from other bases, as well as those that were evacuated from Tyndall in advance of the hurricane," she said.
The storm caused "catastrophic damage" across Tyndall, with all buildings from the flight line and beyond damaged, and all base housing rendered unfit for occupancy. Wing Commander Col. Brian Laidlaw said in a statement Friday the base was "better than yesterday, and that is how it is going to continue to be. We will continue to persevere." He called on airmen who had fled the base to go to their nearest military installation for medical help.
Air Force Personnel Centers at bases across the country have volunteered to assist as possible.
Holmes said in a Friday video statement that many airmen in the area don't have electricity or phone service, and so information needs to be delivered by word of mouth.
"To the airmen out there affected by the hurricane, please be safe, look after your families, look after each other, and know that we're working as hard as we can to return Tyndall to normal ops," he said.
USAF aircraft and units from across the country immediately responded to begin Tyndall's long road to recovery. The 23rd Special Tactics Squadron from nearby Hurlburt Field arrived at Tyndall on Thursday afternoon to clear and establish the runway at 7 p.m., with the first aircraft arriving six minutes later, according to the Air Force.
US Transportation Command's Joint Communications Support Element from MacDill AFB, Fla., and the Florida Air National Guard's 290th Joint Communications Support Squadron deployed to restore communication. C-17s from Travis AFB, Calif., and JB Lewis-McChord, Wash., were among the first aircraft in to carry supplies and support search and rescue, according to Air Mobility Command. The 621st Contingency Response Group from Travis responded to help evaluate the flight line and stand up operations.
The 822d Base Defense Squadron at Moody AFB, Ga., deployed on Thursday to help provide security to the damaged base. The Georgia Air National Guard's 116th Air Control Wing deployed 23 airmen to help clear roadways impacted by the storm in South Georgia.
At Tyndall, one F-22 could be seen in aerial footage taken the morning after the storm struck. The empennage of the airplane was visible through the missing roof of a hangar where at least five QF-16 target drones and several propeller-driven aircraft had also been sheltered. One of the QF-16s appeared to be resting on top of another, and three more were apparently pushed together by wind or water. The F-22 was surrounded by debris.
A still photograph of another damaged hangar, circulating on the internet, showed an apparently intact F-22 within.
A Facebook page called "Air Force Forum" carried a message from someone identifying themselves as a member of the 43rd Fighter Squadron. "Four 43d F-22s were left behind to ride out the hurricane," the anonymous poster wrote. "One of them was scheduled to leave but GABed [ground aborted] after an issue prior to taxi. The other three were jets that couldn't be spun up in time to fly." Two had been cannibalized for parts, he said, and the others had "issues that couldn't be fixed. They were in hangars that [they] are usually put in according to hurricane plans."
The poster said off-duty maintenance crews were recalled to duty "on Monday afternoon to spin up as many jets as they could to fly, with the last ones launched on Tuesday morning."
The F-22 is the Air Force's most valuable fighter and the one in shortest supply. Only 187 were built before the program was terminated in 2010 by then-Defense Secretary Robert M. Gates, at roughly half the fleet size needed to meet regional commander requirements. Depending on the estimating method used, F-22s were priced at $120 million to $300 million each, depending on whether research and development expenses are included. The Tyndall damage could mean a loss of $1-$3 billion for aircraft alone.
The 43rd is the Air Force's F-22 training unit and a full-up operational squadron of F-22s — the 95th — is also based at Tyndall. The 43rd's aircraft are of an early block of F-22s and do not have all the most up-to-date avionics and gear that other Raptor units have. Holmes has said that bringing the training F-22s up to the fully operational configuration is on Air Combat Command's "wish list," but is behind other priorities.
Lockheed Martin, which built the F-22, has campaigned to get the Air Force to upgrade the training jets, which would allow the fleet to be shuffled around the country. Tyndall's jets are subjected to high heat, humidity and salt water air from the ocean, while other locations aren't as hard on the equipment.
Tyndall is the Air Force's "schoolhouse," where it teaches new F-22 pilots to fly the stealth fighter jet, and its complement is typically about 60 training aircraft. The service reported that it had evacuated its Tyndall F-22s to Wright-Patterson AFB, Ohio.
Gates terminated production of the F-22 in 2010, believing the jet was an expensive irrelevancy in a post-Cold War world in which the US was fighting counterinsurgencies in Afghanistan and Iraq. Gates argued that China and Russia would not field 5th-generation jets like the F-22 until the early 2020s.
But China's first J-20 stealth fighter unit went operational last year and Russia has said it will declare its Su-57 stealth fighters operational this year.
A RAND study in 2011 found that restarting F-22 production after just three years could produce 75 airplanes at a unit cost of $266 million each, and with nonrecurring costs of just $350 million. However, those costs presumed re-hiring some recently-skilled workers and using vendors who had recently made parts.
In early 2017, the Air Force studied the issue again, determining it would cost nearly $10 billion to restore and re-certify the tooling, hire workers and buy 194 airplanes – and it would take seven years to take delivery of the first jets at a unit cost between $206 and $216 million.
Lockheed Martin has in recent months talked with potential foreign buyers about buying an F-22/F-35 hybrid that would have the aerodynamic capabilities of the F-22 but the ground attack and situational awareness capabilities of the F-35. Japan was seen as a potential customer for this aircraft, but Lockheed would need permission from the US government to market that aircraft overseas. Export of the F-22 was expressly forbidden by Congress, due to security concerns.
Read an Oct. 15 story update here.