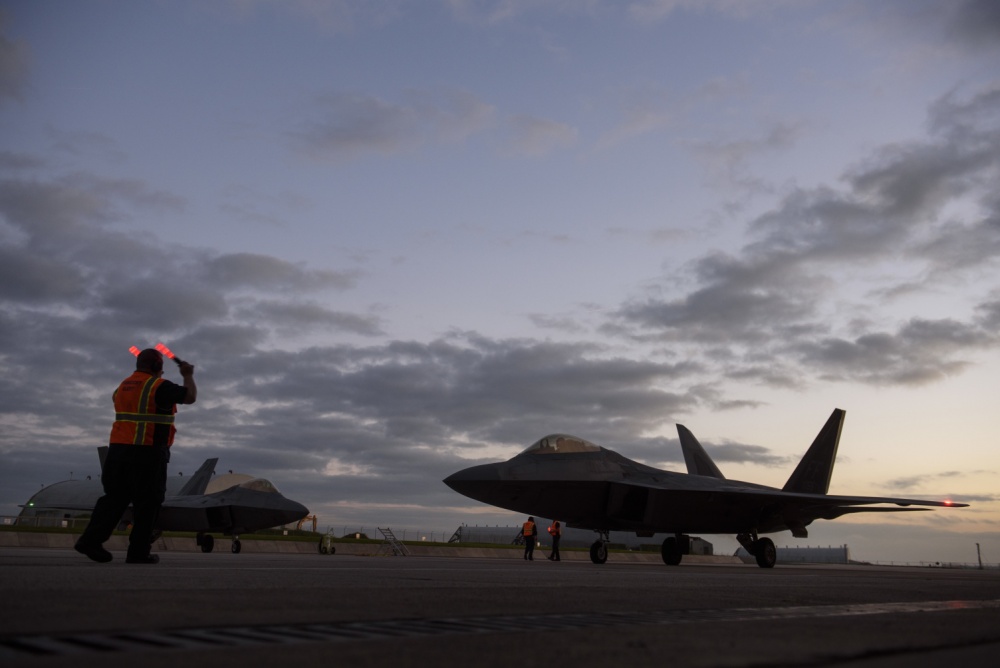 An F-22 Raptor assigned to the 1st Fighter Wing, JB Langley-Eustis, Va., taxis at Spangdahlem AB, Germany, Oct. 13, 2017. Air Force photo by SSgt. Jonathan Snyder.
A squadron of F-22 Raptors and airmen from the 95th Fighter Squadron at Tyndall AFB, Fla., deployed to Spangdahlem AB, Germany, on Aug. 8 and will remain in theater for several weeks, US Air Forces in Europe announced.
During the deployment, which is funded in part by the European Deterrence Initiative, the Raptors will forward deploy to operating locations in Germany and other NATO nations "in order to maximize training opportunities" and deter regional aggression, according to USAFE.
USAFE boss Gen. Tod Wolters said in late July the aircraft will "work with US and allied forces already in Europe to build on … previous deployments."
During a recent visit to Spangdahlem, Col. Jason Bailey, commander of the 52nd Fighter Wing there, told Air Force Magazine the wing is committed to providing full spectrum airpower to the European and African theaters, and its ability to "receive, support, operate, and integrate forward deployed forces" is key to that. "We previously had three fighter squadrons here. Now we're down to one," which means "we now have the real estate" to support theater security packages and other forward deployed forces, said Bailey. "We've done that in the past from F-22s to A-10s to F-15Cs, and we're actually putting in specific infrastructure here that enables us to be postured for fifth generation integration," he said.
For example, Spangdahlem is spending $18 million to build a 25,000 square foot low observable composite repair facility that will allow maintainers to do repairs on F-22s. The facility will include one bay with room for a 14-person administrative staff, paint tools, and other things needed to work on the Raptor's highly specialized composite material. Another $2.7 million of EDI funds will go towards the upgrade of seven existing third-generation hazards at Spangdahlem to accommodate the F-22.
F-22s from the 1st Fighter Wing at JB Langley-Eustis, Va., visited the base last year as part of the Air Force's flying training program.