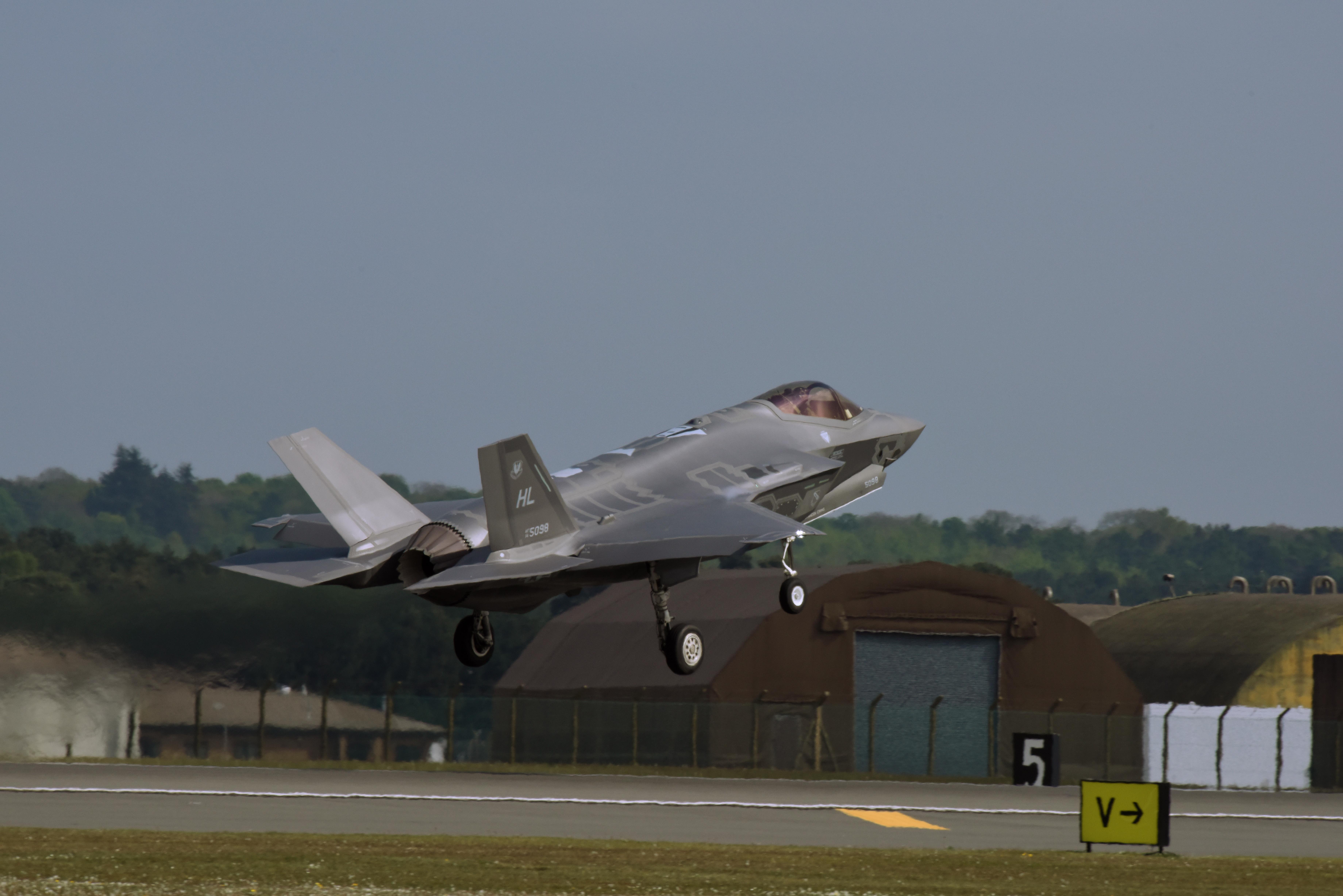 USAF fifth generation aircraft will come back to the European theater later this summer, US Air Forces in Europe boss Gen. Tod Wolters said Wednesday.
Though Wolters would not say whether the flying training deployment would include F-22s or F-35s, he said "they will work with US and allied forces already in Europe to build on … previous deployments," and called the integration of fifth generation assets into theater a "game changer."
"The purpose is to introduce a US fifth-gen capability one more time to the European continent, so we can improve our interoperability with other fifth-gen assets already on the continent and also improve our interoperability with other fourth gen" aircraft in theater, Wolters told reporters during a media roundtable via telephone on Wednesday.
The Royal Air Force last month accepted its first four F-35Bs at RAF Marham, England, which is located about 20 nautical miles from RAF Lakenheath, where USAF will beddown its own F-35As beginning in 2021.
USAF is about halfway through that planning cycle, Lt. Col. Clinton Warner, the F-35 program integration office director at Lakenheath, told Air Force Magazine during a recent visit to the base. He said the Royal Air Force has been pretty busy since they got the jets with the RAF's centennial celebrations, but his team still meets with them every Friday to discuss lessons learned, some of which have already been incorporated into USAF planning.
"RAF Marham found they were short in electricity, which made us question how we were doing. We found we will be short as well, but we identified that years out," said Warner.
Marham officials also told USAF they wished they had had a communications plan in place much sooner. "We took that lesson learned from them and we should have, in the next couple of months, a dedicated communications planner coming here to help us out," added Warner.
Overall, there are more than $360 million worth of F-35-related construction projects either in the works or in the planning stages at Lakenheath, including everything from a new dining facility to accommodate the 1,244 new uniformed personnel coming to the base (primarily operations and maintenance) to the construction of new hangars, a flight simulator building, and ramp extension for displaced F-15E Strike Eagle parking, said Warner.
Last year, Eight F-35As and some 200 airmen from Hill AFB, Utah, deployed to Lakenheath, marking the type's first-ever deployment to Europe. While in theater, the F-35s flew 76 sorties, racked up 154 flying hours, and forward deployed to both Estonia and Bulgaria.
Warner said one of the "snags" of that first deployment was that the F-35s had to be towed from the shelters, rather than starting up inside and then taxiing out like the base's F-15s, because there "was a question mark" as to whether starting them inside would cause any damage.
"We learned a little from them in terms of requirements, … and how different they are from F-15s," he said, noting USAFE is currently in the process of getting its shelters F-35 certified.
Since then, USAF strike fighters have made appearances at European air shows, including one that was on static display at the Royal International Air Tattoo in England earlier this month.
"They've been here before. They've flown here before, and so we will 100 percent be ready to fly them when they get here in 2021," said Warner.
F-22 Raptors also have made several appearances in theater, and USAFE has dedicated a portion of its European Deterrence Initiative funds to ensuring those rotations are better accommodated.
In 2016, 12 F-22s from the 95th Fighter Squadron at Tyndall AFB, Fla., deployed to RAF Lakenheath for one month, marking the largest Raptor deployment to Europe. While in theater, the F-22s conducted training with Lakenheath's jets, flew alongside RAF Typhoons, and forward deployed to Romania and Lithuania, demonstrating Rapid Raptor capabilities. The Raptors also forward deployment, mostly to Eastern European countries, during their inaugural deployment to Europe a year earlier.
In an effort to ensure USAF can continue to rotate its fifth generation assets into theater, Spangdahlem AB, Germany, is dedicating several million dollars of EDI funds to upgrading existing structures and building some new ones specifically with the F-22 Raptor in mind.
For example, Spangdahlem is spending $18 million to build a new low observable composite repair facility, which is basically a 25,000 square foot hangar that will allow maintainers to do repairs on F-22s. The facility will include one bay with room for a 14-person administrative staff, paint tools, and other things needed to work on the Raptor's highly specialized composite material.
Another $2.7 million of EDI funds will go towards the upgrade of seven existing third-generation hazards to accommodate the F-22.
"The ability to reassure our allies requires us to have a presence in Europe, and this will increase our ability to have a modern aircraft presence that can be supported in the theater," said Lt. Col. Gregory Mayer, commander of the 52nd Civil Engineer Squadron, when asked why USAFE was dedicating funds to highly specialized facilities for rotational forces.