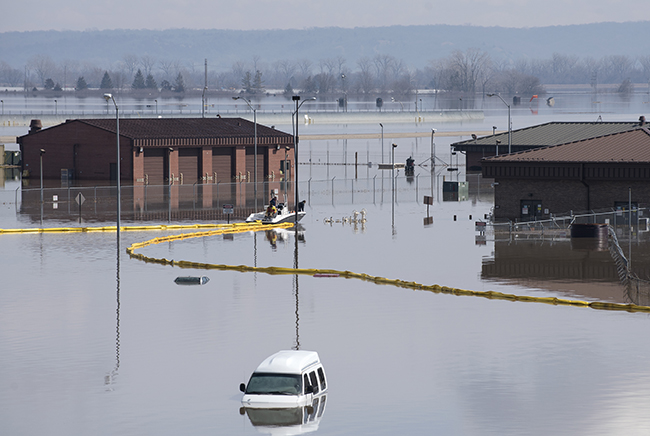 Environmental restoration employees deploy a containment boom from a boat March 18, 2019, on Offutt AFB, Neb. Air Force photo by Delanie Stafford.
The Senate on May 23 approved a new supplemental aid bill, providing the Air Force with $1.67 billion to cover construction and operations at Tyndall AFB, Fla., and Offutt AFB, Neb., following natural disasters that caused widespread damage to the bases.
The funding is part of a broad $19.1 billion disaster relief package that covers damage from Hurricanes Michael and Florence, as well as tornadoes, floods, and wildfires from 2018 and 2019. The Senate approved it by a vote of 85-8 and it is likely to be approved in the House.
In October, a Category 5 storm damaged almost all of Tyndall, and in March severe flooding inundated Offutt. Air Force Secretary Heather Wilson has said rebuilding Tyndall and Offutt would require $1.2 billion in fiscal 2019 and $3.7 billion across 2020 and 2021, including both military construction and operations and maintenance accounts.
The Air Force stopped signing new contracts for the rebuild efforts and began delaying other projects across the service on May 1 after a previous version of the bill, which provided a total of $1.1 billion for the Air Force, stalled in March and funding ran out.
Under the new measure, the Air Force needs to submit to the House and Senate Appropriations committees a detailed plan for the funding, which would be available until Sept. 30, 2023, within 60 days.
The service has an extensive plan to rebuild Tyndall, which would require demolishing more facilities than expected and changing the layout of the base, including making better use of the flight line and consolidating other missions. The total cost for new construction would be $2.5 billion, John Henderson, the Air Force's assistant secretary for installations, said in April.
Tyndall's mission is changing following the storm, as the base's F-22s have been reassigned to other locations. The Air Force plans to bring in F-35s starting in 2023, and will also possibly base MQ-9s at the location.