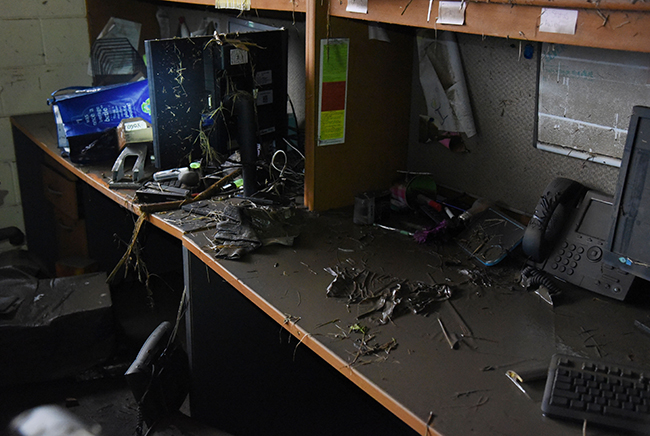 Workspace of the Nebraska National Guard 170th Group and 55th Operations Group at Offutt AFB sustain significant damage after major flooding occurs on base March 15-25, 2019 Bellevue, Neb. Active Duty and National Guard personnel worked side-by-side in sandbagging, elevating of equipment and paperwork in preparation of its coming. National Guard photo by TSgt R. Denise Mommens.
Twenty facilities at Offutt AFB, Neb., can't be saved in the aftermath of a blizzard whose floodwaters covered one-third of the base in March, while another 10 can still be repaired, according to an Air Force spokesman.
After assessing the state of the base on April 30, officials found key facilities like the 55th Wing, 55th Operations Group, and 595th Command and Control Group headquarters, as well as facilities that support nuclear command, control, and communications aircraft, simulators, and more will need to be torn down and rebuilt, Ryan Hansen said in a May 9 email. Those buildings and other assets that can be salvaged include the E-4B Nightwatch hangar, intel facilities, and maintenance areas.
All told, the Air Force currently needs $420 million for operations, maintenance, and construction—split between $120 million for operation and maintenance and facilities sustainment and $300 million for military construction—plus another $234 million for training devices. The service's cost estimate is still evolving.
"We have transitioned the [Recovery Operations Center] into what we're calling the NexGen Program Management Office," Hansen said. "It is comprised of folks that are organizing subject matter experts into a working group who'll enable the wing to prioritize requirements [current and future operations, and new missions, etc.] moving forward. This team will synergize our efforts to ensure the redevelopment of Offutt is done as efficiently as possible."
The office mirrors similar efforts underway at Tyndall AFB, Fla., which is battling its own mold, water damage, and widespread destruction after Hurricane Michael.
Nearly 140 structures, including 44 occupied buildings, were flooded, Hansen said May 10. Affected personnel moved elsewhere on base and into facilities that were scheduled to be torn down. Some are slowly starting to move back into the buildings that are salvageable.
Facilities that must be rebuilt include the:
55th Wing headquarters
55th Operations Group headquarters
595th Command and Control Group headquarters
Satellite communications/MILSTAR Complex
Aircrew alert campus for E-4B and E-6 aircraft
55th Intelligence Support Squadron facilities
343rd Reconnaissance Squadron facilities
625th Strategic Operations Squadron's simulator facility
55th Security Forces Squadron's combat arms training facility
Veterinary clinic
Petroleum operations facility
Precision measurement laboratory
Defense courier station
Various electrical power substation utilities
Tactical air navigation station
Instrument landing system glide slope
Recreation facilities
Drug demand reduction facility
Supply warehouses and equipment depots
Hazardous waste storage facility
Facilities that can be repaired include the:
Bennie L. Davis Maintenance Facility
E-6 ground equipment facility
E-4B hangar
97th Intelligence Squadron facilities
Recycling center
Boundary fence
Hydrant fueling facilities and utilities
Munitions storage
Vehicle fueling station
Softball pavilion and storage
John Henderson, the Air Force's assistant secretary for installations, environment, and energy, recently told the Omaha World-Herald about 60 structures will be torn down. Hansen said the 20 facilities listed as of the April 30 assessment encompass those 60 structures.