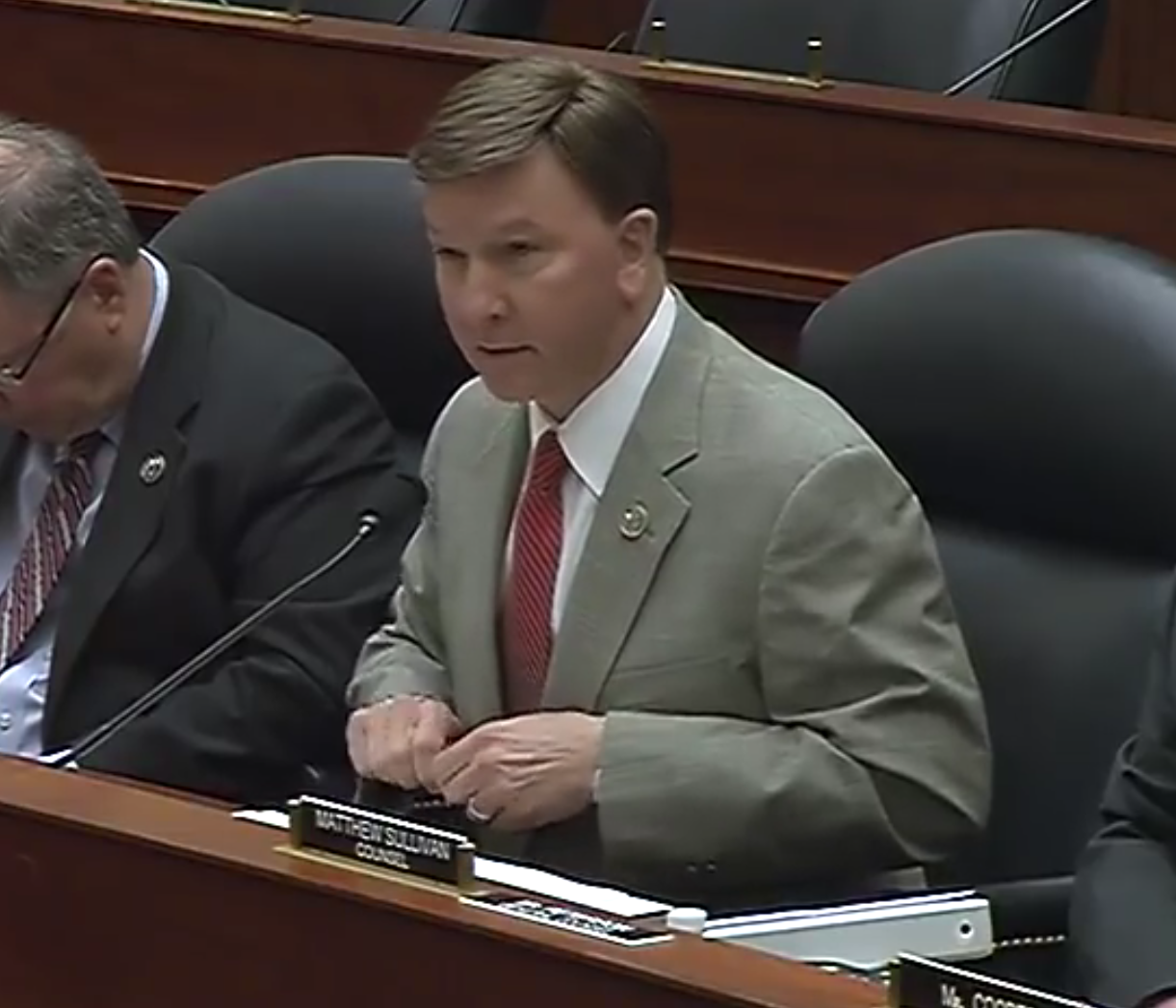 Rep. Mike Rogers (R-Ala.), chairman of the House Armed Services Strategic Forces Subcommittee, presides over an NDAA markup session Thursday.? Screenshot photo.
The chairman of the House Armed Services subcommittee dealing with the Air Force space program Thursday pointed to a need for Congress to continue to exert pressure on the Pentagon to make space policy reforms.
Strategic Forces Subcommittee Chairman Mike Rogers (R-Ala.) made his comments as his subcommittee sent its portion of the proposed Fiscal 2019 National Defense Authorization Act language on to the full committee, which is expected to consider the bill in the coming weeks. The Strategic Forces markup was one of several, largely pro forma, sessions through the day as subcommittees approved language that had been released Wednesday, largely without amendment.
The Strategic Forces Subcommittee language would bring back the US Space Command as a subordinate unified command under US Strategic Command. The Defense Department originally created the command in the mid-1980s, but it was merged with STRATCOM under former Defense Secretary Donald Rumsfeld.
The subcommittee's mark also would direct establishment of a new numbered Air Force responsible for space warfighting operations, assigned to the new command. In addition, the subcommittee's proposal would direct the Air Force to come up with, and implement, a plan "to increase the number, and improve the quality of, the space cadre of the Air Force." The Air Force Secretary would be directed to submit a report containing the plan to congressional defense committees by next March 1.
Both Rogers and Rep. Jim Cooper (D-Tenn.), the ranking minority member, pointed to problems they see in national security space efforts in their remarks during the session.
The House Armed Services Committee, Rogers said, continues to place a priority on work to fix "the significant flaws in the organization and management of the national security space enterprise."
Congress, he said, "must continue to place significant pressure on the bureaucracy of the department to fix itself," adding that President Trump has endorsed the establishment of a separate space force and that Rogers and Cooper "remain committed to laying the foundations for that force within this committee."
Deputy Defense Secretary Patrick Shanahan said the department will complete its interim assessment on whether a Space Corps, or what is sometimes called a Space Force, is needed by June 1. Rogers originally pushed for the new space-focused service in the Fiscal 2018 NDAA, but it was ultimately eliminated from the legislation.
"We look forward to aggressively moving forward to implement a sensible way forward to increase the lethality and agility of our joint space warfighters," he said.
Cooper struck a similar chord, pointing to the proposal's provisions on national security space operations.
"We need to think creatively to support smart solutions and partnerships," he said.