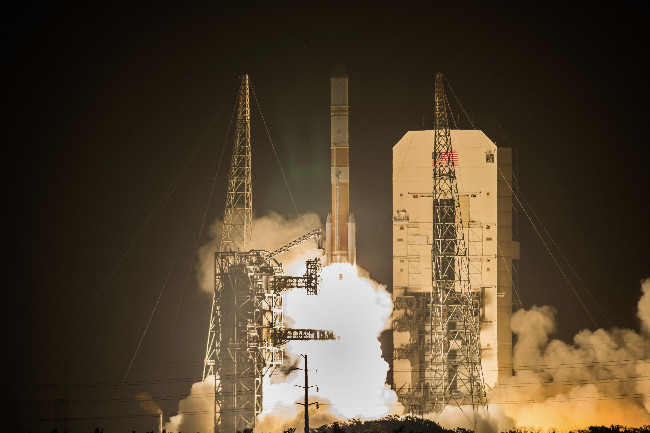 The Air Force's 10th Wideband Global Satcom communications satellite (WGS-10) atop a United Launch Alliance Delta 4 rocket lifts off on March 15, 2019 from Cape Canaveral AFS, Fla. USAF photo by Van Ha
Some lawmakers on Capitol Hill are confident an agreement on how to create a Space Force is within reach, although the path forward remains murky.
In the nearly two years since Alabama Republican Rep. Mike Rogers and Tennessee Democrat Rep. Jim Cooper rolled out a Space Corps proposal in the fiscal 2018 defense policy bill, the idea of standing up a new military organization to manage space has picked up steam, thanks to continued congressional debate, President Donald Trump's support, and the Pentagon's formal Space Force proposal.
Like the original Space Corps plan, the Pentagon now wants to establish a separate Space Force within the Department of the Air Force. The new organization would encompass Army, Navy, and Air Force space groups, instead of limiting changes to Air Force Space Command as the 2017 Space Corps proposal asked.
"If we have legislation passed this year by the Congress, within 90 days we would stand up a space staff in the Pentagon with 200 people," Air Force Secretary Heather Wilson said Wednesday at the Heritage Foundation.
But right now, it's unclear what legislation Capitol Hill may consider to organize, train, and equip space warfighters.
The Pentagon submitted draft bill text to lawmakers about a month ago as part of its formal Space Force proposal, drawing mixed reviews.
Cooper, who chairs the House Armed Services strategic forces subcommittee, recently called the Defense Department's version "about as close to our original House proposal as you can get." It is more modest than Trump's "over-the-top" idea for a new military department, he said. Trump has supported the idea of a Space Force within the Department of the Air Force, though he's also made it clear he'd eventually like to see the service becomes its own department.
"You can quibble about this element of the bureaucracy or that, but the key principles, I think, are there," Cooper said March 20 at the Center for Strategic and International Studies. "We've got to have an unrivaled space capability, and I think we're on track to make that happen."
He told reporters later that day there's a "greater chance for Senate acceptance than we've ever had before." The case for a Space Force is "overwhelmingly strong, he said, and "we're going to win."
But HASC Chairman Rep. Adam Smith (D-Wash.) on Monday criticized the plan for creating too much bureaucracy and vowed to explore other legislative options.
"It seeks to create a top-heavy bureaucracy with two new four-star generals and a new under secretary of the Air Force to oversee a force of approximately 16,000 people," Smith said in a press release. "It requests an almost unlimited seven-year personnel and funding transfer authority that seeks to waive a wide range of existing laws—all without a detailed plan or analysis of the potential end state or cost."
Politico recently reported Rep. Rick Larsen (D-Wash.) expects the HASC will revive its first Space Corps proposal instead. A spokeswoman for Smith declined to comment on the possibility of bringing back old legislation and told Air Force Magazine it's premature to discuss details.
While Larsen suggested Trump's support for a Space Force has made it politically difficult for Democrats to move forward, Cooper argues his stake in the matter could help bring bullish senators on board.
Rep. Mike Turner (R-Ohio), ranking member on HASC's strategic forces subcommittee, believes lawmakers could find common ground somewhere in between.
"The original proposal had [too few] details and this one has so many constraints and additional resources concerns that somewhere in the middle is obviously where we're going to have to land," Turner said in an interview Tuesday with Air Force Magazine, without identifying possible must-have or red-line issues.
Growing the Pentagon's already-behemoth bureaucracy is a sticking point on both sides of the aisle, in both chambers of Congress. But it may also be an area lawmakers could smooth out.
Senate Democratic Whip Dick Durbin invoked the late Arizona Republican Sen. John McCain when asking Air Force leaders whether a potentially "uncontrollable" bureaucracy is in America's best interest.
"[McCain] basically pushed back against the creation of brass and bureaucracy, saying, 'Let's put an end to the capabilities and readiness of the people who are serving our nation already,'" Durbin, of Illinois, said at a March 13 Senate Appropriations defense subcommittee hearing. "I don't want to rain on this Space Force parade, but I do think we ought to have a cold day of reckoning here, in terms of whether this is something which we will come to regret."
Todd Harrison, a defense budget analyst at CSIS, said one area Congress could tweak is how much discretion the Space Force proposal allows the Defense Secretary to determine which DOD groups will transfer in and when in the next five years they will do so.
Another frequent concern is the long-term price tag. The Pentagon argues growing the Space Force over the next five years will cost $2 billion, including $72 million in fiscal 2020, and about $500 million each year once the organization is fully established. That amounts to "dust" in the overall Pentagon budget at a time when the US needs to dominate in space, protect those assets, and improve acquisition, Cooper argued.
While Cooper believes the government is "well within the ballpark of reasonable compromise" on the cost, Turner asserts the price "seems relatively high."
"Where are costs being created as a result of duplication and where are they giving us increased capabilities and functions?" Turner said. "I'm not eager to cut a $2 billion check just to create a separate Corps to do what we're already doing."
At a Senate Armed Services strategic forces subcommittee hearing Wednesday, Sen. Angus King (I-Maine) requested that Kenneth Rapuano, the assistant defense secretary for homeland defense and global security, submit a short memo justifying the change and outlining its "tangible benefits."
"Are you coming before us, saying, we can't manage this now and we need to spend half a billion dollars a year?" King asked. "Convince me that this makes some sense."
Lt. Gen. David Thompson, vice commander of Air Force Space Command, tried to reassure King that the new force would help unify space capabilities spread across the department.
"I would also look at it as not just a, are we trying to fix a problem?" Thompson said. "It's a question of, is the nation prepared, and are we organized to accept and take on the challenge that comes with space as a warfighting domain?"
Others—including Wilson—have questioned how to avoid duplicating efforts, particularly when looking at how the new Space Development Agency could cut into the Air Force and Defense Advanced Research Projects Agency's work.
Cooper believes those disputes simply amount to turf wars.
"Let's get it going here," he said. "The person who most recently said the SDA is irrelevant or redundant will soon be leaving. I think that will clear a path for more positive thinking."
Turner dismissed the notion that Wilson's impending return to academia raises any red flags about where the DOD's space reorganization is headed.
"She's a very good friend of mine, and she said that she had a very important professional opportunity that she wanted to pursue, and I believe her," he said.