The Air Force plans to make online educational materials available to enlisted Airmen "on demand" by late 2024, one of several changes the service announced Sept. 20 as part of a new "Enlisted Airmanship Continuum" for developing service members.
Other changes include "Foundations Courses" for junior enlisted, noncommissioned officers, and senior noncommissioned officers starting in October that will eventually become a prerequisite for Airmen to attend the service's enlisted PME programs—Airman Leadership School, NCO Academy, and SNCO Academy.
Finally, the Air Force plans to expand its "Prepping the Line" initiative, which sets Job Qualifications Standards for Airmen to be certified on for certain supervisory roles.
"This shift is about the long game and building the force of the future," Chief of Staff Gen. Charles Q. Brown Jr. and Chief Master Sergeant of the Air Force JoAnne S. Bass wrote in a letter to the force. "We owe every Airman deliberate developmental opportunities throughout their careers to grow and become their very best. They will be the difference makers in the future fight, and we are choosing to invest in them now to ensure we remain the Air Force our nation needs."
On-Demand PME
On-demand PME will "provide unrestricted access to relevant content for Airmen, when and where needed," Brown and Bass wrote. A background paper from the Air Force clarified that the initiative is still being worked with a scheduled release in late 2024.
An Air Force spokeswoman confirmed to Air & Space Forces Magazine that on-demand PME will not replace the need to attend enlisted PME courses like Airman Leadership School, NCO Academy, and SNCO Academy.
Rather, it will be "online content Airmen can continually return to or to learn about something new, such as emotional intelligence [or] Air Force Budget Life Cycle," the spokeswoman said.
The Air Force has made digitizing and upgrading different enlisted programs a priority in recent years, with varying levels of success. Despite Bass' push to move to digital testing for the Weighted Airman Promotion System by 2022, paper tests and Scantrons remain standard. myEval, a new personnel evaluation web application, was paused in November 2022 because it was too difficult to use, followed by myEval 2.0 in March.
On the officer side, on-demand educational material has been a key part of the revamped Undergraduate Pilot Training curriculum, allowing for students to learn at their own pace, officials have said.
Foundations Courses
Bass first previewed the Foundations Courses during a livestreamed discussion with Air Force Secretary Frank Kendall on Aug. 30, saying they would replace the Air Force's professional enhancement seminars.
"We're about to make those things mandatory," she said at the time. "We will make sure that we have relevant content that we are supplying and giving you, empowering you with, so that you can continue growing those around you."
The three new Foundations Courses—for junior Airmen, NCOs, and senior NCOs—will launch in October at the base level but will not become mandatory for enlisted PME until late 2024, according to Brown and Bass's letter.
"Content for all foundations courses will be updated, and standardized by Air University and Development Advisors, with the intent to remain current and relevant to maintain our competitive advantage," the background document added.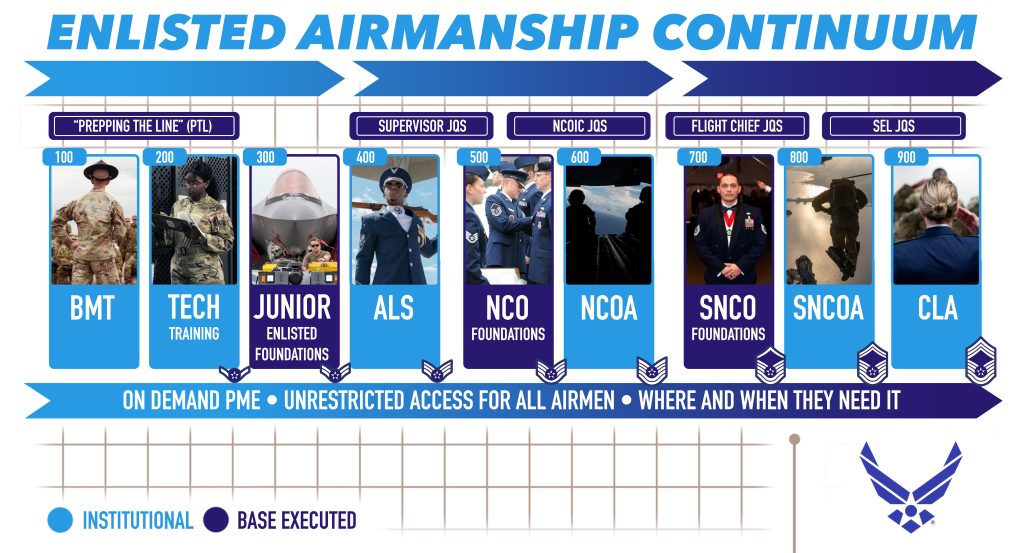 Enlisted Force Development
In January 2022, Brown and Bass released their Enlisted Force Development Action Plan, outlining 28 force development objectives to be completed over the next two years.
One such objective was to review the existing enlisted PME continuum "to ensure it meets the needs of today's warfighter and delivers development at the right time," leading to the Sept. 20 announcement.
More broadly, Bass has sought to revamp the foundational documents and processes by which enlisted Airmen progress in their careers. During her tenure as CMSAF, the Air Force has released updated "Blue" and "Brown" Books—"The Profession of Arms: Our Core Values" and "The Enlisted Force Structure," respectively. In addition, the service trotted out "The Blueprint," a 32-page "living" document updated regularly with new information and links intended to be a resource and reference for enlisted Airmen throughout their careers.