Minot Air Force Base, N.D., is investigating the deaths of three of its Airmen in October. The base could not provide further details on the incidents, but officials said they worked with higher headquarters to make extra chaplains, counselors, and mental health professionals available for grieving Airmen and family members.
"This is not a topic that leadership teams take lightly, and there is considerable effort put in to prevent and respond to these tragedies," Col. Daniel Hoadley, head of the base's host unit, the 5th Bomb Wing, said in a statement sent to Air & Space Forces Magazine. "Over the last year we have also grown the Resiliency Training Assistant program to provide in-unit, peer-to-peer support for incidents just like this."
The deaths occurred despite base leadership attempts to improve quality of life at the installation, which is often maligned by Airmen for its remote location and long winters. Compounding those challenges is the fact that many Airmen at Minot are young. Col. Kenneth McGhee, head of the 91st Missile Wing, said Oct. 30 during a virtual AFA Warfighters in Action event that two-thirds of the base's security forces are below the age of 26. Feeling isolated can be particularly dangerous for young service members, who face a higher risk of suicide.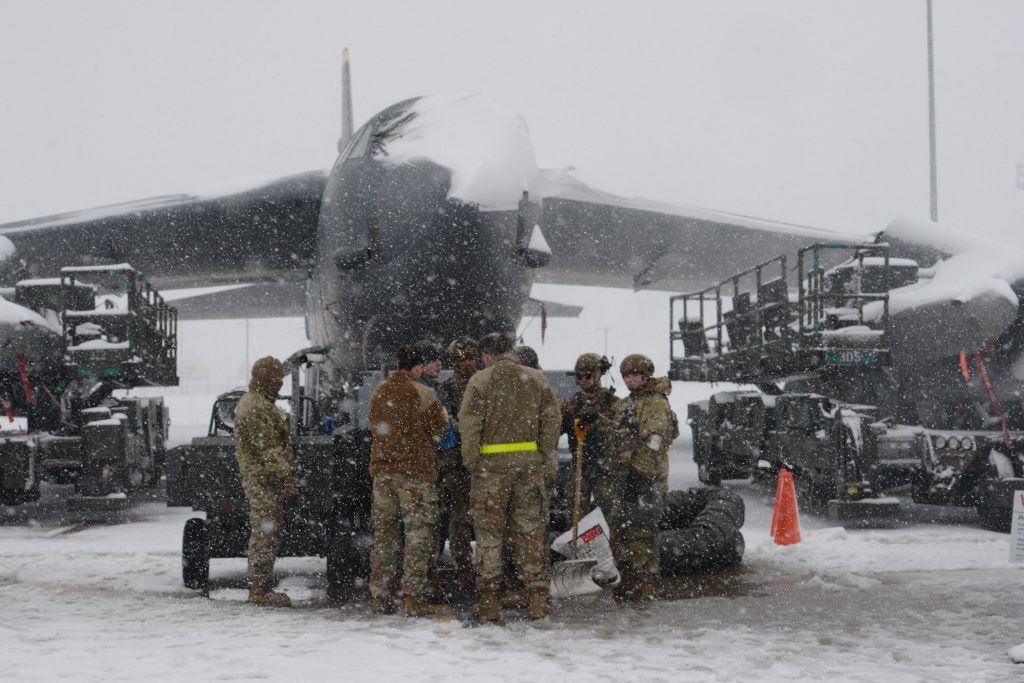 Hoadley said the Minot community tries to help out through efforts such as "Military Appreciation Days" hosted by the North Dakota State Fair, free tickets to Minot State football games, and fundraising to pay for more than 100 Airmen's travel home for winter holidays.
Other challenges include the long distances to advanced medical care, and limited child care for children of security forces and missile crew members, who are often absent for a week at a time at the base's farflung missile fields. Hoadley said the Air Force works to reimburse families for medical-related travel and expensive stints of child care. But capacity at the base's child development center and family child care program, where military spouses watch over each other's children, remains an issue.
"One thing we can't organically do is make more people come to work here," McGhee said. "So we're trying to find unique ways, different programs in order to increase the number of child care workers to support our men and women every single day."
Still, some say more needs to be done. Starting Nov. 16, a military spouse named Lisa Hermosillo stood on a bridge in Minot for three days holding a sign that read "3 Days for 3 Lives Lost" and "Break the stigma."
"How can we reduce the rate of this happening?" Hermosillo told the Minot Daily News. "That's why I wanted to do this now. … The holidays are such a vulnerable time for people, where we have some of the highest rates of suicide in general. We lose more service members to suicide than combat alone. That's the real war here on American soil—with suicide and mental health, and the barriers that Airmen face just getting help. That needs to change."
Among the barriers Hermosillo pointed out was the personnel reliability program (PRP), a tool used to assess whether service members are mentally and physically able to work around nuclear weapons. An independent 2014 review commissioned by the Pentagon called PRP "enormously wasteful," saying it sets an unrealistically high bar which leads to many Airmen being declared unfit for duty. For example, security forces Airmen could have their ability to carry a weapon revoked, which makes them effectively unable to perform most security forces jobs.
"They can't go out in the field and they have duties stripped from them." Hermosillo told the Minot Daily News about Airmen found unfit by PRP. " … Now the other Airmen have to pick up the rest of the work. That's why people don't say anything. 'I don't want to cause my co-workers or buddies any extra stress.'"
Minot public affairs office did not answer a query as to how many Airmen died by suicide at Minot in 2022 or so far in 2023. The Pentagon's annual suicide report, released in October, recorded 64 deaths by suicide among the total Active-Duty Air Force in 2022, for a rate of 19.7 per 100,000 Airmen. That's compared to 51 total and a rate of 15.3 in 2021.
When asked about mental health support, a Minot spokesperson said several in-person military and family life counselors have been added recently, with one embedded in the squadrons affected by the recent deaths.
The base, which employs 5,494 service members, 677 civilians, and supports 5,453 dependents, has 162 Resiliency Training Assistants, 31 Master Resiliency Trainers, and a Disaster Mental Health program that "was activated to assemble multiple helping agencies in support Airman and their families," the spokesperson added.
Service members and veterans who are in crisis or having thoughts of suicide, and those who know a service member or veteran in crisis, can call the Veterans/Military Crisis Line for confidential support available 24 hours a day, seven days a week, 365 days a year. Call 988 and press 1; text 988; or chat online at VeteransCrisisLine.net/Chat.