After months of delays and a new report raising questions about its worthiness, the Air Force is nearing a key production decision for its new MH-139 Grey Wolf helicopter—and laying the groundwork to ensure forces are ready when it arrives.
The Air Force Life Cycle Management Center said it is "on track" for the "Milestone C" production decision in February or March, AFLCMC spokesman Brian Brackens confirmed to Air & Space Forces Magazine.
Military flight testing began in August after a yearlong FAA certification delay. Last week, in its annual report, the Pentagon's Office of the Director of Operational Test & Evaluation (DOT&E) warned there might not be enough time for testing before the anticipated production decision.
But Brackens said in an email that the production decision won't come until the Air Force has "performed sufficient flight testing to enable completion of all Milestone C entry criteria."
Malmstrom Air Force Base, Mont., will be the first operational base for the Grey Wolf aircraft and will host much of the operational testing, while Maxwell Air Force Base, Ala., will host the MH-139's Formal Training Unit.
Joining a panel discussion hosted by the Mitchell Institute for Aerospace Studies on Jan. 24, Maj. Gen. Michael J. Lutton, commander of the 20th Air Force, said he is standing up a provisional helicopter squadron at Malmstrom now to ensure operational testing and training stays on schedule.
"It'll be the 550th Helicopter Squadron, and its sole focus will be on training, while our teammates at Maxwell ramp up their training capability," Lutton said. "That squadron will stand up sometime this February and take that mission for five years."
Air Force Global Strike Command and the 20th Air Force have employed provisional helicopter units before. In 2014, AFGSC stood up the 20th Air Force Helicopter Operations Group (Provisional), to "identify, prioritize and create the facility, personnel, communication and process infrastructure" needed as the command shifted control of its helicopter squadrons from individual base's missile wings to one group.
The 40th Helicopter Squadron at Malmstrom was one of those units and now flies the UH-1N Huey, which the Grey Wolf will replace. The helicopters fly patrol, escort, and transportation missions to support the base's sprawling missile fields.
Malmstrom Airmen got a sneak peek at the MH-139 in November, when four landed on their way from Colorado after testing. Lutton said the Air Force is also supporting an exchange program with the Irish Air Corps, which flies AW139 helicopters on which the MH-139 is based. Pilots, flight engineers, and security forces members have all had a chance to familiarize themselves with the helicopters' capabilities. A more in-depth exchange is in the works.
"Global Strike Command, 20th Air Force, and headquarters [U.S. Air Forces in Europe are]… looking to realize an exchange program with the Italian Air Force this summer where one of our helo pilots will go over to Italy for three years and fly their version of the 139 and then come back into our 139 community," Lutton said.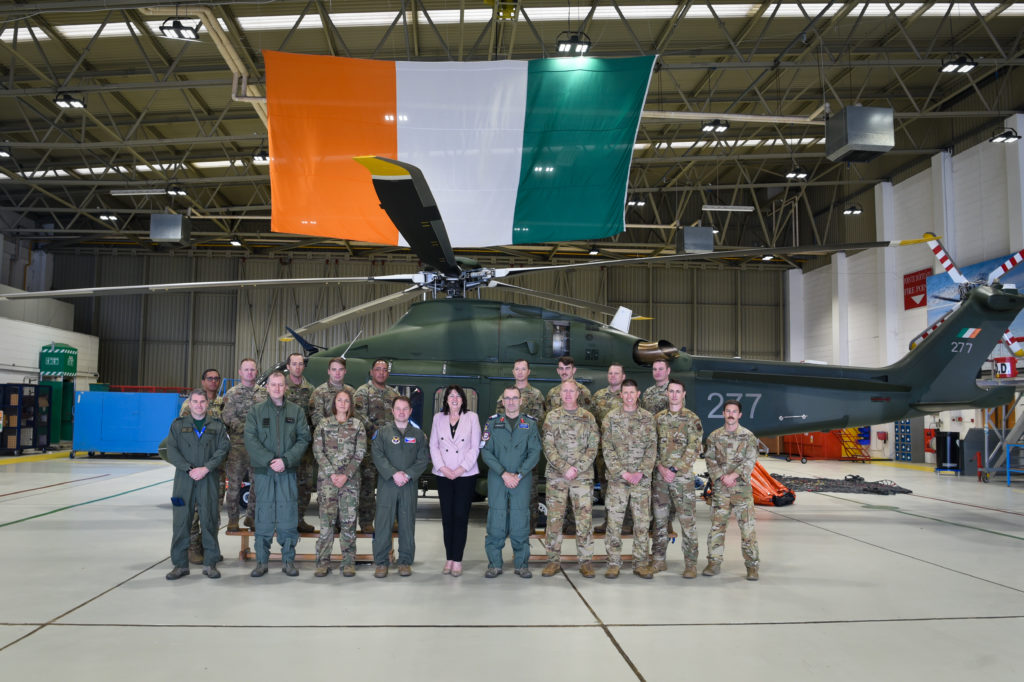 Lutton said the objective is to fully leverage what the Grey Wolf can do, rather than apply Huey tactics and procedures to a more modern and capable aircraft. Paraphrasing former AFGSC commander Gen. Timothy M. Ray, Lutton said, "What we're not looking to do is develop 'old new,' right? So we have a new weapons system with the Grey Wolf. … It would be completely incorrect to export every [tactic, technique, and procedure] from the Huey and apply it to the Grey Wolf. It would be completely incorrect to export the standard conventional load, if you will, of our defenders on a Huey and say that's what we need on a Grey Wolf."
Preparing to bring on new capability and a modern aircraft is challenging and motivating, Lutton said. "I think these are exciting times."