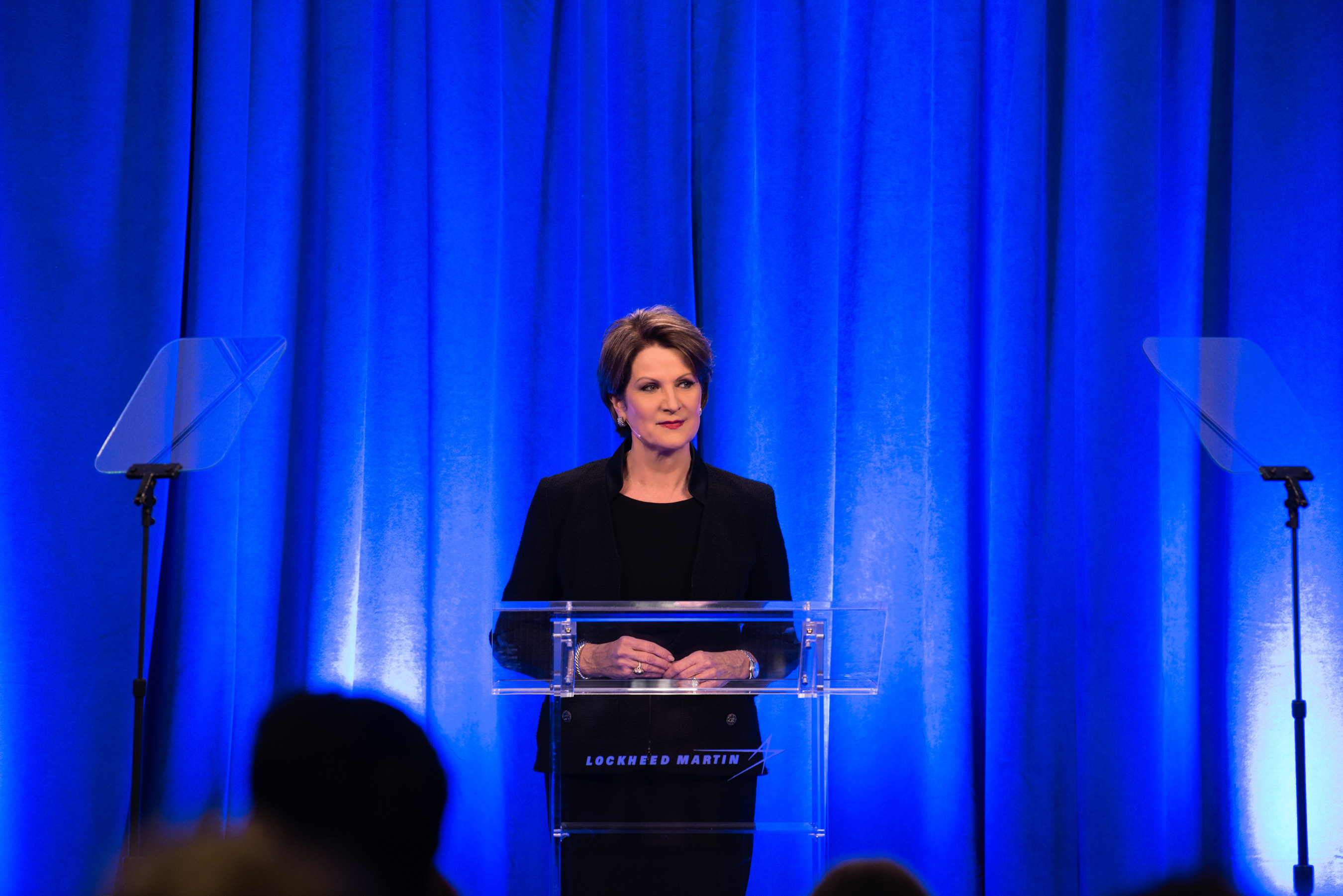 Lockheed Martin CEO Marillyn Hewson addresses reporters at the company's annual media day in Arlington, Va., on Monday. Lockheed Martin photo.??
Hypersonics is one of four "transformative" technologies now maturing that will radically alter the way militaries fight, and will be as big of a disruptor as stealth once was, Lockheed Martin CEO Marillyn Hewson said Monday.
Speaking at a company media day in Arlington, Va., Hewson identified the four game-changing technologies as hypersonics, lasers, artificial intelligence, and electronic warfare.
Hypersonics, which is the ability for an air vehicle to cruise at Mach 5 or higher, could "forever change our ability to deter and respond to conflict," allowing combat forces to "quickly address threats before an adversary may have time to react." It would be "on a par with stealth technology," which "changed the definition of airpower," giving the US significant tactical and strategic advantages, she said.
DARPA director Steven Walker said last week there needs to be a "national program" in pursuit of hypersonics, because of the great strides China is making in this field, potentially ceding to it the advantages of extreme speed and range hypersonic vehicles confer.
Lasers, Hewson said, are the "best match" to fight "high-volume, low-cost threats" such as drones, which are "increasingly prevalent on the battlefield." Hewson said Lockheed has made advances in beam quality, weight, and size of tactical laser systems at the 60-kilowatt and higher power range. She said the company is pursuing a fiber laser with the Air Force Research Laboratory to be tested on a tactical fighter by 2021.
Artificial Intelligence and machine learning have enormous potential across weapon systems, intelligence, and support systems, Hewson said.
"We have entered an era in which data is a strategic asset," Hewson said. Thanks to new sensors and networking capabilities, "our products are able to produce and disseminate enormous amounts of data." AI can sort through all this information and provide commanders with "actionable information" about threats "and options to mitigate them."
Given that information is key to everyone's battle game plan, "dominance of the electromagnetic spectrum is essential to mission success," Hewson said. It will be necessary to easily integrate EW capabilities "on a variety of platforms across every domain," given adversary attempts to jam US communications and the need to respond in kind. The speed at which EW is developing will also require "open architecture solutions" so that upgrades can be applied rapidly, she said. Hewson quoted the new National Security Strategy, which stated that open architectures are key to obtaining "speed of relevance" in acquiring and updating military systems.
Asked about President Trump's threat of a trade war with China and other countries, Hewson said she'd advise him to "continue … focusing on competition and fair trade, globally," suggesting that the US should not do anything that would hurt its allies and that the US should "work together with our allies to address global security challenges."
Hewson also pitched for a reduction in "onerous" federal regulations, to streamline the business climate for small businesses, which she said represent more than half of Lockheed Martin's suppliers and are the nexus of innovation.