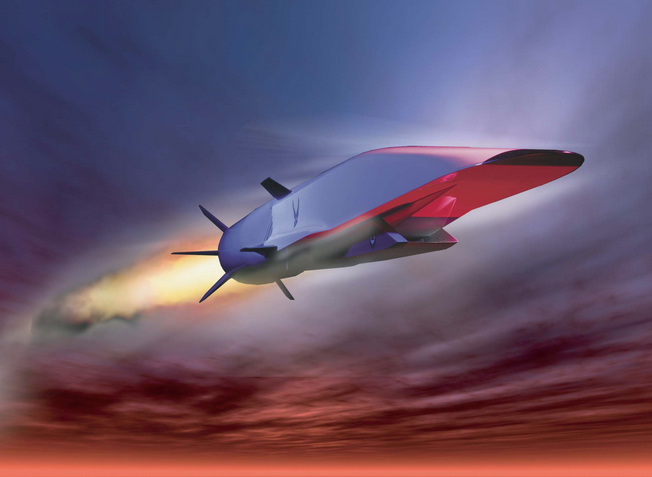 The hypersonic X-51 Waverider vehicle, shown here, reached Mach 5.1 speed in a six-minute flight. The test was thought to have paved the way toward a potential hypersonic missile to be developed by 2020, but the Air Force has not openly tested anything similar since. Courtesy image.
There's a 136 percent increase in funding for hypersonics research in DARPA's Fiscal 2019 budget request over FY'18, but this is simply a "good first step" toward what is really needed—a national effort, said DARPA chief Steven Walker.
In a meeting with defense reporters Thursday in Washington, D.C., Walker acknowledged the "substantial" increase in hypersonics research money, and said he has been promoting a National Hypersonics Initiative with the Pentagon for a year.
"Last spring, DARPA, in its role as 'truth-teller' to national leadership, went to Deputy [Defense] Secretary Bob Work, and … laid out where we thought the US was in hypersonics" in comparison to "peer competitors" and argued for a "very comprehensive initiative," Walker said. Both DARPA and the individual services all got a funding boost in the area, and while, "I don't think we got everything we wanted, … it was a good first step."
He declined to characterize how far ahead China and/or Russia may be in hypersonics—at least five times the speed of sound—but Vice Chairman of the Joint Chiefs of Staff Gen. Paul Selva acknowledged in January that China is substantially ahead in the field, having made it a "national program" funded at up to hundreds of billions of dollars. Work, too, has flatly acknowledged China's lead in recent months.
Walker said he's looking forward to working with new Undersecretary of Defense for Research and Engineering Mike Griffin on a comprehensive approach to hypersonics. Griffin, Walker noted, was former NASA administrator and has a background in aerospace and missile defense.
"I've been told by Mike personally that this is going to be his top priority, or one of his top priorities, as he comes into that job," Walker reported.
DARPA provided reporters with a breakout of hypersonics funding in the FY '19 budget request and previous years. Funding jumped from $85.5 million in Fiscal 2017 to $108.6 million in the FY'18 request, leaping again in Fiscal 2019 to $256.7 million. Two programs DARPA is pursuing in partnership with the Air Force are the Hypersonic Air-breathing Weapon Concept, or HAWC, at $14.3 million and the Tactical Boost Glide, or TBG program, requested at $139.4 million. Other projects include the Advanced Full Range Engine, or AFRE, a combined-cycle powerplant, at $53 million, and "Operational Fires" or OpFires, with the Army, to demonstrate a ground-launched hypersonic system "integrating tactical boost glide technologies," DARPA said through a spokesman.
Walker said HAWC and TBG will "start flying … in 2019," and they will have application as air-launched standoff weapons. The TBG money requested "will actually look at developing some operational prototypes," probably in the "2022-2023 time period, so it's close," Walker noted.
The AFRE will be ground-tested in 2019 or 2020, Walker said, and it's been confirmed that it will fit in an existing hypersonic wind tunnel where those tests will be made. It's "taking a turbine engine … off the shelf, combined with a reusable scramjet, and having the turbine engine get up to about Mach 2-ish," and then some "overlap" where the scramjet would also be operating, "so you can actually take off like an airplane, get up to Mach 6, do your mission, come back down, and do it again." A flight demonstration is not yet part of that program, however.
Walker also said the US does not have sufficient hypersonic tunnel infrastructure to handle all the work that must be done in the coming years. "The dollars that were allocated in this budget were great, and they were really focused on adding more flight tests and getting some of our offensive capability further down the line into operational prototypes," he said of the FY '19 budget boost. But the budget does not yet address the need for more tunnels, he said. One tunnel at NASA's Langley Research Center in Virginia is "doing all it can … 24/7 to do this work," he said.
"We need an infusion of dollars in our infrastructure to do hypersonics," Walker asserted. China already has more hypersonic-capable tunnels than the US and will soon have two or three times as many, he added.
"It is very clear that China has a focus on hypersonics and is making it one of their national priorities," Walker said. "I think we need to do the same, and I'll work with Mike [Griffin] to do that."
That said, Walker noted that advanced computing methods in computational fluid dynamics are limited in how much they can propel the technology. "You can only simulate so much on the ground," he said. "It's hard to get the velocity, the temperature, the Mach number all correct" to simulate what a vehicle would experience at true hypersonic speed. Also, at such velocities, "some of your [computer] codes break down—they become more guesses than actual reality," and are only useful in "defining" a design. "You really have to fly," to get solid data, he said.
Walker was, in an earlier tenure with DARPA, the head of a program called the HTV-3X Blackswift, which was terminated by Congress. It lives on "in component programs," Walker said, particularly in the AFRE engine project. As to whether that will become a program of record, Walker said, "if I have anything to do with it," it will, but "I think we want to see how the engine performs" first. The AFRE is "the engine I would have used" for Blackswift if it had continued, he said.
While DARPA has provided extensive briefings and data to the Missile Defense Agency on hypersonics, DARPA will not be handling any applications in the area of missile defense. The briefings were a good "springboard" into the now wrapping-up missile defense review, but Walker said "the Pentagon's pretty much made a decision that MDA" will handle hypersonic approaches to missile defense.