KADENA AIR BASE, Japan—Inside the security forces building here, police are getting ready for their shift. American airmen and Japanese police stand in formation as the assistant flight chief briefs them on current threats and issues. Off to the side are SSgt. Eduardo Alcaraz and Sony, a 4-year-old working dog.
As soon as they're dismissed, Sony starts barking and running in circles. She's ready to get to work.
Like other military working dogs here at Kadena, Sony is trained to detect explosives and help with searches and patrols. On this day, she'll be working at the base's commercial gate, sniffing incoming trucks. Sony is very independent and loves to work, Alcaraz said. She also loves to bite and hates mirrors—and journalist's cameras, it turns out.
Each dog has a different personality, and spending time together is critical, explained Alcaraz, who has been paired with Sony for six months. "You've got to know your dog," he said.

SSgt. Eduardo Alcaraz and Sony stand to the side of the formation during guard mount before a police shift at Kadena AB, Okinawa, Japan, on Nov. 20, 2018. Photo by Jennifer Hlad.
On another part of the base, Staff Sgt. Charles Gamez runs through a training scenario with Biba, a 4-year-old female dog. SrA. James Burger, wearing a bite suit and acting aggressively, draws Biba's attention and Biba reacts quickly, chasing Burger down and biting his arm.
"Oooooh, good job mama!" Gamez calls out, then gives Biba a rubber toy to chew on.
Deep into the munitions storage area here, a third dog, Kit Kat, a 10-year-old male, searches a field surrounded by thick trees before finding a suspicious person—played by Shitetsu Hirata, a Japanese citizen who works at the kennels. It takes a few minutes, but when Kit Kat finds Hirata, he's rewarded with praise from handler SrA. Carlos Howard—and, of course, a rubbery chew toy.
"With the right snack, you can teach a dog anything," Howard said.
Military dog training now focuses mainly on positive reinforcement—with the bite as a positive reward, said MSgt. Arthur Sawyer.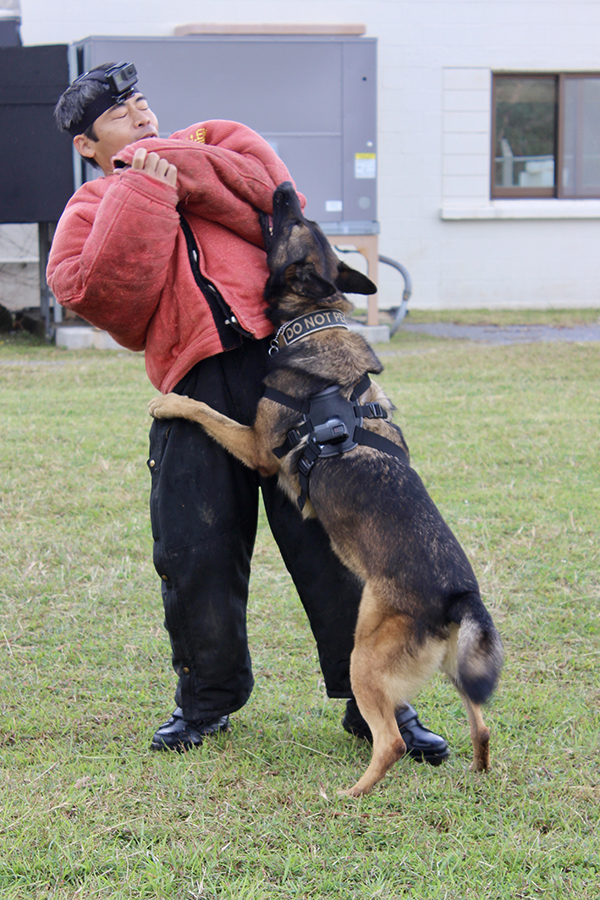 Biba, an Air Force working dog, bites Shitetsu Hirata, who was acting as a decoy, during scout training at Kadena Air Force Base, Okinawa, Japan, on Nov. 19, 2018. Photo by Jennifer Hlad.
All U.S. military working dogs are trained at Lackland AFB, Texas, then sent to bases around the world, where they're paired with their handlers. The team of handler-dog team must then be validated and certified before it can work, and continue training at least once a week thereafter, said SSgt. Matthew Helma.
"Basic obedience is the basis of everything we do," Helma said. Dogs, like people, mess up occasionally, so continuous training is essential.
Teams train on patrols, searches, explosive and narcotics detection, and navigating through a large enclosed obstacle course designed to replicate any physical obstacle they might encounter.
On base, dogs work at the commercial gate, post office, the passenger terminal, and assist with searches on base.
Working dogs are "a unique tool," Helma said. They have an unmatched capacity "to detect things with their senses."
But the dogs and handlers are best when taken together. Dogs, Helma sad, can sense what the handler is feeling: It all "runs down leash."