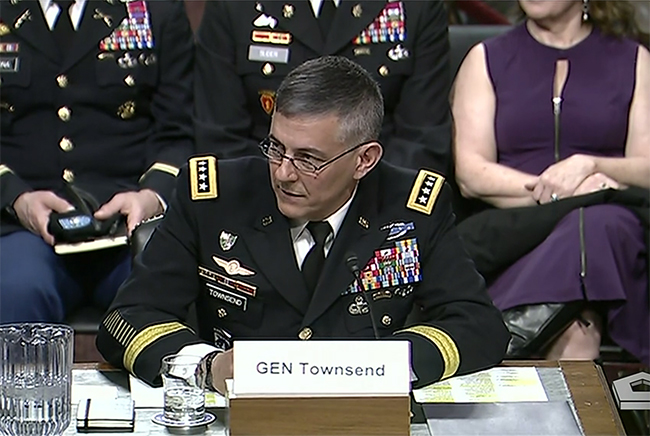 Army Gen. Stephen Townsend, President Donald Trump's choice to take over US Africa Command, testifies before the Senate Armed Services Committee on April 2, 2019, in Washington, D.C. DVIDS screenshot.
While the current fight against extremism is the top American concern in Africa, the rise of Russia and China will shape the US mission on the continent in the long-term, the nominee to take over US Africa Command said Tuesday.
US Army Gen. Stephen Townsend, the commander of US Army Training and Doctrine Command who is President Donald Trump's pick to take over AFRICOM, told the Senate Armed Services Committee his top three concerns—in order—are the fight against extremism, Russia, and China. In the future, China will likely rise to the top as it builds up its presence in nations such as Djibouti and the Central African Republic, he said.
Both China and Russia are after their own "primary economic benefit" in Africa, though both also want to spread their "access and influence to our detriment," he said.
"We have to keep … a clear eye that their goals, [which] are to our detriment," Townsend said.
If confirmed, Townsend said wants to optimize the US counterterrorism posture to a "more sustainable basis" that will give him the "breathing space" to compete against the growth of China and Russia. While China's growth in Djibouti has been well documented, the country also has an "exploitative" mission in the Central African Republic focused on extracting natural resources along with providing security and weapons, he said. For Russia, there has been an increased presence of the quasi-military Wagner Group on the continent. This is the same group that has deployed to Syria and the Donbass region of Ukraine.
Townsend said the command also will remain focused on the fight against al Shabaab in Somalia and against Boko Haram in Nigeria and the surrounding region.
Before taking over TRADO, Townsend was the commander of Combined Joint Task Force-Operation Inherent Resolve, which oversaw the fight against ISIS in Iraq and Syria.