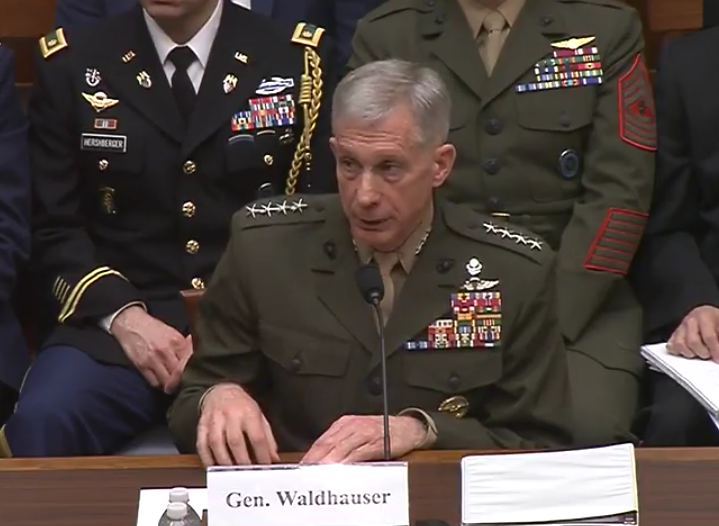 US Africa Command boss Gen. Thomas Waldhauser testifies before the House Armed Services Committee on Tuesday on the current security situation and US military activities in Africa. Screenshot from HASC video.
US Africa Command is reworking its theater strategy and campaign plan in part to address the rising influence of China on the continent, AFRICOM boss Gen. Thomas Waldhauser told members of the House Armed Services Committee on Tuesday.
"China has been on the African continent for a long time," but AFRICOM has yet to deal with its strategic interests, said Waldhauser, noting the command is "taking baby steps" in that direction. Camp Lemonnier in Djibouti is "very, very important" to the United States, said Waldhauser, yet the Chinese built its first overseas base "right outside the gate" and the US must assume it's also conducting counter intelligence operations on the US.
The Djiboutian government is $1.2 billion in debt with China and Waldhauser said at "some point … that money needs to be collected," but what that will mean for the US is still not clear.
Waldhauser said the US is "closely" watching to see what happens to the Doraleh Container Terminal, which the Djibouti government seized last month from a United Arab Emirates company. Dubai leaders have called the seizure illegal and the company, DP World Ltd, is taking the case to court in London. In the meantime, the Djiboutians have assured the United States it does not intend to turn the port over to the Chinese, said Waldhauser.
"They took it over because this is another way for them to gain revenue for them to pay back this debt," Waldhauser said, noting the Djiboutian government plans to run the port for about six months and then turn it over to another company. "The key at this point is who owns that company and how does that work," asked Waldhauser.
If the port does end up in Chinese control and US access is restricted, Waldhauser said that would have a significant impact on US operations in the country, because the US Navy regularly uses the port to offload supplies for Camp Lemonnier and to refuel.
"When we talk about influence and access, this is a classic example," he told legislators.
The United States is not quite a third of the way through its 30-year lease for Camp Lemonnier and some members of the committee questions whether Djibouti would consider illegally seizing that property back as well. Waldhauser said that's one of the reasons it's so important for the United States to maintain a constant presence in the region.
In addition to its military base, China also has built a shopping mall and soccer stadium, both very visible signs of its influence in the region. Waldhauser said the United States "will never outspend the Chinese on the continent," but in an a country where resources are scarce small contributions can make a difference.
"Small things go a long way on the African contienent," said Waldhauser. "They want to know we're there to engage and partner [with them]. If we continue to do that, we may not keep pace with the Chinese … but at least our presence and involvement there will not go away."