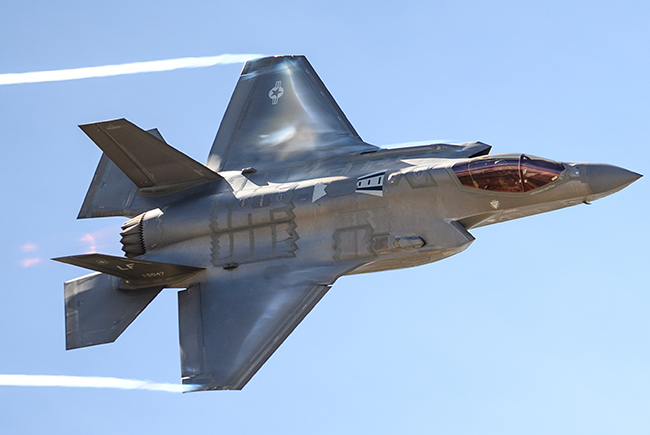 Capt. Andrew "Dojo" Olson, F-35 Demonstration Team pilot and commander performs a dedication pass in an F-35A Lightning II during the annual Heritage Flight Training Course on March 1, 2019, at Davis-Monthan AFB, Ariz. Air Force photo by SrA. Alexander Cook.
The Air Force wants to buy 12 additional F-35A strike fighters and three more KC-46 tankers as part of its $2.8 billion fiscal 2020 unfunded priorities list, after requesting no aircraft in last year's version.
On top of the Air Force's $165.6 billion budget request for 2020, the new slate of unfunded requirements asks Congress for twice as much money as the service did in its 2019 UPL. Readiness tops the list of priorities, followed by cyber-hardening space assets, aircraft procurement, and advanced technology development.
Adding a dozen more F-35As in 2020 would bring the Air Force's total buy of Lockheed Martin Joint Strike Fighters that year to 60. Each new F-35A carries a $90.8 million price tag, so the total cost of the 12 fighters would cost $1.1 billion—the same as the eight fourth-generation F-15EX jets the service wants to buy from Boeing starting next year.
Nearly $2 billion included in the UPL would prepare the service for another 12 F-35As in 2021 as well as pay for spare parts. That money can also level out the KC-46 buy at 15 aircraft, the same as the service is buying in 2019 and 2021, the list notes.
The second-largest amount in the list, $579 million, would be used to boost sustainment for 10 unnamed weapons systems. The 2020 budget request already puts nearly $15 billion toward prioritizing supply inventory, "increasing our maintenance capacity, enhancing our training and proficiency, and moderating our operational tempo," according to an Air Force budget overview released March 12.
"If the Air Force does not receive supplemental and reprogramming support in FY19, we will have to take actions that drive unacceptable impacts to Air Force readiness," the UPL states. "This UPL item would recover the lost readiness by adding necessary weapon system sustainment funding to 10 weapon systems, and includes funding for B-1 repairs and fatigue testing to address critical structural issues, as well as unanticipated B-52 and KC-135 corrosion inspections and repairs associated with an aging aircraft fleet."
For defendable space assets, another $149 million would speed up GPS M-Code receiver development to improve the accuracy of aircraft and weapons like the Joint Direct Attack Munition, the extended-range variant of the Joint Air-to-Surface Strike Missile, and the Small Diameter Bomb I and II.
"Space test infrastructure refers to the development of a Space Combined Test Force and the development of technical capabilities, both terrestrial and space-based assets, in order to deploy an initial level of ability to test and evaluate the capability and resilience of DOD space systems in a contested environment," according to the UPL. "$36 million will fund a more robust buildup of foundational infrastructure elements, including such things as test facilities, network infrastructure, electronic-warfare test equipment, and physics-based modeling and simulation."
The UPL also includes $61 million for agile development and prototyping on initiatives like directed-energy testing, navigation technology satellites, and "joint lethality in contested environments," as well as funding support for the Air Force Warfighting Integration Capability and senior leaders' projects.
A "high-speed vertical lift demonstration," named Agility Prime, needs another $25 million, the Air Force added. Proving fast, autonomous, "non-runway jet operations in a contested environment" would offer logistical flexibility as the Air Force matures its adaptive basing ideas, giving the service the ability to leapfrog around the globe with temporary facilities.
Another $18 million would pay to advance capability demonstrations for hypersonics; nuclear command, control, and communications; and artificial intelligence, machine learning, and unmanned systems, according to the UPL.
The Air Force is pushing ahead with a $35.4 billion research and development request in 2020 that includes those efforts among its top priorities.