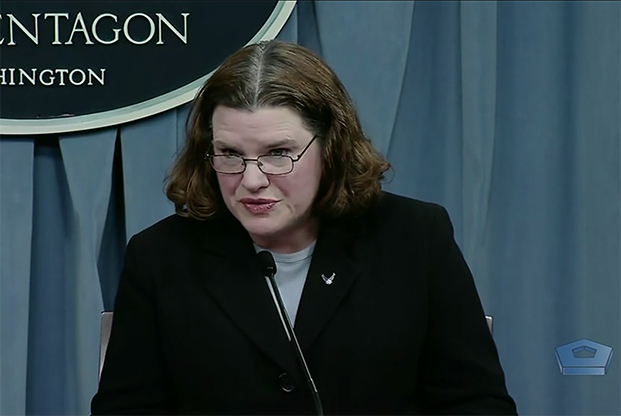 Assistant Budget Director Carolyn Gleason briefs the press on the service's Fiscal 2020 budget request on Tuesday. Screenshot photo from DOD video.
The Air Force on Tuesday unveiled a nearly $166 billion budget request for fiscal 2020, marking a $9.8 billion increase that invests in Boeing's F-15EX, starts a Space Force, and aims to add 4,400 airmen.
Research and development comprises the largest share of the fiscal 2020 request at $35.4 billion, followed by military personnel spending at $34.2 billion, operations and maintenance at $26.7 billion, procurement at $24.3 billion, and military construction at $2.7 billion.
As the service argues it needs to prepare to fight other advanced militaries, R&D spending projections released this week focus on big-ticket items like the B-21 bomber, which requires $3 billion in the next fiscal year; land- and air-based nuclear missile modernization programs, set to receive $1.3 billion; and next-generation air dominance projects slated to cost $1 billion, a significant increase from the $430 million allocated in fiscal 2019.
Carolyn Gleason, the Air Force's civilian budget deputy, on Tuesday pointed to hypersonic missile initiatives ($576 million) and advanced engine research ($878 million) as key efforts to "institutionalize prototyping and experimentation," amid the Air Force's focus on acquisition reform.
But as it similarly considers how to break the mold with "families of systems," the Air Force declined to detail how the new request furthers its vision for an Advanced Battle Management System that will eventually replace the E-8C JSTARS.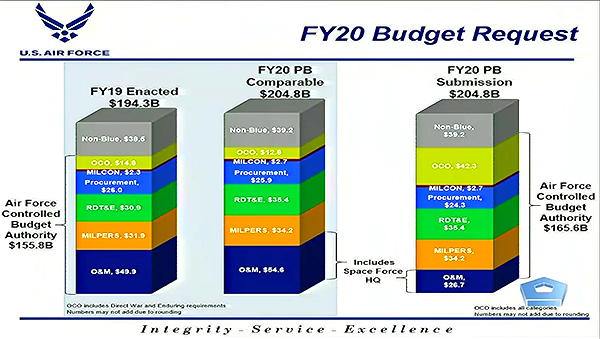 Air Force graphic
While the submission puts $42.3 billion toward overseas contingency operations, only $12.8 billion would remain in the war fund if the Pentagon must shift that money back into its base account—$2 billion lower than in fiscal 2019 thanks to lower procurement of MQ-9 Reapers.
Asking for nearly three times as much OCO money as was appropriated in fiscal 2019 is "a department-wide decision to comply with the Budget Control Act by holding the base budget request under the BCA caps," Maj. Gen. John Pletcher, the Air Force's deputy assistant budget secretary, said at a press briefing Tuesday.
When asked whether the Air Force has a list of areas it could cut as Capitol Hill decides how to handle the Pentagon's outsized OCO request, service spokeswoman Capt. Hope Cronin said the Air Force will need $165.6 billion regardless of where the programs currently filed under OCO end up.
If certain initiatives are shifted back into the base budget, operations and maintenance would total $54.6 billion and procurement would rise to $25.9 billion. "OCO for base" covers $29.6 billion in flying hours, weapons system sustainment, and base support, as well as Joint Direct Attack Munition and other ammunition procurement.
Pletcher and Gleason, reiterated the service's priorities are to "build a more lethal and ready force while focused on fielding tomorrow's Air Force faster and smarter."
To that end, the Air Force plans to add eight F-15EXs to its fighter mix and hold its F-35A procurement request steady at 48 aircraft in fiscal 2020. Although aircraft procurement spending is set to drop from $17.1 billion in fiscal 2019 to $16.8 billion in the upcoming year, the service asks for another 12 KC-46A tankers, 12 HH-60W Combat Rescue Helicopters, 12 MQ-9 Reapers between base and OCO, eight MC-130Js, and an EC-37B Compass Call.
Space procurement appears nearly flat at $2.4 billion. Missiles and ammunition would see slight spikes to $2 billion and $1.7 billion, respectively. Procurement for other assets like cyber tools would dip to $3.1 billion.
O&M spending aims to bolster the service's readiness goals by allocating an additional $1.4 billion toward weapons sustainment and more than $6 million toward 1.1 million peacetime flying hours.
"Another significant driver of the O&M growth is the $1.4 billion increase, which includes both base and OCO, to our fiscal '20 weapons system sustainment, or WSS, portfolio," Pletcher said. "These baseline hours combined with live, virtual training range improvements and increased adversary air authorities retain and sharpen today's aviators and help us increase pilot production to 1,480 pilots in fiscal '20."
As the Air Force pursues solutions to stem its pilot shortage, it will also try to recruit another 4,400 airmen in fiscal 2020. If the service hits that goal, it will reach nearly 511,000 members across the Total Force.
To entice current service members to stay in the military, Pletcher pointed to a "$30 million increase for "targeted bonuses" that are offered to pilots and other career fields that are struggling to keep staff. The Air Force hopes to retain more of its Battlefield Airmen, which this budget now dubs Special Warfare Airmen, as well as intelligence, surveillance, and reconnaissance, remotely piloted aircraft, and cyber operators.
A 3.1 percent pay increase is also in the cards—but not for civilians. Former Air Force Secretary Whit Peters, Chairman of AFA's Board of Directors, said he's concerned civilian salaries will stagnate.
"Civilians play crucial roles in cyber, space, logistics, maintenance, and a growing list of technical specialties," he said. "It is simply incomprehensible that civilian airmen would be singled out for a pay freeze."
Service Secretary Heather Wilson and Chief of Staff Gen. David Goldfein will have their first chance to argue for their request at a Senate Appropriations defense subcommittee hearing Wednesday morning.