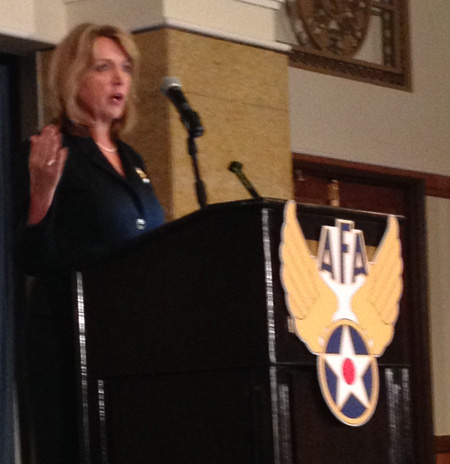 Jan. 30, 2014: The Air Force does "have a systemic problem" within its nuclear forces, Air Force Secretary Deborah James said during an AFA-sponsored, Air Force breakfast event in Arlington, Va., on Wednesday.
James said USAF and Defense Department leaders are committed to correcting that problem. In fact, top leaders in the Air Force, Navy, and US Strategic Command met in Defense Secretary Chuck Hagel's office later Wednesday for a "candid and wide-ranging discussion on the types of challenges that are faced by people who work in the nuclear enterprise," said Pentagon spokesman Rear Adm. John Kirby.
James noted the cheating scandal at Malmstrom AFB, Mont., centers around a "failure of integrity" among certain airmen, "not a failure of the mission." She said she is very confident the nuclear "mission is strong" and that it "remains safe, secure, and reliable."
James declined to offer the exact number of airmen who are under investigation for cheating or failing to notify commanders of the cheating, saying she wants to see how the investigation plays out. However, she did acknowledge the numbers are going up.
She also outlined seven "observations" made during her trip last week to the Air Force's three ICBM bases and Air Force Global Strike Command headquarters at Barksdale AFB, La.
"The need for perfection has created way too much stress and way too much fear about the future," said James, who noted she repeatedly was told by airmen that the "system feels very punitive," offering few rewards for good behavior but severe punishments for anything less than perfection.
Second, there needs to be a distinction between training and testing. "In the current environment, there is no room for error all of the time," said James. However, a training environment is supposed to be a learning environment where mistakes can and will happen. "I think this is wrong," said James. "We need to correct this."
Third, there must be accountability at all levels, not only for those implicated in the ongoing cheating investigation, but also at the leadership level.
Fourth, the Air Force needs to re-evaluate its professional and leadership development within the career field. She suggested the independent panel, which Hagel has ordered, could offer some suggestions in this area.
Specifically, though, the Air Force must look at how its nuclear officers are commissioned, the training that is done at Vandenberg AFB, Calif., and whether there is an appropriate level of mentorship for those in the career field.
Fifth, the Air Force must go back to the basics and reinvigorate its core values. "Airmen have a responsibility, not only to act with integrity in their own actions, but also to report wrongdoing," said James, who noted there are both direct and indirect ways to report misconduct.
The Air Force also must examine "incentives, accolades, and the recognition available to the nuclear force." This could mean instituting incentive pay, offering scholarships, or creating a medal or a ribbon for the nuclear force, she said.
Finally, the Air Force needs to put its money where its mouth is. It should consider additional manning levels in the nuclear force, possibly place a higher priority on military construction (she noticed a few "leaky roofs" during her visits), or fund other quality of life issues.
Over the last five years, James said "the nuclear enterprise has certainly gotten focused." However, she acknowledged the Air Force might not have maintained a "persistent focus" on the overall operation.
"Continuing to strengthen the nuclear enterprise is a top priority for me . . . our airmen are entrusted with the most powerful weapon on Earth and this mission is essential to our security and the security of our allies and partners," said James.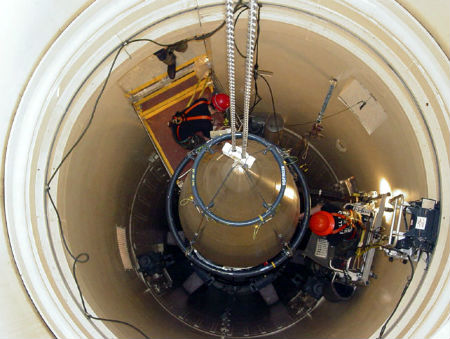 Air Force Secretary Deborah Lee James said she "picked up on some morale issues" among nuclear launch operators as she spent the week visiting USAF's three ICBM bases, reported ABC News via the Associated Press. Her trip comes on the heels of a cheating and drug scandal that has once again put the missileer community in the national spotlight and has forced many to question whether the Air Force really does have a handle on its nuclear mission. "I certainly wish that this would not have happened, but it did happen and it's a problem," said James, who also said she has "full confidence in the nuclear mission" after meeting with 1,700 officers and airmen at F.E. Warren Air Force Base, Wyo., Malmstrom Air Force Base, Mont., and Minot AFB, N.D., this week. James also is expected to visit Barksdale AFB, La.—home of Air Force Global Strike Command. The New York Times, however, reported that cheating in the nuclear community is a systemic problem. The article, which cites several current and former crewmembers and officers not implicated in the current cheating probe, reads, "Cheating has been a fact of life among America's nuclear launch officers for decades." Bruce Blair, a former missileer and current co-founder of Global Zero, an organization that advocates for the elimination of nuclear weapons, admits he and his fellow crewmembers cheated on proficiency tests. "The sticks are so severe, the punishment for imperfection so great, that it encourages crew members to work together to ensure no one fails," Blair told the NYT. (See also Missileer Burnout)