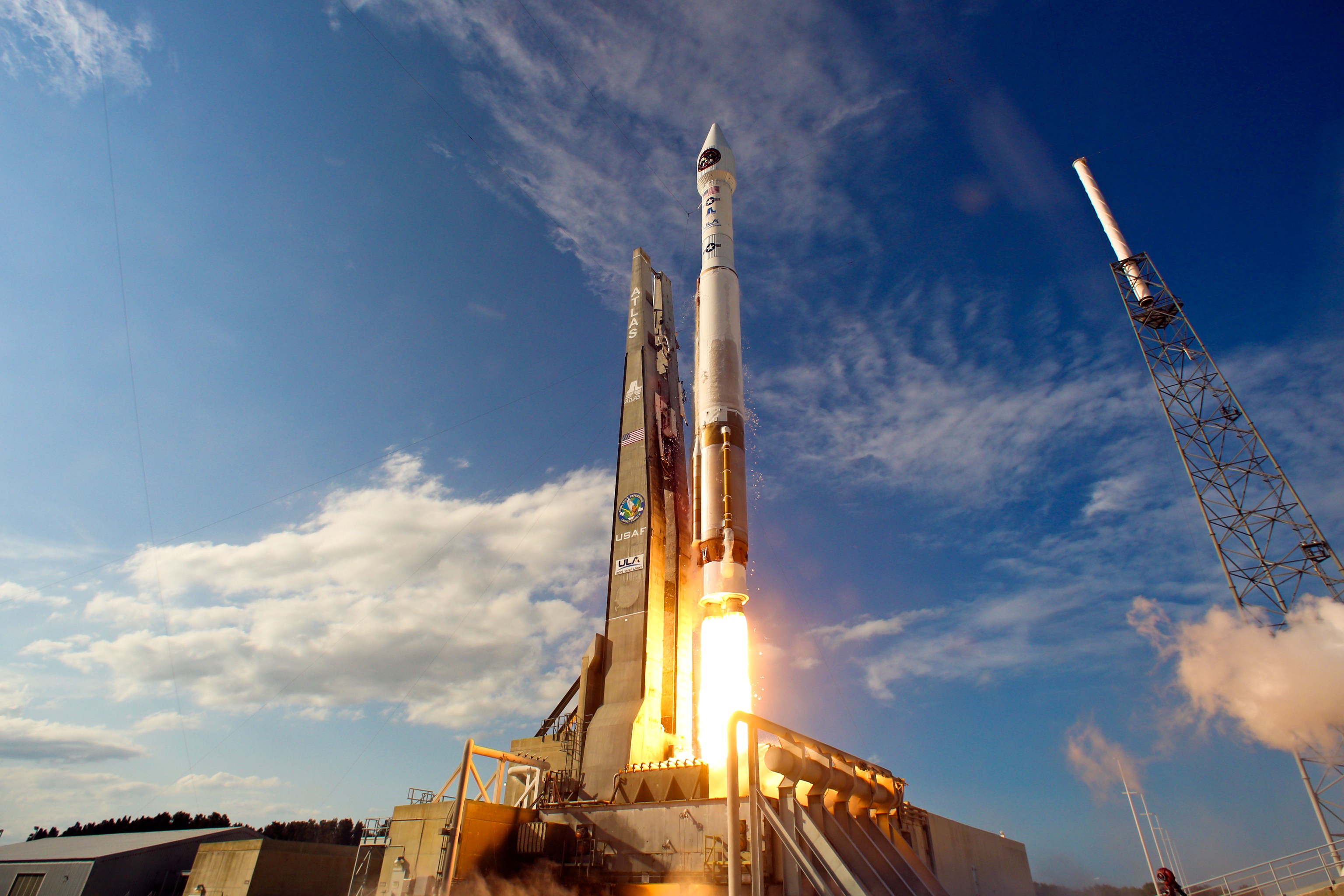 A United Launch Alliance Atlas V rocket blasts off from Cape Canaveral AFS, Fla., on March 19, 2013, carrying the second Space-Based Infrared System (SBIRS) GEO-2 satellite for the Air Force. ULA photo by Pat Corkery.
The Air Force's Space and Missile Systems Center (SMC) awarded a $191 million launch services contract to United Launch Alliance (ULA) to launch the Space Test Program-3 mission atop an Atlas V rocket from Cape Canaveral AFS, Fla., in June 2019.
The award is the third competitive source selection in Phase 1A of the Evolved Expendable Launch Vehicle program, and the first win for ULA after SpaceX won contracts to launch GPS III satellites in the first two rounds of competition. The ULA contract is for total launch services including launch vehicle production, mission integration, launch operations, and spaceflight certification.
The award decision represents "a best value source selection," SMC's launch enterprise director Claire Leon told reporters June 30 on a conference call. Leon confirmed that "there were two proposals" for the contract, but she would not identify the source of the second bid, or state whether both bids met the technical requirements of the mission, because that information is "source-selection sensitive," she said.
The only other launch services provider that SMC has currently certified for National Security Space missions is SpaceX.
The primary payload for STP-3 is the STPSat-6 vehicle, which will carry a Space and Atmospheric Burst Reporting System-3 (SABRS-3) payload for the National Nuclear Security Administration, a NASA Laser Communications Relay Demonstration payload, and additional science and technology payloads from the Department of Defense's Space Test Program.
STP-3 will also include an EELV Secondary Payload Adaptor (ESPA) that can carry up to six smaller satellites. Those secondary payloads will be identified "no later than 12-months prior to launch," according to an SMC release.
There are 12 more launches yet to be contracted under Phase 1A of EELV, Leon told reporters. SMC released a final RFP for a batch of five more launches, including a block of three GPS III launches, June 29. They also plan to release two more RFPs for a total of seven additional stand-alone launches by the end of the year.
Leon said Phase 2 of EELV will involve an "investment phase," in which SMC will complete their transition off the Russian-made RD-180 rocket engine, and a "procurement phase" for new launch services beginning in fiscal year 2020. SMC has also tentatively planned to bring new entrants, like Blue Origin and Aerojet Rocketdyne, into the mix of contractors bidding for launch services at that stage of the program.
However, the House Armed Services Committee potentially disrupted those plans last week by including language in its version of the 2018 National Defense Authorization Act that could restrict the EELV program from investing in new launch systems. Leon told reporters Friday that the language in the House bill is "still in the works" and that SMC is "trying to understand the interpretation" of the committee's intent. "It may or may not affect us," she said. If the bill does end up limiting EELV investment to rocket engine development, "it could be" a concern to the program, Leon said.