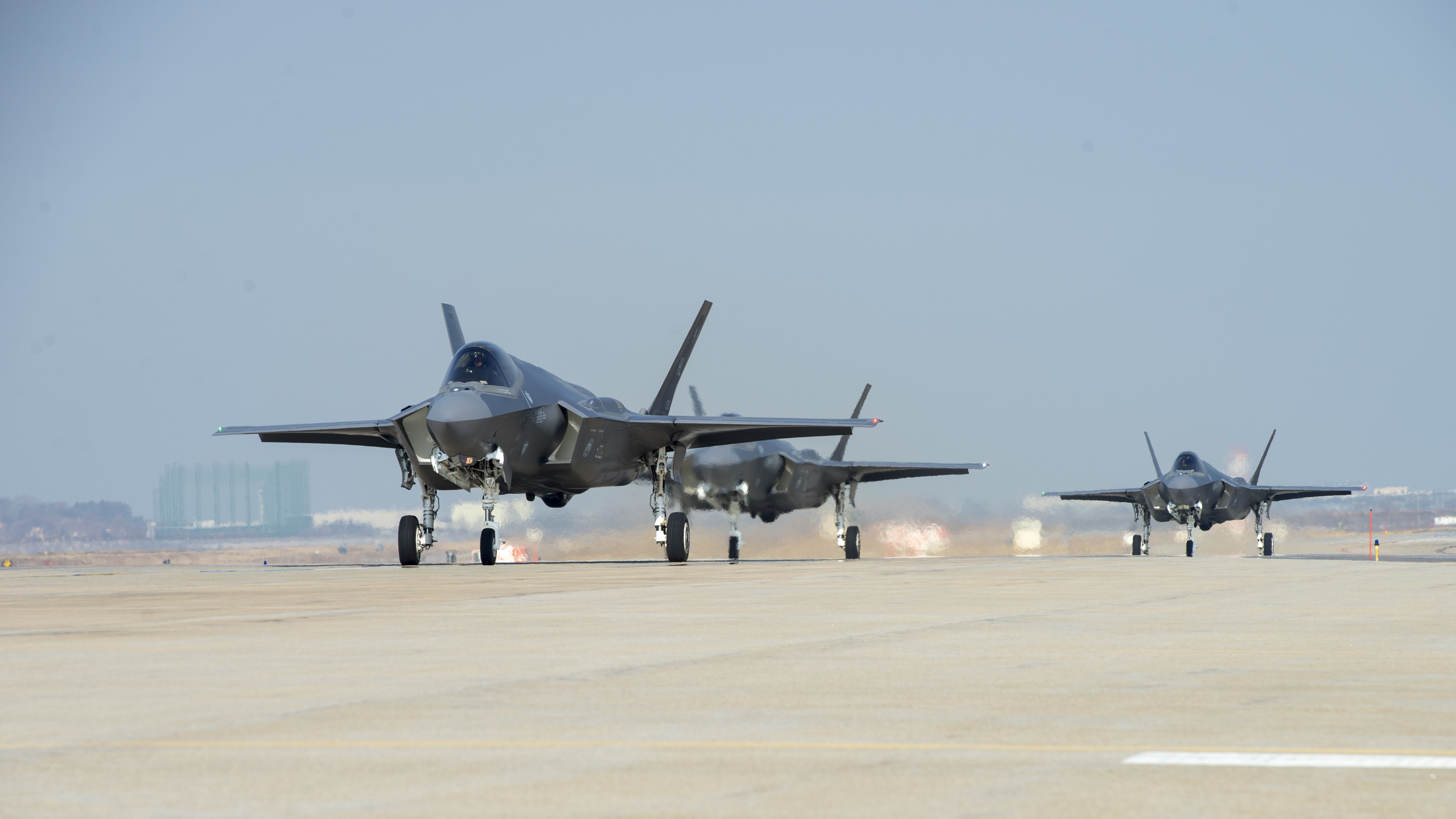 The Air Force wants to be able to field new weapons systems in five years, saying it can't afford another 20-year acquisition program like the F-35. Air Force photo by Capt. Christopher Mesnard.
Keenly aware that its procurement process takes too long to keep up with potential adversaries, the Air Force is looking to drastically shorten timelines for fielding new weapons, from 20 years to under five, and is looking to use the Rapid Capabilities Office as a template for its whole acquisition system.
Vice Chief of Staff Gen. Seve Wilson, in an interview with Air Force Magazine, said USAF has embraced the fact that "speed wins" in acquisition, and the service can no longer "take 10 Moore's Laws" of time to deploy new capabilities. Moore's Law is the technology maxim predicting that computing systems double in power and halve in price about every two years. USAF can "never" take 20 years on a project like the F-35 again, he said. "We have to speed up this whole process, from the requirements, to the acquisition, to testing, to delivery" of new gear to combat units, Wilson asserted.
Toward that end, he said USAF will model its overall acquisition system on the Rapid Capabilities Office, which is developing the B-21 bomber. It relies on a small, empowered team with full authority over the project, and "only one or two layers" of oversight, Wilson said. Asked if he sees the whole Air Force Materiel Command structure being refashioned into an "RCO on steroids," Wilson answered, "I envision a lot of our acquisition moving in that direction."
Although the RCO is in charge of developing the B-21 bomber, Wilson did not name the B-21 as the "pathfinder" program for the new system of acquisition. "I can't give you the answer of where we can show we can do that," he said. "We're looking to answer that" in the near future, but he said "we'll have lots of those programs in the future."
Air Force officials in recent years have touted the success of advanced capability technology demonstrations (ACTDs) like JSTARS or the Predator drone, which have gone from experiments to fielded systems on an expedited basis. However, these systems have typicall?y suffered badly in terms of sustainment, because the logistics capability is usually created as an afterthought in such cases, with predictable parts and manpower shortages.
If 20 years is too long, what is USAF's grand challenge goal for going from setting a requirement to deploying a new system? "In the late '50s and early '60s, we were doing ACAT [Acquisition Category] 1, big programs, in three years," Wilson noted. "Whether we can do that, I don't know … but I certainly think a five-year time horizon is something we ought to be able to shoot for."
Programs aimed at upgrading the capability of existing systems—"spiral development"—will have to meet stringent tests before they can go forward, Wilson added. They'll have to be proven to offer more capability, efficiency, or lethality, "at or equal in cost in a shorter developmental time frame," or they won't make the cut in the budget. These streamlined, go-fast plans are a good start, Wilson said, but depend entirely on getting "a predictable, adequate budget" that allow the Air Force to thoughtfully manage the resources it has.