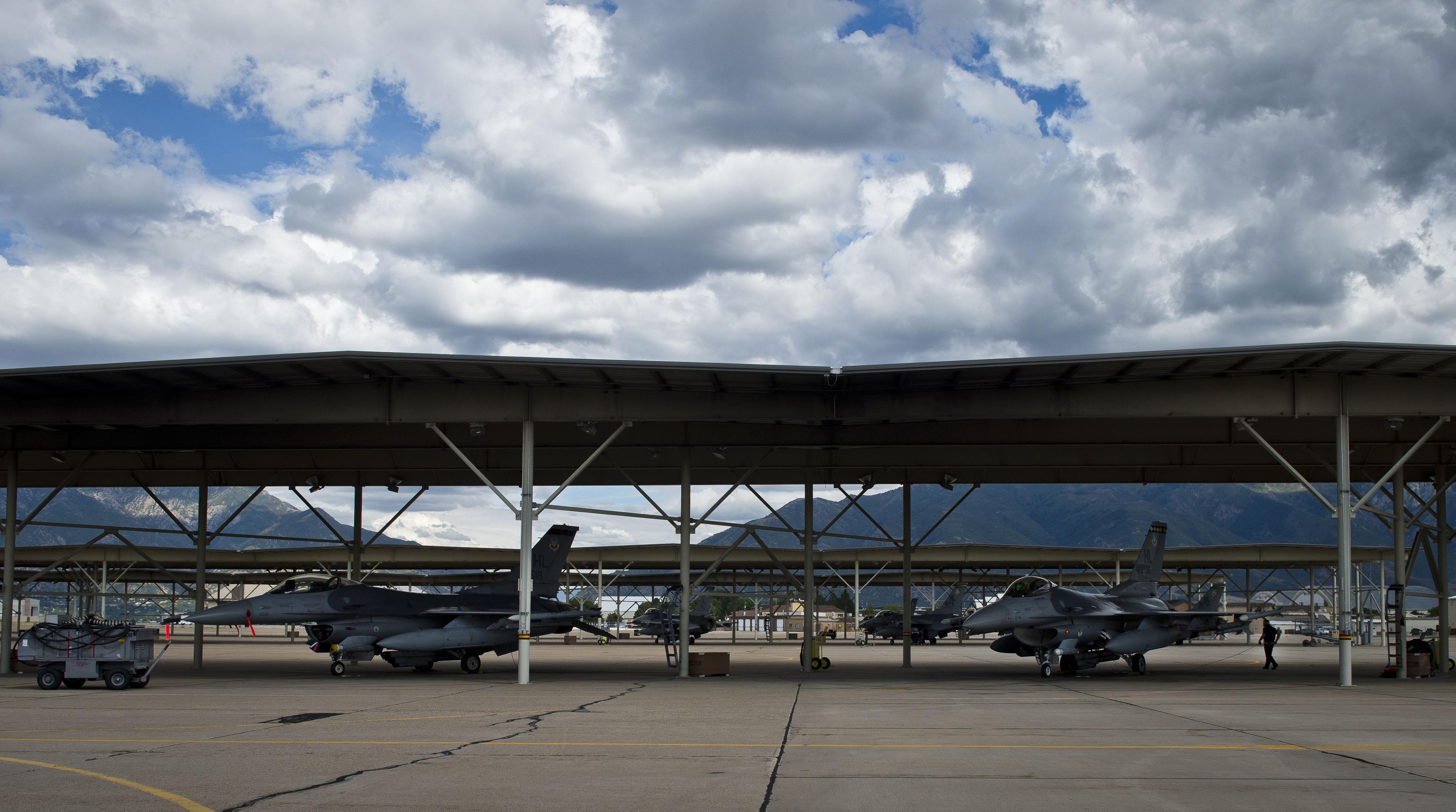 If the Air Force has to return to sequestration funding levels, it will once again have to ground some aircraft just as it did when the Budget Control Act was first implemented in 2013. Here, several F-16 Fighting Falcons from the 388th Fighter Wing sit on the flightline Sept. 9, 2013, at Hill AFB, Utah.The wing had to stand down an entire F-16 squadron for three months, and its sister-squadron drastically reduced flying hours. Air Force photo by Desiree N. Palacios.
A return to sequestration levels of funding "would break this service," Secretary of the Air Force Heather Wilson said Wednesday.
If Congress cannot approve a budget and the Budget Control Act cuts return, as in 2013, it would mean an effective "$15 billion cut to the United States Air Force," Wilson told the audience at a Women in Defense event in Washington, D.C. Under such conditions, Air Force pilots would be limited to flying "only in combat or spinning up for combat," Wilson said.
Already, a series of continuing resolutions to fund the federal government have taken a toll on the service. Wilson said there have been "31 continuing resolutions in nine of the last 10 years." The Air Force, she said, has operated under a continuing resolution for an accumulated time of "three total years" over the past decade, she said.
As a result, "we have stretched our services too hard and too far." Currently, the Air Force is feeling the pain, especially in its stocks of precision-guided munitions, of which Wilson said the service expends between 100 and 200 every day in the war against ISIS. She said the service is not currently producing enough munitions to replenish the stock, and "under the continuing resolution, we can't even contract with the companies to increase the rate of production."
The budget squeeze has also produced a higher operational tempo, which complicates the service's retention problems. The Air Force's personnel problem "is a readiness problem," she said. "We're too small and we're burning out our people." Airmen feel this most intensely, she said, when they are faced with immediate training operations after returning from a long deployment overseas. "Surge has become the new normal," she said, as the service asks more and more of its personnel.
Wilson also said tight budgetary conditions have damaged research efforts in the Air Force. As the service reduced from 607,000 Active Duty members in 1987 to a current end strength of under 320,000, Wilson said USAF "lost scientists disproportionate to their numbers." This recognition has motivated a new science and technology strategy review effort, which Wilson announced at AFA's Air, Space, and Cyber conference in September. That review marks an effort to "steward the scientific enterprise for the long-term," Wilson said Wednesday.