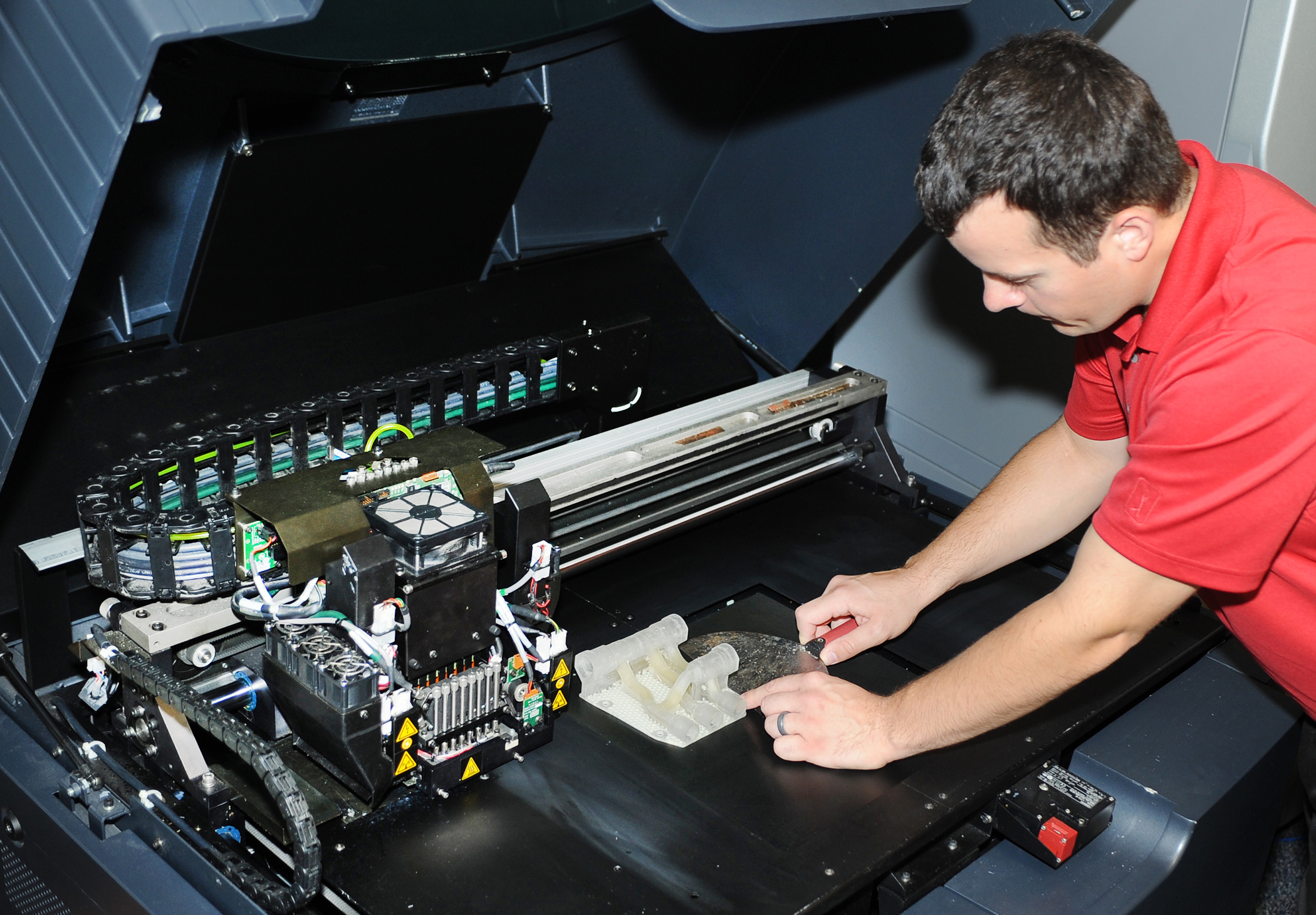 An engineer removes a 3D printed hydraulic manifold from the 3D printer at JB McGuire-Dix-Lakehurst, N.J. Navy photo.
To find the most cutting-edge work within the Air Force, don't look at the big weapons programs, service Secretary Heather Wilson said Friday.
"I think that the opportunity for innovation in maintenance and logistics is actually the largest in the Air Force," Wilson told the audience at a logistics symposium in National Harbor, Md.
Finding creative fixes to tricky problems will be necessary to "cost effectively modernize the lethality of the force," Wilson said, and she mentioned some technological developments that may help.
Wilson praised recent advances in "additive manufacturing," saying a California company has successfully tested a prototype of a "3D-printed rocket." Additive manufacturing has shown that it can change the way the military develops new systems, Wilson said, but she emphasized that it "will also change the way we support those systems" by allowing the Air Force to print replacement parts.
The service is now pressing companies to "give us the intellectual property" rights for platforms like the B-52. "They don't produce the parts" anymore, Wilson said, so the service wants to use 3D printing to make those parts "right on site."
Wilson also said the Air Force is "within a year" of being able to "certify a capability called cold spray," which she said is "a way of repairing metal rather than replacing it." Cold spray "shoots very small particles of aluminum at high speed and low temperature onto the surface of the metal," allowing maintainers to fix parts that were previously unrepairable.
These kinds of developments have led Wilson to believe that "the greatest opportunity in cost-effective modernization is in sustainment."