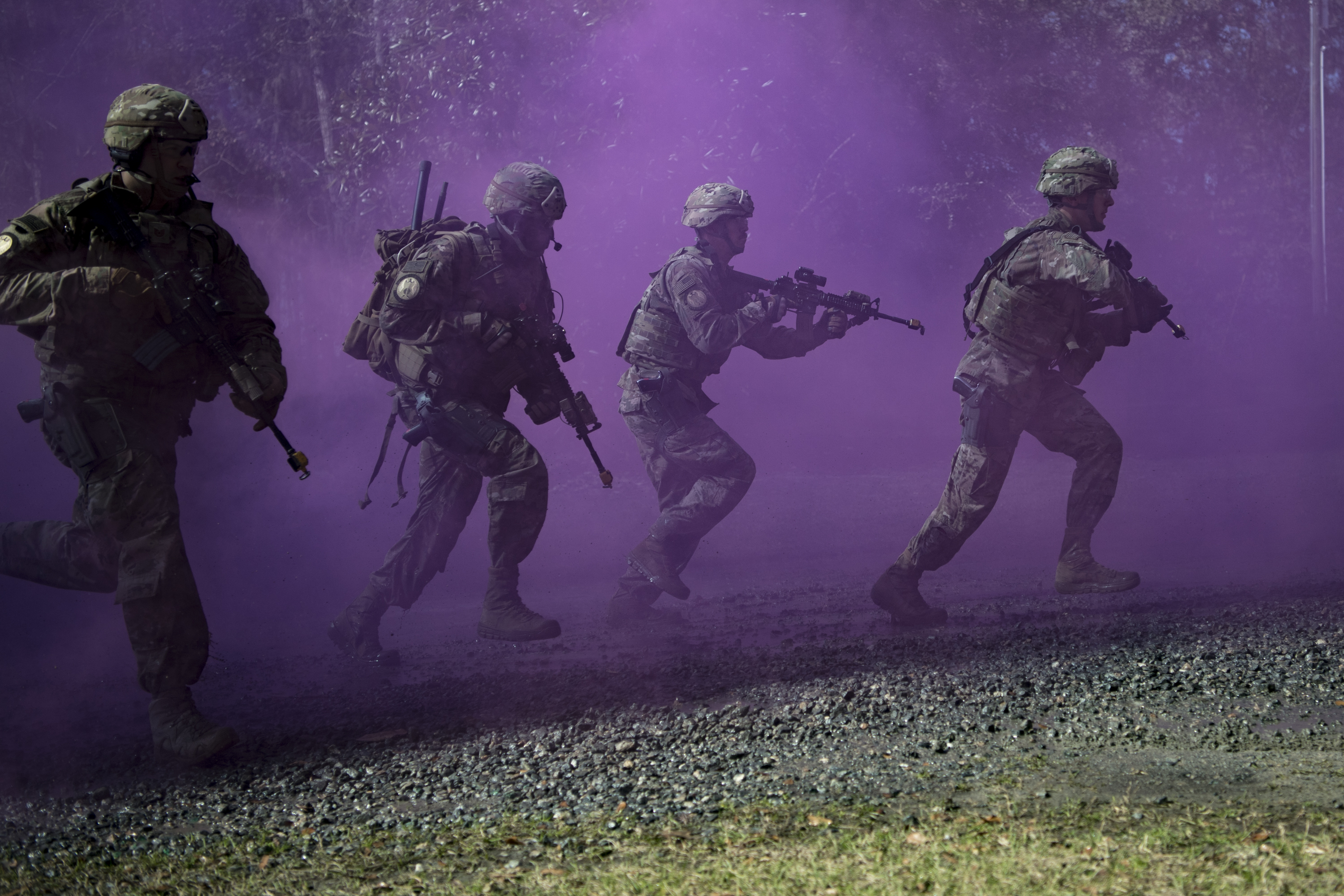 Airmen assigned to the 820th Base Defense Group advance their position during a capabilities demonstration, Feb. 5, 2018, at Moody AFB, Ga. The service struggles regularly with manning shortfalls, one of the priorities of the FY19 budget. USAF photo by SrA. Daniel Snider.
The Air Force's Fiscal 2019 budget request is aimed squarely at fixing "nuts and bolts" readiness problems that have dragged down mission capability rates, manning, and training for years, and not yet at growing the force to levels required by great power competition, service Secretary Heather Wilson told reporters on Feb. 13.
Speaking with the press in the Pentagon, Wilson said that increases in manpower, flying hours, munitions production, and purchasing new systems is all geared at restoring full capability to USAF units, in order to be capable of facing a peer adversary like China, which is "modernizing very rapidly." China, she said—not Russia—is the "pacing threat" against which the US must measure itself. The US has not yet established whether it needs to grow its force structure in response to the threat posed by China and "near peer" competitors, she said, but in the meantime it must deploy the most capable force it can.
The Air Force has "301 combat squadrons," Wilson noted, of which 55 are fighter squadrons and nine are bomber squadrons. "We're looking at the mix of forces and the mix of squadrons that we have to carry out the missions under the national defense strategy."
Wilson acknowledged that the FY '19 budget proposes a massive surge in munitions procurement—munitions, she said, are "a part of readiness"—but she declined to say offhand how long that surge must last in order to fully restock USAF and allied air forces. "Last year we were expending more munitions per day against ISIS than we were purchasing, and we need to just reverse that trend," Wilson said. She added that it would be best for government and industry alike to get to "a steady state" of production, but she could not say when that level of production is slated to be reached.
USAF is "close" to having enough maintainers—it's only 200 short now, Wilson said—but the problem is seasoning them to where they can supervise other maintainers and have the needed experience. She didn't explain how USAF could accelerate that process.
Wilson justified terminating the JSTARS recapitalization program, saying it "meets less than five percent of combatant commander requirements." It's limited in how long it can remain airborne because of the large number of people onboard, and Wilson said there are better ways to accomplish the mission, by finding new ways to link the sensors and intelligence collected by manned and unmanned aircraft, satellites, and ground-based sensors, all of which have a longer stare-time than the JSTARS. "That's the concept," she said.
Asked how upgrades to the AWACS will help JSTARS—a comment made in USAF budget presentations—Vice Chief of Staff Gen. Seve Wilson, standing beside the Secretary, said an effort will be made to get "information from our fifth-gen and fourth-gen fighters" to AWACS, and that in turn will help pave the way for the information-sharing concept needed for the disaggregated JSTARS concept and "building that network."
Secretary Wilson said, for example, the F-35 has "a fantastic radar" that will eventually be able to deliver "a much better picture" to a battle manager than JSTARS could provide.