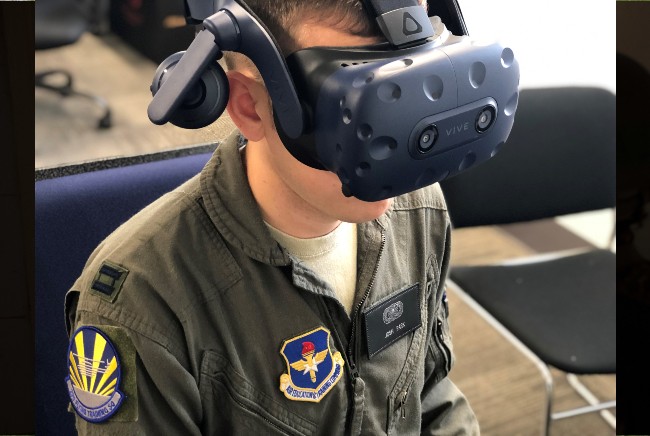 Capt. Josh Park, a student in the 23rd Flying Training Squadron's Specialized Undergraduate Pilot Training-Helicopter program, flies a virtual reality sortie at Fort Rucker, Ala., Oct. 9, 2019. The class used VR as part of an experimental project in an effort to transform the way helicopter pilots are trained. Courtesy photo via USAF.
The 23rd Flying Training Squadron's foray into using virtual reality tools to supplement live flights during rotary-wing pilot training is proving successful.
The effort—dubbed "Project da Vinci" or "Rotary Wing Next"—aimed to slash the time it takes to complete the Specialized Undergraduate Pilot Training-Helicopter (SUPT-H) program at Fort Rucker, Ala., from 28 to 14 weeks, and to double the annual number of graduates from 60 to 120 people. The challenge is to accomplish those goals without adding aircraft or making students spend more time in the air, according to an Oct. 11 Air Education and Training Command release.
The squadron's first group of six VR-trained airmen graduated Oct. 11 at the end of AETC's initial five-month trial with VR headsets. Trainees wrapped up their studies six weeks faster than they would have under the traditional timeline.
Airmen started training May 7, and "flew" using VR the following day. After about 24 hours of VR training and 19 hours of classroom training, students could enter a real TH-1H cockpit for the first time and "hover, taxi, and perform various other helicopter maneuvers" without an instructor's help, Capt. Matt Strick, the squadron's innovation flight lead, said in the release.
"We assessed the students to be at least seven days ahead of schedule at that point," Strick said.
According to 23rd FTS Commander Lt. Col. Jake Brittingham, using VR cut time in the cockpit by about 35 percent, while increasing practice time by 15 hours.
In addition to speeding the overall timeline, shrinking needed flight hours, and boosting student practice, the undertaking saved about $60,000 per student, Brittingham told Air Force Magazine in an Oct. 16 interview.
The VR, which simulates a Bell 412 utility helicopter, isn't quite perfect. It doesn't yet allow for instrument training or for practicing nighttime operations, among other issues. But Strick told Air Force Magazine that an improvement is coming online in the near future.
"We've contracted out to get a TH-1H, our actual specific aircraft, in the virtual reality world," he said during the interview. "That's going to fill that void for us, where we can teach all phases of flight in the virtual reality simulator."
According to the release, more small groups will start training with VR once the class completes formal training on the Air Force's three vertical-lift platforms—the UH-1N Huey, HH-60G Pave Hawk, and the CV-22 Osprey—so that the squadron can gather feedback on the quality of their graduates, the release said. In the meantime, VR will become part of the standard syllabus for the SUPT-H program so that trainees can repeatedly "reinforce and rehearse aircraft instruction," the release said.
Project da Vinci originated in 2017 after the 23rd FTS identified "internal training efficiencies that facilitated a 25 percent increase in overall student pilot production," the release said. Then, a January working group hosted by 19th Air Force at AFWERX in Las Vegas inspired Brittingham and his team to push the envelope further.
"After the workshop and with the purpose of relooking at antiquated training methods and maneuvering towards the 'Pilot Training Next' model, our team entirely rewrote the vertical-[lift] pipeline from the undergrad level at Fort Rucker to the formal training units at Kirtland Air Force Base," Brittingham said in the release. "Our proposal included acquiring commercial off-the-shelf virtual reality technology to allow us to start learning the transferability of VR into the helicopter training environment."
Former 19th Air Force boss Maj. Gen. Patrick Doherty endorsed the proposal and Brittingham's team decided to test the concept with a future SUPT-H class.
"Our thought process was, we might fail, but we will fail forward, collect the lessons learned, and keep trying until we get it right," Brittingham said in the release.
While "Rotary Wing Next" is reminiscent of AETC's "Pilot Training Next" initiative, the project is "a complete grassroots initiative" borne of 19AF's efforts, Brittingham told Air Force Magazine.
PTN presented a model for how to overhaul pilot training using VR and other data-driven methods, but it didn't include vertical lift, he said. So the squadron wanted to see if technology innovation could work for its own needs.
Brittingham's team plans to send some of its leaders to JBSA-Randolph, Texas to brief the 19th AF boss, learn from PTN, and spark a dialogue between the two initiatives. The Air Force is also sharing its lessons learned with both the Army and Navy, Brittingham said.
"I definitely think there's room for collaboration, because nobody's working in vacuums," he said.