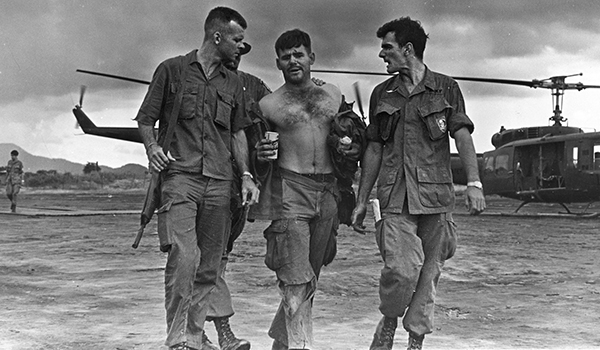 Retired Army Capt. Gary Rose was awarded the Medal of Honor on Monday for his heroic actions during the Vietnam War in 1970. Above, then-sergeant Rose (middle) is helped from a helicopter landing area after Operation Tailwind, 1970. Photo courtesy of Ted Wicorek.
Retired Army Capt. Gary M. Rose received the Medal of Honor—the nation's highest honor for valor in combat—Monday during a ceremony at the White House. President Donald Trump presented the medal to Rose, a former medical sergeant with the 5th Special Forces Group (Airborne), for his actions on Sept. 11-14, 1970, as part of Operation Tailwind in Chavane, Laos, during the Vietnam War.
Rose was inserted with his team 70 kilometers behind enemy lines with a mission to help stop the funneling of arms to the North Vietnamese army along the Ho Chi Minh trail. On the first day of the battle, according to an Army press release, two of his comrades were injured by enemy small arms fire with one falling outside the team's defensive perimeter. Rose left the safety of his position and rushed to the wounded soldier. He rendered medical care to stabilize his comrade before carrying the man through heavy gunfire back to safety.
As the enemy withdrew, Rose's team pressed further and continued to take casualties. Rose continued to move through enemy gunfire to tend to the wounded, at one point crawling from position to position to offer life-saving treatment and words of encouragement.
On the second day, the team was attacked by a company-sized element, and another team-member was wounded outside the defensive area. Rose rushed to help him and threw his body on his comrade in order to protect him from enemy fire. He then gave life-saving medical treatment to the man before dragging him back to safety with one hand while engaging the enemy with gunfire with his other hand. Before reaching safety, Rose was badly wounded in his back, leg, and foot when a rocket-propelled grenade landed nearby. He ignored his own wounds and continued administering medical treatment to his wounded comrade.
Eventually, so many team members were wounded that Rose's unit called for medical evacuation. The enemy fire was so intense that the first effort to evacuate had to be abandoned, despite Rose's efforts, while standing in open gunfire, to hoist the wounded members onto the evacuating helicopter.
He then improvised litters and dug trenches to protect his team overnight while they waited for another evacuation effort. All night, the North Vietnamese army assaulted their position with rockets, grenades, and mortars. Rose put himself in danger by moving from position to position, continuing to treat the wounded.
On the final day of the mission, the evacuation helicopters approached the landing zone in the midst of a full, 360-degree enemy assault. Rose boarded the last helicopter, but it was hit by enemy fire and crashed less than a mile from takeoff. Rose was thrown from the helicopter before it crashed. He quickly crawled back to the helicopter and began to pull the other personnel off the aircraft, which was leaking fuel and liable to explode.
He continued to render medical care to these wounded comrades until another helicopter arrived. Rose offered expert medical treatment in combat to 60-70 team members over the course of the battle and saved many lives.
Over the course of a "harrowing four-day mission," Trump said, Rose "valiantly fought for the life of his comrades even if it meant the end of his own life." He told Rose that "your devotion to your country inspires us all." Also attending the service were 10 former members of Rose's unit.