The AFA Warfare Symposium kicked off March 6 with three storied heroes of the Vietnam War. This is the final in a three-part series on their talks. Read the first talk by Lt. Col. Gene Smith and the second talk by Col. Lee Ellis.
AURORA, Colo.—The 555th "Triple Nickel" Tactical Fighter Squadron out of Udorn Royal Thai Air Force Base scored 39 MiG kills during the Vietnam War—and six of those kills were credited to one pilot.
Retired Col. Charles "Chuck" DeBellevue flew nearly 100 combat missions in 1972, becoming the war's highest-scoring ACE. Today, more than 50 years later, he recalls the experience with equal precision.
"Hanoi was 285 miles from Udorn as the crow flies," DeBellevue told a packed crowd of several thousand at the 2023 AFA Warfare Symposium. "Every time we went into Hanoi, you had to have enough gas left to fly almost 300 miles. That sets your thinking about how you're gonna fight … you had to have the right mindset."
To DeBellevue and his Triple Nickel squadron mates, "the right mindset" required discipline, integrity, and training, not just from yourself, but from everyone. The mission demanded teamwork.
"Your word is your bond. If you tell somebody you're gonna do something, do it. If you can't do it, tell them, because otherwise somebody may die," DeBellevue said. "[Flying] is a team sport. It's not just you. It's all of us together that make the force what it is."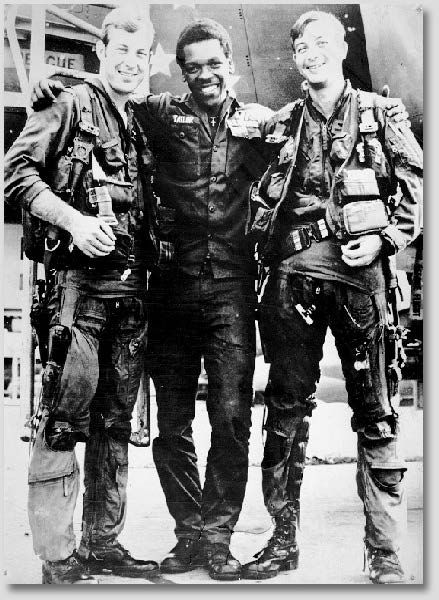 The squadron worked together so efficiently, DeBellevue said, that communicating between the F-4 Phantoms felt telepathic. But the teamwork was just as close, and just as critical on the ground. DeBellevue reflected on the innovative contributions of enlisted men like Tech. Sgt. Dan Ames and the weapons load crew. who eliminated the need to fire two missiles to get one kill. And he praised his crew chief and friend Staff Sgt. Reggie Taylor who "could do amazing things" to maximize performance.
"On the D-model F-4, the engines were screwdriver controlled. He had the screwdriver," DeBellevue said. "You could not catch that airplane."
DeBellevue retired in 1998 after 30 years of service, the last American ACE on Active duty. Since then, he has remained a strong advocate for airpower as an active member of the Air & Space Forces Association's Central Oklahoma Gerrity Chapter, and he regularly meets with ROTC cadets, pilot training classes, veteran groups, and professional military organizations to share stories, insights, and lessons on teamwork as a force multiplier.
"The next war we fight, it'll be you people prosecuting the war," he told the Airmen and Guardians in Aurora. "It's attitude. It's love of country. Love of family. Love of God. Knowing that you're the very best at what you do, and freedom is in your hands. I appreciate everything you're doing: You're wearing the cloth of this country. That means an awful lot."