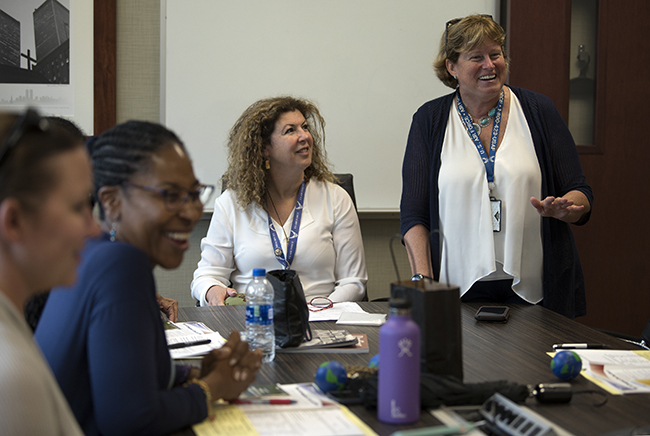 Pamela Smith-Beatty educates participants of the Women's Health Transition Assistance Program about their benefits during a tour of the Women's Center at the James A. Haley Veterans' Hospital, Tampa, Fla., on July 31, 2018. Air Force photo by A1C Ashley Perdue.
The Veterans Affairs and Defense departments are formalizing a program to educate female service members about the Veterans Health Administration support services available to them before their transition into civilian life or Reserve or Guard status.
The Women's Health Transition Training program, which began as an Air Force-only pilot program in July 2018, became an official VA program available to all the services starting this June, according to a USAF release.
"By providing relevant VHA health enrollment information, and describing the extent and depth of services offered at VHA related to women's health, women veterans will learn how to access the health care services that they need and want at the VA in a timely manner," Maj. Alea Nadeem, Headquarters Air Force deputy mission manager and Air Force Women Initiatives team member, said in the release.
The VA found that women "face greater health-related challenges" after separating from the military than men—such as "chronic pain, obesity, musculoskeletal issues, depression and suicide"—but reach out to the department for "services and support" less often than their male counterparts do, the release explained. Further, the VA found that female veterans' age-adjusted suicide rates increased nearly three times as much as that of male veterans since 2001.
"The biggest obstacle that the VA faces is simply awareness on what they provide to female veterans," Nadeem said.
In-person installments of the training are scheduled through December 2019 at the Pentagon; MacDill AFB, Fla.; JB Andrews, Md.; Wright-Patterson AFB, Ohio; JB Lewis McChord, Wash.; and Travis AFB, Calif. An online version of the training is slated to debut in August.
The Veterans Benefits Administration will tentatively take over the training in 2021.