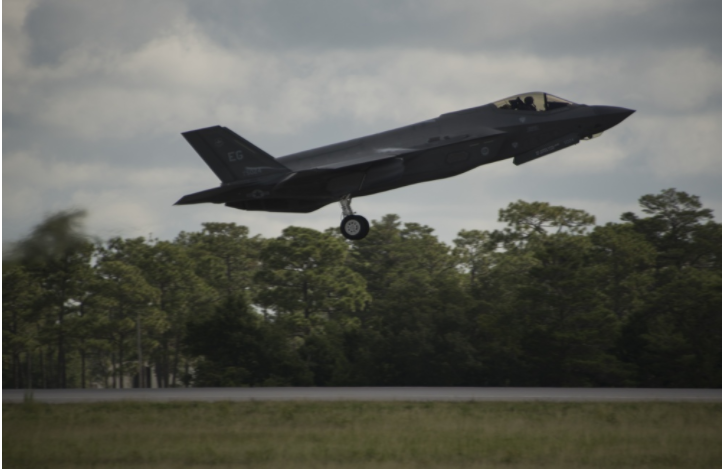 An F-35A departs for Exercise Red Flag 17-3 on July 6 at Eglin AFB, Fla. Air Force photo by SSgt. Peter Thompson
Air Combat Command's premier exercise will integrate two variants of the newest fighter for the first time.
USAF F-35As from the 33rd Fighter Wing at Eglin AFB, Fla., will fly alongside USMC F-35Bs at Red Flag 17-3, which runs from July 10-28 at Nellis AFB, Nev.
The Eglin jets took off for the exercise on July 6, and are using the event to hone tactics used for training pilots.
"This is going to make our instructors better so they can train the next generation of F-35 pilots," Col. Ryan Suttlemyre, 33rd Operations Group commander and Red Flag Expeditionary Wing vice commander said in a release.
Two USMC F-35Bs of Marine Fighter Attack Squadron 211, 3rd Marine Aircraft Wing from MCAS Yuma, Ariz., landed at Nellis on July 5. The Marines are bringing 10 aircraft in total, along with 250 Marines for the exercise, according to a wing release.
The two services will fly together to refine tactics across the services for the first time in a combat exercise.
"We are going to make the rest of the combat air forces better," Suttlemyre said. "[Y]oung aircrews from other platforms that have never operated beside F-35s will have the chance to learn the aircraft's capabilities, which will help them to understand how they will integrate with the jet in the future."