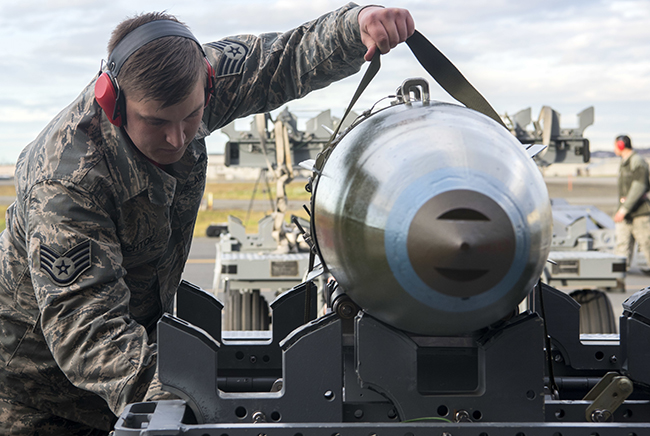 Air Force SSgt. Taylor Bechtol, a 90th Aircraft Maintenance Unit weapons load crew chief, loosens the straps on a GBU-32 Joint Direct Attack Munition during the quarterly load competition at JB Elmendorf-Richardson, Alaska, on Oct. 26, 2018. Air Force photo by A1C Jonathan Valdes Montijo.
The Air Force is buying large numbers of munitions to restock after using its stores against the Islamic State and in Afghanistan, but is starting to think about what happens once its storage is full and as the US shifts its focus away from the Middle East, Air Force Materiel Command boss Gen. Arnold Bunch said during AFA's 2019 Air, Space & Cyber Conference.
Bunch pointed to the service's effort to ramp up purchases of its preferred precision and long-range weapons in recent budgets. From fiscal 2018 to 2019, the Air Force asked Congress to boost the base budget for missile procurement from $1.6 billion to about $1.7 billion, and up again to about $2 billion in 2020.
"We ramped up Small Diameter Bomb, [Joint Direct Attack Munition] and [Joint Air-to-Surface Standoff Missile], opening a new facility for that," Bunch told Air Force Magazine. "It was a big buy."
In March, the service said it would continue to maximize production of JDAM, SDB, and Hellfire munitions to counter violent extremism, while also focusing more on JASSM's extended-range variant and the Advanced Medium-Range Air-to-Air Missile for use against more advanced adversaries.
The Air Force has been determined to ensure its enterprise can handle a weapons surge so that fuzes, bomb bodies, and fills are available in addition to tail kits. That way, whole weapons can be built instead of only pieces. That is necessary to deliver on "these max rates that we're buying," Bunch said.
Now, the four-star general believes the service is in a good place as restocking continues. Officials constantly revisit munitions procurement levels in light of evolving conditions around the world, he said, but declined to specify how long USAF plans to keep buying the maximum amount of weapons as fast as industry can produce them.
Does the Air Force need to return to the days of second sources and surge capability as it focuses on potential conflict with Russia and China? That's what the Air Force must now decide, Bunch said.
"In the past, when budgets went low, we took money out of the weapons," Bunch said. "We've got to make sure that if we do that in the future, or if we decide to back off the levels we're buying at, we're making a conscious decision to do that. We need to really think our way through the (operations) plans and everything else if we decide to go down that path."
Air Force officials have said they're trying to level out weapons production instead of gaming out changes driven by the ebb and flow of combat. Advocates of that approach argue predictable and manageable steady state of manufacturing would allow the defense industry to make longer-term economic decisions about staffing and purchase of materials.
Bunch said the Air Force is urging its allies and partners to buy now while the production lines are running hot and prices are dipping lower. Most US allies borrowed or bought munitions over the past 15 years to make up their own stores. Former Deputy Under Secretary of the Air Force for International Affairs Heidi Grant has said allies' war plans called for getting munitions from the US in a crisis, rather than maintaining their own stockpiles.
The partners are "looking at what we're doing and we're working with them," Bunch said, noting that allies seem to realize the need to restock. "We continue to emphasize that."