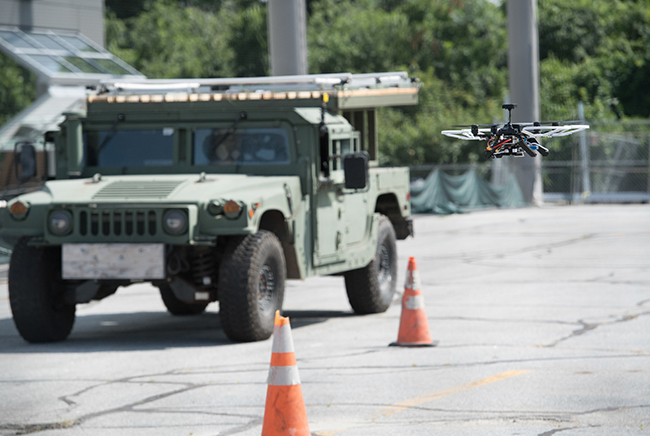 An autonomous drone hovers during the Air Force's Unmanned Aerial Systems Pitch Day on July 24, 2019, at the Northeastern University Innovation Campus in Burlington, Mass. Air Force photo by Todd Maki.
All 13 companies that pitched drone-focused technologies to the Air Force July 24 walked away with a small-business contract, the service said in a recent release.
The "Unmanned Aerial Systems Pitch Day" awarded businesses $975,000 in fewer than three hours, including one contract that was agreed to within five minutes.
"Northeastern University facilities provided the backdrop for presentations on small drones that can fit in tight spaces like fuel tanks, and swarms of drones that can autonomously team up to track people and vehicles," the Air Force said July 25.
The event builds on the service's effort to roll out new counter-UAS systems to protect certain assets.
"These technologies include payloads that can defeat other drones, payloads to sense weather hazards to help unmanned aircraft navigate safely, and systems that can counter large groups of drones that pose a security threat," Northeastern University said in a release.
A dozen Pitch Days are planned this year following the success of the first such event in March, Northeastern added.
Air Force Digital Program Executive Officer Steve Wert aims to award contracts to at least 100 companies through events aimed at working with commercial and nontraditional contractors.